BKMT READING GUIDES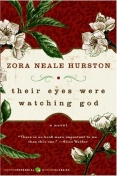 Their Eyes Were Watching God

by Zora Neale Hurston
Published: 2006-06-01
Paperback : 256 pages
22 members reading this now
43 clubs reading this now
3 members have read this book
Recommended to book clubs by 3 of 3 members
One of the most important works of twentieth-century American literature, Zora Neale Hurston's beloved 1937 classic, Their Eyes Were Watching God, is an enduring Southern love story sparkling with wit, beauty, and heartfelt wisdom. Told in the captivating voice of a woman who refuses to ...
No other editions available.

Jump to
Introduction
One of the most important works of twentieth-century American literature, Zora Neale Hurston's beloved 1937 classic, Their Eyes Were Watching God, is an enduring Southern love story sparkling with wit, beauty, and heartfelt wisdom. Told in the captivating voice of a woman who refuses to live in sorrow, bitterness, fear, or foolish romantic dreams, it is the story of fair-skinned, fiercely independent Janie Crawford, and her evolving selfhood through three marriages and a life marked by poverty, trials, and purpose. A true literary wonder, Hurston's masterwork remains as relevant and affecting today as when it was first published -- perhaps the most widely read and highly regarded novel in the entire canon of African American literature.

At the height of the Harlem Renaissance during the 1930s, Zora Neale Hurston was the preeminent black woman writer in the United States. She was a sometime-collaborator with Langston Hughes and a fierce rival of Richard Wright. Her stories appeared in major magazines, she consulted on Hollywood screenplays, and she penned four novels, an autobiography, countless essays, and two books on black mythology. Yet by the late 1950s, Hurston was living in obscurity, working as a maid in a Florida hotel. She died in 1960 in a Welfare home, was buried in an unmarked grave, and quickly faded from literary consciousness until 1975 when Alice Walker almost single-handedly revived interest in her work.
Of Hurston's fiction, Their Eyes Were Watching God is arguably the best-known and perhaps the most controversial. The novel follows the fortunes of Janie Crawford, a woman living in the black town of Eaton, Florida. Hurston sets up her characters and her locale in the first chapter, which, along with the last, acts as a framing device for the story of Janie's life. Unlike Wright and Ralph Ellison, Hurston does not write explicitly about black people in the context of a white world--a fact that earned her scathing criticism from the social realists--but she doesn't ignore the impact of black-white relations either:
It was the time for sitting on porches beside the road. It was the time to hear things and talk. These sitters had been tongueless, earless, eyeless conveniences all day long. Mules and other brutes had occupied their skins. But now, the sun and the bossman were gone, so the skins felt powerful and human. They became lords of sounds and lesser things. They passed nations through their mouths. They sat in judgment.
One person the citizens of Eaton are inclined to judge is Janie Crawford, who has married three men and been tried for the murder of one of them. Janie feels no compulsion to justify herself to the town, but she
does
explain herself to her friend, Phoeby, with the implicit understanding that Phoeby can "tell 'em what Ah say if you wants to. Dat's just de same as me 'cause mah tongue is in mah friend's mouf."
Hurston's use of dialect enraged other African American writers such as Wright, who accused her of pandering to white readers by giving them the black stereotypes they expected. Decades later, however, outrage has been replaced by admiration for her depictions of black life, and especially the lives of black women. In Their Eyes Were Watching God Zora Neale Hurston breathes humanity into both her men and women, and allows them to speak in their own voices. --Alix Wilber


Excerpt
No Excerpt Currently Available
Discussion Questions
1. What kind of God are the eyes of Hurston's characters watching? What is the nature of that God and of their watching? Do any of them question God?
2. What is the importance of the concept of horizon? How do Janie and each of her men widen her horizons? What is the significance of the novel's final sentences in this regard?
3. How does Janie's journey—from West Florida, to Eatonville, to the Everglades—represent her, and the novel's increasing immersion in black culture and traditions? What elements of individual action and communal life characterize that immersion?
4. To what extent does Janie acquire her own voice and the ability to shape her own life? How are the two related? Does Janie's telling her story to Pheoby in flashback undermine her ability to tell her story directly in her own voice?
5. What are the differences between the language of the men and that of Janie and the other women? How do the differences in language reflect the two groups' approaches to life, power, relationships, and self-realization? How do the novel's first two paragraphs point to these differences?
6. In what ways does Janie conform to or diverge from the assumptions that underlie the men's attitudes toward women? How would you explain Hurston's depiction of violence toward women? Does the novel substantiate Janie's statement that "Sometimes God gits familiar wid us womenfolks too and talks His inside business"?
7. What is the importance in the novel of the "signifyin'" and "playin' de dozens" on the front porch of Joe's store and elsewhere? What purpose do these stories, traded insults, exaggerations, and boasts have in the lives of these people? How does Janie counter them with her conjuring?
8. Why is adherence to received tradition so important to nearly all the people in Janie's world? How does the community deal with those who are "different"?
9. After Joe Starks's funeral, Janie realizes that "She had been getting ready for her great journey to the horizons in search of people; it was important to all the world that she should find them and they find her." Why is this important "to all the world"? In what ways does Janie's self-awareness depend on her increased awareness of others?
10. How important is Hurston's use of vernacular dialect to our understanding of Janie and the other characters and their way of life? What do speech patterns reveal about the quality of these lives and the nature of these communities? In what ways are "their tongues cocked and loaded, the only real weapon" of these people?
From the publisher
Weblinks
There are no web links at this time.
BECOME A MEMBER
it's free
Now serving over 80,000 book clubs & ready to welcome yours. Join us and get the Top Book Club Picks of 2022 (so far).
SEARCH OUR READING GUIDES
Search
JOIN OUR MAILING LIST
Get free weekly updates on top club picks, book giveaways, author events and more
Please wait...