BKMT READING GUIDES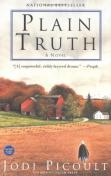 Plain Truth

by Jodi Picoult
Published: 2000
Paperback : 405 pages
22 members reading this now
28 clubs reading this now
34 members have read this book
Recommended to book clubs by 8 of 8 members
Moving seamlessly from psychological drama to courtroom suspense, Plain Truth is a fascinating portrait of Amish life rarely witnessed by those outside the ...
No other editions available.

Jump to
Introduction
Moving seamlessly from psychological drama to courtroom suspense, Plain Truth is a fascinating portrait of Amish life rarely witnessed by those outside the faith.
Excerpt
No Excerpt Currently Available
Discussion Questions
From the publisher:
Questions and Topics for Discussion
1. Must "like the patches that make up a quilt," Picoult deliberately brings together in a single narrative two starkly different and often clashing cultures and ideologies; she highlights the tensions between them, and also underscores their inherent similarities. Discuss Picoult's writing style. What techniques does she use to establish the novel's tone, to develop her characters' oft-concealed motives, and to achieve this overall "quilt"-like effect?
2. Critics have suggested that what makes Picoult such a unique and effective novelist among contemporary writers is her firm grasp of the delicacy and complexity of human relationships. How is this quality particularly apparent in Plain Truth?
3. Furthermore, like precious few novels today, Picoult's books thoughtfully contend with the significance and mechanics of spirituality in an increasingly secular culture. In fact, USA Today observed that what makes Keeping Faith [a previous Picoult bestseller] especially remarkable is the way it "makes you wonder about God. And that is a rare moment, indeed, in modern fiction." Could the same be said of Plain Truth? Explain. What aspects of this novel particularly resonated with you?
4. How would you describe this novel to a friend? Is it a suspense novel? A love story? A legal thriller? An exploration of modern culture and morality? A study of human psychology and character motivation? What makes Plain Truth stand out among contemporary novels? To what degree does Picoult refresh or even redefine the various fictional genres with which this novel might be associated?
5. Identify the narrative techniques Picoult employs to draw you into Katie Fisher's plight. Why do we care so much about her? How does her specific situation come to touch upon such timeless and universal issues as community estrangement and forbidden love?
6. How accurate is it to say that, as readers, we approach this novel in much the same way Ellie approaches Katie's case: as aliens to the Amish lifestyle, and as onlookers painfully unsettled by the horrendous crime with which Katie is charged?
7. What kind of man is Aaron Fisher? As you were reading, what were your reactions to his choices? What motivates him? If we had to, how could we make a case for defending Aaron's code of life, his propensity to put the community about the individual? What compels him to adhere so strictly to the laws and traditions of the Amish faith, even when it means severing all ties with his only son?
8. On the face of things, Sarah Fisher appears to be a woman willing to submit wholly to her husband's word and will. Does this assessment bear out in the end? Looking back through the novel, identify the subtle clues and telling bits of dialogue which Picoult lays out to lead us toward Sarah's astonishing revelation at the end of the novel. What does motherhood finally mean to Sarah Fisher?
9. "You know how a mother would do anything, if it meant saving her child," Sarah tells Ellie. And earlier on, ostensibly referring to her ability to butcher chickens without remorse, Sarah pointedly tells Ellie, "I do what I have to do. You of all people should understand." What is Picoult up to here? Why would Ellie in particular understand this?
10. With which characters in Plain Truth do you most closely identity? Why?
11. Reread the epigraph that opens the books. Why do you suppose Jodi Picoult chose to begin with this particular Amish school verse? In what ways does it speak to the central tension which drives Plain Truth -- the tension between the strictures and codes of Amish life and those of the American justice system (and, by proxy, of American culture writ large)?
12. How does Ellie's role as Katie's defense attorney become blurred with her role as a sort of surrogate mother to Katie? And what is being intimated when Ellie, after insisting that Katie's case "isn't about me," privately admits that she "wasn't telling the truth"? Is Katie's case, in a certain sense, very much about Ellie? Explain. What bearing does Ellie's childlessness initially have on her relationship with Katie, and on her approach to the case? How does the dynamic between these two women shift once Ellie discovers she is pregnant with Coop's child?
13. "We all have things that come back to haunt us," Adam Sinclair tells Katie at one point. "Some of us juts see them more clearly than others." Discuss the ways in which the ghosts of past events come to haunt the present action in Plain Truth. Of all the book's characters, who would you say finally come to "see" things most clearly? Ellie? Jacob? Sarah? Explain.
14. One of the primary "ghosts" of Picoult's storyline is the specter of Ellie and Coop's ill-fated affair back in college. What happened back then? How has the experience colored and complicated Ellie's life choices, whether personal or professional, ever since?
15. In continuation with the previous two questions, consider other "ghosts" from the past which haunt and presage the novel's present action. For instance, how does Jacob's decision to leave the farm and family to pursue life as a secular scholar bear directly upon Katie's plight, particularly in light of her estrangement from her father and community? And what is the legacy, brought to bear during her stay in Paradise, of Ellie's previous track record as a defense attorney committed to attacking her cases with a sort of "by-any-means-necessary" ethos, regardless of guilt or innocence? To what degree would you say Jacob and Ellie, in the course of this novel, are liberated from their pasts?
16. Imagine an alternate telling of this story in which instead of Ellie, it was Katie or Sarah relating her experiences to us in the first person. How would it have colored our perception of events?
17. What are the central themes of Plain Truth? What does Picoult seem to be saying about notions of tradition, family, religion, and community in modern life?
18. What did you learn about Amish life in reading this novel?
19. Ellie Hathaway is a protagonist who finds she must come to painful terms with the choices she has made in life. Even when we meet her at the start of Plain Truth, she appears to be in the throes of a mid-life crisis. Unpack the emotional baggage underlying her ordeal. Describe the extreme change Ellie undergoes in the course of her stay on the Fisher farm. What effect does the intimate relationship she forges with Katie have on her sense of self, and on the way she approaches her role as a defense attorney?
20. How do Ellie's perceptions of faith and prayer evolve during her stay at the Fisher farm? Discuss the scene that finds Ellie kneeling with the family to recite the Lord's Prayer. What is going on here? In a community "where sameness was so highly valued," where submission to a higher power is paramount, what happens to Ellie's previously unquestioned ideas and/or hang-ups about professional success, motherhood, commitment, and emotional dependence?
21. What kind of future so you see for Ellie and Coop? For Katie and Samuel? Jacob and his Plain heritage? Sketch out a hypothetical epilogue that takes place five years after Ellie's final conversation with Sarah at the close of the book.
22. Discuss the significance and layered meanings behind the title of Picoult's novel. For instance, in the realm of this story, is "Plain truth" a different sort of truth than "plain truth"?
Suggested by Members
If you were on the jury, would you find Katie Guilty or Innocent?
Did you buy the defense that she couldn't be guilty because she is Amish?
Could you be as forgiving as Samuel?
by Diane860
(see profile)
08/27/09
BECOME A MEMBER
it's free
Now serving over 80,000 book clubs & ready to welcome yours. Join us and get the Top Book Club Picks of 2022 (so far).
SEARCH OUR READING GUIDES
Search
JOIN OUR MAILING LIST
Get free weekly updates on top club picks, book giveaways, author events and more
Please wait...