BKMT READING GUIDES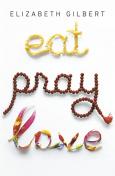 Eat, Pray, Love: One Woman's Search for Everything Across Italy, India and Indonesia

by Elizabeth Gilbert
Published: 2007-01-30
Paperback : 400 pages
117 members reading this now
15 clubs reading this now
215 members have read this book
Recommended to book clubs by 55 of 94 members
The 10th anniversary edition of one of the most iconic, beloved, and bestselling books of our time from the bestselling author of City of Girls and Big Magic, Elizabeth Gilbert.

Elizabeth Gilbert's Eat Pray Love touched the world and changed countless lives, inspiring and empowering ...
No other editions available.

Jump to
Introduction
The 10th anniversary edition of one of the most iconic, beloved, and bestselling books of our time from the bestselling author of City of Girls and Big Magic, Elizabeth Gilbert.

Elizabeth Gilbert's Eat Pray Love touched the world and changed countless lives, inspiring and empowering millions of readers to search for their own best selves. Now, this beloved and iconic book returns in a beautiful 10th anniversary edition, complete with an updated introduction from the author, to launch a whole new generation of fans.
 
In her early thirties, Elizabeth Gilbert had everything a modern American woman was supposed to want—husband, country home, successful career—but instead of feeling happy and fulfilled, she was consumed by panic and confusion. This wise and rapturous book is the story of how she left behind all these outward marks of success, and set out to explore three different aspects of her nature, against the backdrop of three different cultures: pleasure in Italy, devotion in India, and on the Indonesian island of Bali, a balance between worldly enjoyment and divine transcendence.
Excerpt
I wish Giovanni would kiss me.
Oh, but there are so many reasons why this would be a terrible idea. To begin with, Giovanni is ten years younger than I am, and, like most Italian guys in their twenties, he still lives with his mother. These facts alone make him an unlikely romantic partner for me, given that I am a professional American woman in my mid-thirties, who has just come through a failed marriage and a devastating, interminable divorce, followed immediately by a passionate love affair that ended in sickening heartbreak. This loss upon loss has left me feeling sad and brittle and about seven thousand years old. Purely as a matter of principle I wouldn't inflict my sorry, busted-up old self on the lovely, unsullied Giovanni. Not to mention that I have finally arrived at that age where a woman starts to question whether the wisest way to get over the loss of one beautiful brown-eyed young man is indeed to promptly invite another one into her bed. This is why I have been alone for many months now. This is why, in fact, I have decided to spend this entire year in celibacy. ...
view entire excerpt...
Discussion Questions
From the Publisher:
Gilbert writes that "the appreciation of pleasure can be the anchor of humanity," making the argument that America is "an entertainment-seeking nation, not necessarily a pleasure-seeking one." Is this a fair assessment?
After imagining a petition to God for divorce, an exhausted Gilbert answers her phone to news that her husband has finally signed. During a moment of quietude before a Roman fountain, she opens her Louise Glück collection to a verse about a fountain, one reminiscent of the Balinese medicine man's drawing. After struggling to master a 182-verse daily prayer, she succeeds by focusing on her nephew, who suddenly is free from nightmares. Do these incidents of fortuitous timing signal fate? Cosmic unity? Coincidence?
Gilbert hashes out internal debates in a notebook, a place where she can argue with her inner demons and remind herself about the constancy of self-love. When an inner monologue becomes a literal conversation between a divided self, is this a sign of last resort or of self-reliance?
When Gilbert finally returns to Bali and seeks out the medicine man who foretold her return to study with him, he doesn't recognize her. Despite her despair, she persists in her attempts to spark his memory, eventually succeeding. How much of the success of Gilbert's journey do you attribute to persistence?
Prayer and meditation are both things that can be learned and, importantly, improved. In India, Gilbert learns a stoic, ascetic meditation technique. In Bali, she learns an approach based on smiling. Do you think the two can be synergistic? Or is Ketut Liyer right when he describes them as "same-same"?
Gender roles come up repeatedly in Eat, Pray, Love, be it macho Italian men eating cream puffs after a home team's soccer loss, or a young Indian's disdain for the marriage she will be expected to embark upon at age eighteen, or the Balinese healer's sly approach to male impotence in a society where women are assumed responsible for their childlessness. How relevant is Gilbert's gender?
In what ways is spiritual success similar to other forms of success? How is it different? Can they be so fundamentally different that they're not comparable?
Do you think people are more open to new experiences when they travel? And why?
Abstinence in Italy seems extreme, but necessary, for a woman who has repeatedly moved from one man's arms to another's. After all, it's only after Gilbert has found herself that she can share herself fully in love. What does this say about her earlier relationships?
Gilbert mentions her ease at making friends, regardless of where she is. At one point at the ashram, she realizes that she is too sociable and decides to embark on a period of silence, to become the Quiet Girl in the Back of the Temple. It is just after making this decision that she is assigned the role of ashram key hostess. What does this say about honing one's nature rather than trying to escape it? Do you think perceived faults can be transformed into strengths rather than merely repressed?
Sitting in an outdoor café in Rome, Gilbert's friend declares that every city—and every person—has a word. Rome's is "sex," the Vatican's "power"; Gilbert declares New York's to be "achieve," but only later stumbles upon her own word, antevasin, Sanskrit for "one who lives at the border." What is your word? Is it possible to choose a word that retains its truth for a lifetime?
Suggested by Members
What was your favorite section (Eat, Pray, Love)?
What was your favorite scene in the book?
Who was your favorite Character?
by Faith_Bookluvr
(see profile)
08/13/10
How did this book influence you as a women?
What impact did this book have on how you view personal struggles?
by eviel
(see profile)
05/13/10
Mediation -- ask if anyone has tried this and if they have had success with it. Have members discuss their spiritual journeys or personal journeys which affected them deeply. One person spoke about finding her adopted sister.
Talk about the differences in religions, and how all religions have a form of mediation they promote.
We had one person talk about the color blue (like the blue pearl in the book) but it happened when her sister died and the aura the color of blue that was in the room.
by joleen
(see profile)
12/15/09
BECOME A MEMBER
it's free
Now serving over 80,000 book clubs & ready to welcome yours. Join us and get the Top Book Club Picks of 2022 (so far).
SEARCH OUR READING GUIDES
Search
JOIN OUR MAILING LIST
Get free weekly updates on top club picks, book giveaways, author events and more
Please wait...