BKMT READING GUIDES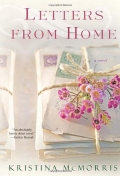 Letters From Home

by Kristina Mcmorris
Published: 2011-03-01
Paperback : 384 pages
5 members reading this now
1 club reading this now
2 members have read this book
Recommended to book clubs by 1 of 1 members
Chicago, 1944. Liz Stephens has little interest in attending a USO club dance with her friends Betty and Julia. She doesn't need a flirtation with a lonely serviceman when she's set to marry her childhood sweetheart. Yet something happens the moment Liz glimpses Morgan McClain. They share ...
No other editions available.

Jump to
Introduction
Chicago, 1944. Liz Stephens has little interest in attending a USO club dance with her friends Betty and Julia. She doesn't need a flirtation with a lonely serviceman when she's set to marry her childhood sweetheart. Yet something happens the moment Liz glimpses Morgan McClain. They share only a brief exchange--cut short by the soldier's evident interest in Betty--but Liz can't forget him. Thus, when Betty asks her to ghostwrite a letter to Morgan, stationed overseas, Liz reluctantly agrees.

Thousands of miles away, Morgan struggles to adjust to the brutality of war. His letters from "Betty" are a comfort, their soul-baring correspondence a revelation to them both. While Liz is torn by her feelings for a man who doesn't know her true identity, Betty and Julia each become immersed in their own romantic entanglements. And as the war draws to a close, all three will face heart-wrenching choices, painful losses, and the bittersweet joy of new beginnings.

Beautifully rendered and deeply moving, Letters from Home is a story of hope and connection, of sacrifices made in love and war--and the chance encounters that change us forever.

Kristina McMorris is an award-winning author and graduate of Pepperdine University. She lives in the Pacific Northwest with her husband and two sons. Letters from Home is her first novel.
Excerpt
Chapter One
July 4, 1944
Chicago, Illinois
Silence in the idling Cadillac grew as suffocating as the city's humidity. Hands clenched on her lap, Liz Stephens averted her narrowed eyes toward the open passenger window. Chattering ladies and servicemen flocked by in the shadows; up and down they traveled over the concrete accordion of entrance steps. The sting of laughter and music drifted through the swinging glass doors, bounced off the colorless sky. Another holiday without gunpowder for celebration. No boom of metallic streamers, no sunbursts awakening the night. Only the fading memory of a simpler time. ...
view entire excerpt...
Discussion Questions
From the author:
1.Life-changing letters are the common link among all three major female characters. Typically the messages are ones the sender would not have expressed in person. What is it about writing that allows for more freedom and/or courage? If you were to compose a single farewell letter, to whom would it be addressed and what would you say? Is there a reason you are waiting to tell the person?
2.In each of Liz's letters to Morgan, she reveals hints of the secret she is keeping from him. Can you pinpoint the clues? Do you think these are merely slips, or are they reflective of Liz's intention to come clean?
3.Of all the characters, which one surprised you the most with their secret? Is Morgan hypocritical regarding his firm stance on honesty? By withholding truths, did Frank and Julia benefit anyone other than themselves? Is opting for a burden of silence a sacrificial or selfish choice? Is it better to be honest about a wrongdoing, even if no one would ever find out?
4.By most standards of the era, Liz's view of societal roles for women is unconventional. When offered an internship, Julia struggles with this very issue. How are Liz's and Julia's dilemmas over a career and motherhood relevant to women today?
5.After Morgan's harrowing recon patrol, he wonders: "Were prayers of murderers, when fighting on the 'right side' of the war, ever heard - let alone answered?" And later, he watches a chaplain praying over a soldier. Do you believe any type of murder is wrong, or does it depend on the circumstance? How would you feel as the chaplain? Did your attitude toward the "Kraut" Morgan confronted change upon the discovery of the man's photograph?
6.Through the course of the story, Liz and Betty realize they were unknowingly following the paths of their mothers. How do the results of these revelations contrast? Why do you think people often copy actions or behavior they disliked growing up?
7.While the contexts differ greatly, "cover me" is both one of the first and last phrases Charlie and Morgan exchange in the story. Discuss the dynamics of their relationship as the duty of "covering" the other gradually shifts. In what ways do Liz and Julia reverse roles? Which character ultimately grows the most?
8.Discuss Leslie and Betty's relationship. How do you feel about his actions? Under what circumstances, if any, would they have been justified? What do you think his letter might have said? Would you have reacted differently if you were Betty?
9.In search of support, Liz turns to her beloved friend Viola. Were you surprised by the message in the elderly woman's anecdote? Did you agree with her? If you were Liz, would you have felt betrayed or grateful for Viola's advice?
10.As often found in time-travel stories, characters in McMorris's novel wind up causing an event as a direct result of trying to prevent it. Do you think major events in our lives are predestined and unavoidable, no matter which action we take? Is the coin Charlie finds in the abandoned village random or an element of fate? If Dalton hadn't canceled on Liz at the USO dance, where would her life have taken her?
11.Among the central themes of the novel is loss of innocence. A prime example is the little girl who drops her doll on the slushy road from the Belgian village. What is the irony of her devastation? Why doesn't anyone help her? Discuss the possible symbolism of the road, the girl, the travelers, and the soldiers in that scene (page 181).
12.What is the significance of Morgan's two bedside neighbors, "Jabber" and the airman, in the French hospital? Which one of them would most likely feel like a hero upon returning home? Did the book change how you viewed veterans, both male and female, of World War II? If so, in what ways?
13.From the origin of "Jungle Juice" to the use of snowsuits for camouflaging German soldiers, the story is sprinkled with historical tidbits from both the home front and frontlines. What is the most interesting information you learned?
14.Describe how you envision the lives of each major character five years after the story ends.
BECOME A MEMBER
it's free
Now serving over 80,000 book clubs & ready to welcome yours. Join us and get the Top Book Club Picks of 2022 (so far).
SEARCH OUR READING GUIDES
Search
JOIN OUR MAILING LIST
Get free weekly updates on top club picks, book giveaways, author events and more
Please wait...