BKMT READING GUIDES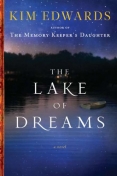 The Lake of Dreams: A Novel

by Kim Edwards
Published: 2011-01-04
Hardcover : 400 pages
7 members reading this now
13 clubs reading this now
3 members have read this book
Recommended to book clubs by 3 of 4 members
From Kim Edwards, the author of the #1 New York Times bestseller The Memory Keeper's Daughter, an arresting novel of one family's secret history

Imbued with all the lyricism, compassion, and suspense of her bestselling novel, The Memory Keeper's Daughter, Kim Edwards's The Lake of ...
No other editions available.

Jump to
Introduction
From Kim Edwards, the author of the #1 New York Times bestseller The Memory Keeper's Daughter, an arresting novel of one family's secret history

Imbued with all the lyricism, compassion, and suspense of her bestselling novel, The Memory Keeper's Daughter, Kim Edwards's The Lake of Dreams is a powerful family drama and an unforgettable story of love lost and found.

Lucy Jarrett is at a crossroads in her life, still haunted by her father's unresolved death a decade earlier. She returns to her hometown in Upstate New York, The Lake of Dreams, and, late one night, she cracks the lock of a window seat and discovers a collection of objects. They appear to be idle curiosities, but soon Lucy realizes that she has stumbled across a dark secret from her family's past, one that will radically change her—and the future of her family—forever.

The Lake of Dreams will delight those who loved The Memory Keeper's Daughter, as well as fans of Anna Quindlen and Sue Miller.
Editorial Review
A Letter from Kim Edwards
Dear Readers,
The Memory Keeperâ??s Daughter was that rare thing, a true word-of-mouth best seller, and I want to begin this letter by thanking all the readers who have been part of this amazing experience. I appreciate your passion for books and for stories, your intense and thoughtful conversations, and the comments you have sent to me from across the country and across the world.
Now, Iâ??m really pleased and excited to introduce you to my new novel, The Lake of Dreams. Set in the beautiful Finger Lakes area of upstate New York, this novel is the story of Lucy Jarrett and her discovery of a hidden past, glimpsed first through fragments of old letters and traces left in stained glass windows. Lucyâ??s quest through the artifacts of history brings her face to face with the dynamics she fled the summer after her father drowned; it compels her to make an inward journey, too, one that will alter her understanding of herself and change the course of her life.
The Lake of Dreams is a book Iâ??ve been imagining for a long time. Years ago I wrote a 400 page draft of a different novel that had some of these same thematic concerns, including a complex family history, the importance of the land, and the comet connecting generations. That early novel ended up in a box in my basement, as so many first novels do, though I did return to it from time to time, and once I even made it 200 pages into another version before I put it aside again. Meanwhile, I finished my story collection, The Secrets of a Fire King. I wrote The Memory Keeperâ??s Daughter.
Yet the essence of the earlier story persisted, and shortly after The Memory Keeperâ??s Daughter was finished, but before it was published, I started writing The Lake of Dreams. Those earlier, discarded drafts had finally brought me to the heart of the story, and this time I had the voice, which is always the crucial discovery. Then the characters from the past began to emerge, with all their fascinating revelations. I immersed myself in the writing, and this new novel was well underway before the excitement of the best seller lists and book tours began. When things began to quiet down again, it was a real pleasure to return to The Lake of Dreams, to Lucy and her family and the mysteries of glass, and to the story that was waiting for me there.
Iâ??ll be going on tour for The Lake of Dreams in January.
Best wishes to my readers! I hope you enjoy The Lake of Dreams.
Warmly,
Kim Edwards
(Photo of Kim Edwards © Deborah Feingold)
Excerpt
Prologue
Although it is nearly midnight, an unusual light slips through a crack in the wool, brushing her arm like the feathers of a wing. In the next room her parents sleep, and the darkened village is silent, but she has lain awake all these hours and now she climbs out of bed, the floorboards rough against her feet. For weeks people have talked of nothing but the comet, how the earth will pass through clouds of poison vapors in its tail, how the world could end. She is fifteen, and all day she and her brother helped seal the house—windows, doors, even the chimney—with thick black wool, hammers tapping everywhere as their neighbors did the same. ...
view entire excerpt...
Discussion Questions
From the publisher:
1.By virtue of her actions and beliefs, Rose was effectively excised from the Jarrett's family history. How unusual do you think it was for women to suffer this fate?
2.Is the name of the Jarrett family business, "Dream Master," hopeful or ominous?
3.Before she became pregnant, Rose longed to become a priest, and Lucy loved the church despite the fact that "God seemed as silent as my father, as angry as my uncle, as distant as the portrait of my great-grandfather in the hall" (p. 74). In your view, what have been some consequences of denying women the priesthood and leadership roles within the church? How has this situation changed in recent decades. How does it persist? Do you feel this should change further? If so, how? If not, why not?
4."Just knowing she had existed opened new and uneasy possibilities within my understanding of the story I thought I'd always known by heart. And I felt responsible, too" (p. 142). Why is Lucy so driven to uncover the truth about Rose? Is there a family story to which you are deeply attached? If yes, what is it and why? What happens if you try to imagine that story from the perspective of the various people involved, including those on the fringes?
5.Have you, like Lucy, ever revisited romance with an old flame while you were involved with someone new? Did you tell your new partner about your lapse? Did the encounter ultimately strengthen or weaken your new relationship?
6.Although Rose does not intend to leave Iris, her spontaneous response to the march for suffrage makes her an outcast and puts her relationship with her daughter at risk. If you are a parent, is there a cause so important to you that you would risk losing your own child in order to support it? Was the victory that Rose helped win ultimately worth her sacrifice?
7.Do you think it was Lucy's great-grandfather, Joseph, or her grandfather, Joseph, Jr., who hid the will? Why didn't he destroy it instead?
8.When they're viewing the stained-glass panel of Jesus and the woman with the alabaster jar, the Reverend Suzi explains that she is not a fallen woman and that, in the Gospels, Jesus defends her. "Yet here we are, millennia later, and we don't tell her story. We don't even have her name" (p. 339). What do you imagine her story to be?
9."Rose, I was sure, had acted out of love, yet for Iris her mother's absence had remained an unresolved sadness at the center of her life" (p. 354). Do you agree with Lucy about Rose's decision to keep her real identity a secret from Iris—even after the latter was estranged from Joseph and Cora? What has changed culturally to make such a choice seem startling today?
10.Does Lucy make the right decision in choosing to stay with Yoshi rather than renewing her love affair with Keegan? Is a romantic relationship with someone from another culture easier or more difficult to maintain?
11.Towards the end of The Lake of Dreams, Edwards writes, "the earthquakes had eased—the underwater island had finally formed" (p. 375). Discuss the ways in which Edwards employs images of the natural world throughout the novel.
12.For generations, most women have taken for granted the rights won them by the suffrage movement and the early pioneers of family planning. How did reading The Lake of Dreams alter your perception of these bygone women—especially now that birth control and abortion are, once again, hotly debated topics?
BECOME A MEMBER
it's free
Join the leading website for book clubs with over 35,000 clubs and 20,000 reading guides.
SEARCH OUR READING GUIDES
Search
JOIN OUR MAILING LIST
Get free weekly updates on top club picks, book giveaways, author events and more
Please wait...