BKMT READING GUIDES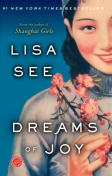 Dreams of Joy: A Novel

by Lisa See
Published: 2011-05-31
Kindle Edition : 449 pages
29 members reading this now
47 clubs reading this now
37 members have read this book
Recommended to book clubs by 9 of 9 members
#1 NEW YORK TIMES BESTSELLER

In her most powerful novel yet, acclaimed author Lisa See returns to the story of sisters Pearl and May from Shanghai Girls, and Pearl's strong-willed nineteen-year-old daughter, Joy. Reeling from newly uncovered family secrets, Joy runs away to Shanghai in ...
No other editions available.

Jump to
Introduction
#1 NEW YORK TIMES BESTSELLER

In her most powerful novel yet, acclaimed author Lisa See returns to the story of sisters Pearl and May from Shanghai Girls, and Pearl's strong-willed nineteen-year-old daughter, Joy. Reeling from newly uncovered family secrets, Joy runs away to Shanghai in early 1957 to find her birth father—the artist Z.G. Li, with whom both May and Pearl were once in love. Dazzled by him, and blinded by idealism and defiance, Joy throws herself into the New Society of Red China, heedless of the dangers in the Communist regime. Devastated by Joy's flight and terrified for her safety, Pearl is determined to save her daughter, no matter the personal cost. From the crowded city to remote villages, Pearl confronts old demons and almost insurmountable challenges as she follows Joy, hoping for reconciliation. Yet even as Joy's and Pearl's separate journeys converge, one of the most tragic episodes in China's history threatens their very lives.

BONUS: This edition contains a Dreams of Joy discussion guide.
Editorial Review
Amazon Best Books of the Month, June 2011
: See's
Dreams of Joy
picks up the story of sisters Pearl and May where
Shanghai Girls
left off: on the night in 1957 when Pearl's daughter, Joy, discovers that May is her true mother. While
Shanghai Girls
followed the sisters from their time as models in the glittering "Paris of Asia" to their escape from the Japanese invasion and their new life in Los Angeles, its sequel sends Pearl back to Shanghai twenty years later in pursuit of Joy, whose flight to China is propelled by anger, idealism, and a desire to find her true father, Z.G., an artist who may be falling out of favor with the Party. Joy goes with him deep into the countryside to the Green Dragon commune, where they take part in the energetic inception of Mao's Great Leap Forward. But their collective dream of a communist paradise is soon overshadowed by hunger as the government's bizarre agricultural mandates create a massive, relentless famine. Pearl, trapped in Shanghai as travel restrictions tighten, has little idea of the hardship Joy endures--until both women realize they must subvert a corrupt system in order to survive. The best estimates put the death toll from China's Great Leap Forward at 45 million, and See is unflinching in her portrayal of this horrific episode. In clean prose, she gives us a resounding story of human resilience, independent spirits, and the power of the love between mothers and daughters. --
Mari Malcolm
Excerpt
THE WAIL OF a police siren in the distance tears through my body. Crickets whir in a never- ending chorus of blame. My aunt whimpers in her twin bed at the other end of the screened porch we share— a reminder of the misery and embarrassment from the secrets she and my mother threw at each other during their argument tonight. I try to listen for my mother in her room, but she's too far away. That silence is painful. My hands grab the bedsheets, and I struggle to focus on an old crack in the ceiling. I'm desperately attempting to hang on, but I've been on a precipice since my father's death, and now I feel as though I've been pushed over the edge and am falling. ...
view entire excerpt...
Discussion Questions
1. Joy is frequently described in terms of her Tiger astrological sign. In Dreams of Joy, where do you see her acting true to her Tiger nature? Where do you see her acting un-Tiger like?
2. Many of us grew up believing that the People's Republic of China was "closed," and that it remained that way until President Nixon "opened" it. Certainly Pearl (and even Joy, to a great extent) go to China with preconceived ideas of what they'll see and experience. In what ways are they right—or wrong?
3. Does seeing the world through Joy's eyes help you to understand Pearl? Similarly, does Pearl give insights into her daughter?
4. The novel's title, Dreams of Joy, has many meanings. What does the phrase mean to the different characters in the novel, to Lisa, to the reader?
5. In many ways Dreams of Joy is a traditional coming-of-age novel for Joy. Lisa has said that she believes it's also a coming of age novel for Pearl and May. Do you agree? If so, how do these three characters grow up? Do they find their happy endings?
6. Although May plays a key role in Dreams of Joy, she is always off stage. How do you feel about this? Would you rather have May be an on-stage figure in this novel?
7. Pearl has some pretty strong views about motherhood. At one point she asks, "What tactic do we, as mothers, use with our children when we know they're going to make, or have already made, a terrible mistake? We accept blame." Later, she observes, "Like all mothers, I needed to hide my sadness, anger, and grief." Do you agree with her? Does her attitude about mothering change during the course of the novel?
8. Joy's initial perception of China is largely a projection of her youthful idealism. What are the key scenes that force her to adjust her beliefs and feelings in this regard?
9. Describe the roles that Tao, Ta-ming, Kumei, and Yong play in Dreams of Joy. Why are they so important thematically to the novel?
10. Food—or severe lack of it—are of critical importance in Dreams of Joy. How does food affect Joy's growth as a person? Pearl's?
11. Let's consider the men—whether present in the novel as living characters or not—for a moment. What influence do Sam, Z.G., Pearl's father, Dun, and Tao have on the story? How do they show men at their best and worst? Are any of these characters completely good—or bad?
12. Dreams of Joy is largely a novel about mothers and daughters, but it's also about fathers and daughters. How do Joy's feelings toward Sam and Z.G. change over the course of the novel? Does Pearl's attitude towards her father change in any way?
13. There are several moments in the novel when people have to choose the moral or ethical thing to do. Where are those places? What purpose do they play? And why do you think Lisa choose to write them?
14. Z.G. quotes a 17th-century artist when he says, "Art is the heartbeat of the artist." How has this idea influenced his life? What impact does this concept have on Joy?
15. Ultimately, Dreams of Joy is about "mother love"—the love Pearl feels for Joy, Joy feels for her mother, Joy experiences with the birth of her daughter, and the on-going struggle between Pearl and May over who is Joy's true mother. In what ways do secrets, disappointments, fear, and overwhelming love affect mother love in the story?
BECOME A MEMBER
it's free
Now serving over 80,000 book clubs & ready to welcome yours. Join us and get the Top Book Club Picks of 2022 (so far).
SEARCH OUR READING GUIDES
Search
JOIN OUR MAILING LIST
Get free weekly updates on top club picks, book giveaways, author events and more
Please wait...