BKMT READING GUIDES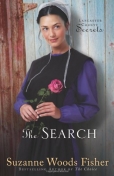 Search, The: A Novel (Lancaster County Secrets)

by Suzanne Woods Fisher
Published: 2011-01-01
Paperback : 304 pages
1 member reading this now
1 club reading this now
1 member has read this book
Recommended to book clubs by 1 of 1 members
Fifteen years ago, Lainey O'Toole made a split-second decision. She couldn't have known that her choice would impact so many. Now in her mid-twenties, she is poised to go to culinary school when her car breaks down in Stoney Ridge, the very Amish town in which her long-reaching decision ...
No other editions available.

Jump to
Introduction
Fifteen years ago, Lainey O'Toole made a split-second decision. She couldn't have known that her choice would impact so many. Now in her mid-twenties, she is poised to go to culinary school when her car breaks down in Stoney Ridge, the very Amish town in which her long-reaching decision was made, forcing her to face the shadowed past.
Bess Reihl is less than thrilled to be spending the summer at Rose Hill Farm with her large and intimidating grandmother, Bertha. It quickly becomes clear that she is there to work the farm--and work hard. The labor is made slightly more tolerable by the time it affords Bess to spend with the handsome hired hand, Billy Lapp. But he only has eyes for a flirty and curvaceous older girl.
Lainey's and Bess's worlds are about to collide and the secrets that come to light will shock them both.
Beautifully written, The Search is a skillfully woven story that takes readers through unexpected twists and turns on the long country road toward truth. Fans both old and new will find themselves immersed in this heartwarming--and surprising--tale of young love, forgiveness, and coming to grips with the past.
Excerpt
It was a June morning, hazy with summer's heat, and Billy
Lapp was already bone tired. Only one person on earth
could wear out an eighteen-year-old farm boy, and Billy
happened to be her hired hand. For over two weeks now, Bertha
Riehl had met him at the barn door of Rose Hill Farm with a
to-do list that seemed to grow longer with each passing hour.
Bertha's granddaughter, Bess, was coming for a summer visit, and
Bertha wanted the farm so spic-and-span clean a body could eat
off the barn floor. Which, Billy knew, meant he would be the one
scrubbing that barn floor until it shone.
He didn't know why Bertha felt her farm needed sprucing up.
So sauwer wie gschleckt. It was as clean as a whistle. The vegetable
garden ran neat and tidy from the kitchen steps down to the
greenhouse, beside the yard where she stretched her clothesline.
Why, hardly a rose petal dared to wilt without Bertha flying out
to the fields with a pair of pruning shears in her big hands. And
besides that, folks visited each other all the time. But then Billy
remembered that something was not quite right between Bertha
and Jonah, her son, Bess's father. He had left years before. Billy
didn't know what had caused the rift, but he knew enough not
to ask. Bertha could be private like that, keeping her business
to herself.
"Could you tell me something about Bess?" Billy had asked
Bertha the other day as he helped her turn the mattress in the
spare bedroom she was readying for Bess.
Bertha flipped her end of the mattress and let it slip into the
wooden bed frame with a soft sough. "Like what?"
"Well, how old is Bess now?" He vaguely remembered a towheaded,
skinny wisp of a girl coming in from Ohio a few years
back when Samuel, Bertha's husband, passed.
Bertha raised an eyebrow at him, as if she thought his motives
were highly suspect. "Old enough," she said, lifting her big chin.
"But too young for you."
Billy sputtered. "I wasn't asking for that. Besides, me and
Betsy—" He stopped abruptly. He knew how Bertha Riehl felt
about his Betsy Mast, and he didn't want another lecture about
thinking with your head and not your nether regions, a comment
at which he took offense. But that was Bertha Riehl for you. She
didn't mince words and she didn't hold back her opinions. And
she had plenty of both.
On this sunny day, Bertha handed him a broom. "When you're
done sweeping out the hay loft, you need to clean out the ashes
in the chimbley place." She bent over to pick up her favorite
rooster, a fourteen-year-old leghorn named Otto, who followed
her around the farm. Bertha tucked Otto under her arm, footballstyle,
and headed up the hill to the farmhouse. Her left side was
flanked by Boomer, a big black dog who had appeared one day
and never left.
"You gonna finally cook that ol' rooster for dinner, Bertha?"
Billy said, grinning.
shoulder, stroking Otto's feathers like he was a pampered housecat.
Bertha was always threatening Otto was going to end up as
Sunday's stew, but Billy knew better. Bertha Riehl was all bluff
and bluster. Well, mostly bluff and bluster. He couldn't deny she
had a way of intimidating folks that was a wonder to behold. It
had happened to Billy only once, when he made the mistake of
asking her if she was six feet tall. Bertha planted her fists on her
deluxe-sized hips and narrowed her eyes at him. "I am five feet
twelve inches." Then she stared him down until he was sure he
had shrunk an inch or two, right in front of her.
From the kitchen door of the sprawling brick-and-frame
farmhouse, Bertha turned and hollered at Billy. "Es is noch lang
net faercih wann's yuscht halwe gedus is!" Half done is far from
done!
He dashed into the barn and picked up where he left off,
sweeping the concrete floor with a dash and a fury. One thing to
be grateful for, he thought as hay and dust flew up around him,
the day of Bess's arrival had finally come.
...
view entire excerpt...
Discussion Questions
From the Publisher:
1. Conflict and reconciliation are central themes in The Search.
Discuss the ways in which the characters come to peace
with their past.
2. What kind of a woman was Bertha Riehl? As you were
reading, what was your reaction to her? Did your opinion
change over time?
3. As Jonah puts Bess on the bus to go to Stoney Ridge, he
tells her, "Be careful because—"
Bess teased him that each time he said goodbye to her,
even as she hopped on the school bus, he would add
the caution, "Be careful, because . . ." Because . . . I won't
be there to protect you. Because . . . accidents happen.
What is Jonah really afraid of? How does he finally come
to terms with that fear?
4. In one scene with her two visiting friends, Lainey defends
her decision not to go to culinary school, as she had planned.
"I've learned more about cooking in the last few months
here than I ever could in a formal school. Here, food means
more than nourishing a body. Sharing a meal nourishes a
community." What did she mean by that? In what ways is
the Amish relationship to food and meals different from
mainstream society's?
5. Simon spent a lifetime trying to be "significant." What
finally spoke to his heart? Do you think his change was
permanent?
6. What kind of future do you see for Bess and Billy? Do you
think they will end up together? Or do you think Bess has
outgrown Billy?
7. Do you think Bess will ever tell Simon that he is her biological
father? Do you want her to tell him? Why or why
not?
8. What did you learn about Amish life in reading this
novel?
BECOME A MEMBER
it's free
Join the leading website for book clubs with over 35,000 clubs and 20,000 reading guides.
SEARCH OUR READING GUIDES
Search
JOIN OUR MAILING LIST
Get free weekly updates on top club picks, book giveaways, author events and more
Please wait...