BKMT READING GUIDES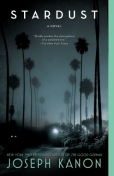 Stardust: A Novel

by Joseph Kanon
Published: 2010-07-06
Paperback : 528 pages
3 members reading this now
2 clubs reading this now
1 member has read this book
Recommended to book clubs by 3 of 4 members
Hollywood, 1945. Ben Collier has just arrived from war-torn Europe to find his brother has died in mysterious circumstances. Why would a man with a beautiful wife, a successful movie career, and a heroic past choose to kill himself?

Ben enters the uneasy world beneath the glossy shine of ...
No other editions available.

Jump to
Introduction
Hollywood, 1945. Ben Collier has just arrived from war-torn Europe to find his brother has died in mysterious circumstances. Why would a man with a beautiful wife, a successful movie career, and a heroic past choose to kill himself?

Ben enters the uneasy world beneath the glossy shine of the movie business, where politics and the dream factories collide and Communist witch hunts are rendering the biggest star makers vulnerable. Even here, where the devastation of Europe seems no more real than a painted movie set, the war casts long and dangerous shadows. When Ben learns troubling facts about his own family's past and embarks on a love affair that never should have happened, he is caught in a web of deception that shakes his moral foundation to its core.

Rich with atmosphere and period detail, Stardust flawlessly blends fact and fiction into a haunting thriller evoking both the glory days of the movies and the emergence of a dark strain of American political life.
Excerpt
A MAN RIDES INTO TOWN
AS IT HAPPENED, Sol Lasner was also on the train. Ben spied him first on the red carpet at Grand Central posing for photographers, like one of his stars. Shorter than Ben remembered, his barrel chest wobbling on thin legs, storklike, but with the same tailored look, natty. He gave a quick, obligatory smile to the flashbulbs, then herded a group of men in suits onto the train, back to business. At Croton, where they switched over to the steam engine, most of the suits got off for the ride back to the city, but two stayed on through dinner, so Ben didn't have a chance to talk to him until they were past Albany, when the landscape had already turned dark and there was nothing to observe from the observation car but blurs of street lamps and platform lights streaking past. ...
view entire excerpt...
Discussion Questions
From the Publisher:
Questions and Topics for Discussion
1. Did you expect the final outcome? Did the identity of Danny's murderer come as a shock?
2. Discuss Liesl and her numerous lovers over the course of the narrative. (Consider Danny, Ben, and Dick Marshall). Did she ever love Ben, or was he just an extension of Danny? As Ben asks, "Was any of it real?"
3. Discuss the courtroom debate between Minot and Lasner. Who do you think won in the end? Did Lasner successfully thwart Minot's attack on Hollywood, or did he merely delay the inevitable?
4. Ben is supplied information (and misinformation) by a variety of questionable sources. Did you trust his various informants? (Consider Kelly, Riordan, Polly, Minot, and Bunny Jenkins).
5. Bunny is one of the more complex characters within the narrative, a child star turned Hollywood Studio second-in-command and "fixer." Discuss his evolution and multiplicity. How did you interpret his relationship with Jack (the mangled veteran)? Or his compliance with Minot's proposed witch hunt? And, of course, consider his role in saving Ben's life. Did you ever have a firm grasp on his character, or intentions?
6. Did you trust Ben's deductive skills? He was led down the wrong path on numerous occasions. Were Liesl and Riordan right in persuading him to let Danny go? Is he any better off once Danny's past allegiances are uncovered?
7. Murder plays a large role throughout the story, as two killings spur Danny to uncover the secrets behind the studio and the Red Scare. Were you certain as to why Danny had to die? What about Genia, the Holocaust survivor?
8. Where do you think Ben goes after watching War Bride?
9. Who was your favorite starlet in Stardust's versions of Hollywood? Rosemary? Paulette Goddard? The new and improved Liesl Eastman? Are any of them safe from Minot and Polly Marks?
10. Who makes a better case for Ben's future in Hollywood? Bunny, or Lasner?
Expand Your Book Club
1. Read another thriller/mystery novel, such as Le Carre's A Most Wanted Man or a title from Ferrigno's Assassin series, and discuss the way the writers build up and establish intrigue, and the methods by which they reveal the truth.
2. There is an immense amount of misinformation, secret connections, and crossed lines throughout the narrative. See if you can draw a map that clearly indicates how everyone is associated, who supplied whom with information, and how Dieter's machinations work underneath it all.
3. The novel is a representation of a very specific era of Hollywood. Watch some of the movies from that era to get a better idea of what Tinsel Town was producing during the 1940s. Try You'll Never Get Rich (Rita Hayworth, 1941) or Casablanca (Ingrid Bergman, 1942). There is also a rich selection of German cinema from this informative period, mentioned frequently in the beginning of the text. See any of Fritz Lang or Brecht's seminal post-occupation films.
4. Continuing with the previous question, do you find any Communist or Socialist undertones in these films? Could you make a case for or against an imaginary Red inquisition?
5. Who would you cast in the Stardust movie?
Book Club Recommendations
Recommended to book clubs by 3 of 4 members.
Keep you paper and pencil handy!!
by SRJacksack (see
profile
) 12/02/10
I wish when I started the book that I kept a notebook of the various characters and the things they say and do, there are so many red herrings and rabbit trails throughout the book. Still a good read and a decent mystery.
BECOME A MEMBER
it's free
Join the leading website for book clubs with over 35,000 clubs and 20,000 reading guides.
SEARCH OUR READING GUIDES
Search
JOIN OUR MAILING LIST
Get free weekly updates on top club picks, book giveaways, author events and more
Please wait...