BKMT READING GUIDES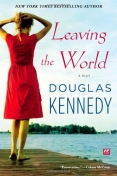 Leaving the World: A Novel

by Douglas Kennedy
Published: 2010-06-15
Paperback : 512 pages
5 members reading this now
2 clubs reading this now
2 members have read this book
Recommended to book clubs by 3 of 4 members
On the night of her thirteenth birthday, Jane Howard made a vow to her warring parents: she would never get married, and she would never have children.
But life, as Jane comes to discover, is a profoundly random business. Many years and many lives later, she is a professor in Boston, in ...
No other editions available.

Jump to
Introduction
On the night of her thirteenth birthday, Jane Howard made a vow to her warring parents: she would never get married, and she would never have children.
But life, as Jane comes to discover, is a profoundly random business. Many years and many lives later, she is a professor in Boston, in love with a brilliant, erratic man named Theo. And then Jane becomes pregnant. Motherhood turns out to be a great welcome surprise--but when a devastating turn of events tears her existence apart she has no choice but to flee all she knows and leave the world.
Just when she has renounced life itself, the disappearance of a young girl pulls her back from the edge and into an obsessive search for some sort of personal redemption. Convinced that she knows more about the case than the police do, she is forced to make a decision'stay hidden or bring to light a shattering truth.
Leaving the World is a riveting portrait of a brilliant woman that reflects the way we live now, of the many routes we follow in the course of a single life, and of the arbitrary nature of destiny. A critically acclaimed international bestseller, it is also a compulsive read and one that speaks volumes about the dilemmas we face in trying to navigate our way through all that fate throws in our path.
Excerpt
Chapter 1
On the night of my thirteenth birthday, I made an announcement.
'I am never getting married and I am never having children.'
I can remember exactly the time and the place where this proclamation was delivered. It was around six p.m. in a restaurant on West 63rd Street and Broadway. The day in question was January 1st 1987, and I blurted out this statement shortly after my parents had started fighting with each other. Fuelled by alcohol and an impressive array of deeply held resentments, it was a dispute which ended with my mother shouting out loud that my dad was a shit and storming off in tears to what she always called 'the little girls' room'. Though the other patrons in the restaurant gawked at this loud scene of marital discontent, their fight came as no great shock to me. My parents were always fighting – and they had this habit of really combusting at those junctures in the calendar (Christmas, Thanksgiving, the anniversary of their only child's arrival in the world) when family values allegedly ruled supreme and we were supposed to feel 'all warm and cuddly' towards each other. ...
view entire excerpt...
Discussion Questions
1. After a particularly tense birthday dinner, thirteen-year-old Jane Howard announces to her parents that she will never marry nor have children. After her father leaves the family the next day, Jane's mother attributes his desertion to Jane's statement. What does this tell us about Jane's mother and her character? Do you think Jane's statement actually influenced her father's decision?
2. Early on in the novel, Jane states: "We can rarely tell others what we really think about them—not just because it would so wound them, but also because it would so wound ourselves. The gentle lie is often preferable to the bleak truth." (p. 37) Do you find this to be true? Why can't Jane tell her mother the truth as she sees it?
3. Early in their clandestine relationship, Jane tells David Henry, "If we lived together, . . . the letdown would be huge," a point she felt was "decidedly romantic" because "I don't have to find out whether or not you floss your teeth, or kick your dirty underwear under the bed . . ." (p. 40) Do you think she makes a salient point about "familiarity breeding contempt"? Do you think their romance would have become serious if it had been out in the open?
4. Given Jane's feelings about the possibility of "wounding" people, why do you think she was still somewhat honest about her dislike of David's novel? Why could she be honest with David and not with her mother?
5. After David's death, Jane is reminded of something he once told her: "We try so hard to put our mark on things, we like to tell ourselves that what we do has import or will last. But the truth is, we're all just passing through. So little survives us. And when we're gone, it's simply the memory of others that keeps our time here alive." (p. 57) How does his musing differ from Jane's theory that "words matter, words have import"? With whom do you agree more?
6. After the dissolution of her parents' marriage, Jane comes to the conclusion that "when men are threatened, they vanish." How does this prophecy manifest in Jane's life?
7. Why do you think Jane takes the financial job at Freedom Mutual, given that it was the "anathema to all that [she] valued in . . . life"? (p.84) How is overbearing Trish the polar opposite of Jane?
8. How has Jane's relationship (or lack thereof) with her father impacted her relationships with other people?
9. Why do you think Jane is worried about settling into domestic life with Theo, besides the obvious fear of turning into her parents? How does Theo's behavior after Emily's birth echo her early theory about men vanishing when they are threatened?
10. What do you think Jane means when she has the foreboding reflection of "never underestimate the need for self-sabotage when someone has finally gotten what they always wanted"? (p. 214) How can success be a problem?
11. How would you describe Jane's relationship with her mother? What made her flee during her mother's last hours?
12. After her mother's death, Jane concludes, "if life teaches you anything, it's this: you can never dispel another person's illusions." (p. 236) How is this true for Jane and her mother? In what way was Jane's mother "deluded" about her marriage?
13. After the Fantastic Films debacle, Jane feels "I deserve all the bad stuff that is going to come down from this. Because . . . there is a part of me that always believes I deserve disaster." (p. 248) Why do you think she is developed this skewed view of the world? Do you think she is angry with herself for ignoring her thirteen-year-old declaration?
14. How do you think Jane has dealt with the tumult in her life, the lawsuits brought on by Theo's recklessness, and ultimately, Emily's death? Why do you think she could not let friends like Christy or Professor Sanders be there for her?
15. After her failed attempt at taking her own life in Montana, Jane retreats from the world. She cancels her credit cards, quits her job, and heads north to Canada, for no reason in particular. What would you have done in Jane's circumstances? What is the significance of the title, Leaving the World?
16. After fleeing Boston for a small coastal village in Canada, she reflects on "that oft-quoted pensée of Pascal about man's unhappiness all coming down to his inability to sit alone in a small room and do nothing." (p. 126) Given today's never-ending barrage of data from cell phones, computers, and other mobile devices, do you agree?
17. Why do you think the case of missing girl Ivy MacIntyre so struck a chord in Jane? Why do you think she is convinced of George MacIntyre's innocence?
18. This is the fourth novel in which author Douglas Kennedy writes from the point of view of a woman. How accurately does he capture a woman's voice?
19. Given all that Jane has been through, what do you envision in her future?
BECOME A MEMBER
it's free
Now serving over 80,000 book clubs & ready to welcome yours. Join us and get the Top Book Club Picks of 2022 (so far).
SEARCH OUR READING GUIDES
Search
JOIN OUR MAILING LIST
Get free weekly updates on top club picks, book giveaways, author events and more
Please wait...