BKMT READING GUIDES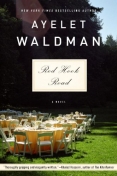 Red Hook Road

by Ayelet Waldman
Published: 2010-07-13
Hardcover : 352 pages
2 members reading this now
9 clubs reading this now
5 members have read this book
Recommended to book clubs by 3 of 3 members
As lyrical as a sonata, Ayelet Waldman's follow-up novel to Love and Other Impossible Pursuits explores the aftermath of a family tragedy.

Set on the coast of Maine over the course of four summers, Red Hook Road tells the story of two families, the Tetherlys and the Copakens, and of the ...
No other editions available.

Jump to
Introduction
(As lyrical as a sonata, Ayelet Waldman's follow-up novel to Love and Other Impossible Pursuits explores the aftermath of a family tragedy.

Set on the coast of Maine over the course of four summers, Red Hook Road tells the story of two families, the Tetherlys and the Copakens, and of the ways in which their lives are unraveled and stitched together by misfortune, by good intentions and failure, and by love and calamity.

A marriage collapses under the strain of a daughter's death; two bereaved siblings find comfort in one another; and an adopted young girl breathes new life into her family with her prodigious talent for the violin. As she writes with obvious affection for these unforgettable characters, Ayelet Waldman skillfully interweaves life's finer pleasures?music and literature?with the more mundane joys of living. Within these resonant pages, a vase filled with wildflowers or a cold beer on a hot summer day serve as constant reminders that it's often the little things that make life so precious.

Pat Conroy Reviews Red Hook Road
Pat Conroy is the author of nine previous books: The Boo, The Water is Wide, The Great Santini, The Lords of Discipline, The Prince of Tides, Beach Music, My Losing Season, The Pat Conroy Cookbook: Recipes of My Life, and South of Broad. His newest book, My Life In Books, will be published in September. He lives in Fripp Island, South Carolina. Read his review of Red Hook Road:
In her latest novel, Red Hook Road, Ayelet Waldman has nailed the indelible mark that the state of Maine leaves on all visitors who fall for its subtle, insinuating glamour. Red Hook Road is a terrific novel, and might even be a great one. The structure of the book seems perfect to me; the first sentence sets up and readies us for the immense powers of the last one. It tells the stories of two families as different as the Montagues and the Capulets, but with the same tragic and irreversible destines playing out around them. The hardscrabble, working-class Hewins are native Mainers, the kind of family that keeps Maine vibrant during the cold months when the summer people return to their big-city homes. The Kimmelbrods are a sophisticated Jewish family from Manhattan; they are as cultured and passionate as the Hewins are no-nonsense and taciturn, as taciturn as lichens growing on the rocks of a church garden. Jane Hewins is a quintessential woman of Maine with an unviable sense of self and a home-bound integrity that could earn her a place on a Maine license plate along with a moose, a lobster, or a loon. Her big-city counterpart is Iris Copaken, a character who represents the highest level of Jewish culture. Iris has been vacationing with her family in Red Hook since birth, and Jane Hewins has cleaned the Copaken's summer house for many years. The novel begins when Jane's admirable son marries Iris? delectable daughter; and great storm clouds form on the far horizon as Down East Maine meets the Upper East side in a glorious clash of the Titans.
Ayelet Waldman's prose style is lovely and fresh. There is a brilliant scene that I?ve returned to again and again: The great violinist, Emil Kimmelbrod, finds the undiscovered talent of a small girl, Samantha Phelps, and brings out her instinctive mastery of rhythm, modulation, and perfect pitch. With language and example, Ayelet teaches me everything I didn?t know and can never know about music. It was like discovering a lost part of my life where I?m not only untalented, but unteachable. Each encounter of Kimmelbrod and Samantha in the book was exciting for me. Had I not read this book, I wouldn?t have understood that I?ve never really "heard" classical music before.
The structure of Red Hook Road is so perfect that I didn?t initially notice the sacred reverence for the beauty of wood both families share. The people of coastal Maine are aficionados of wooden boats, and their harbors fill up with boats that perform the same service as the highest works of art. The same joy of perfect woodwork manifests itself in Kimmelbrod as he cradles his Dembovski or considers the famous violins of Giussupe Guarneri del Gesu. You learn in this book that there is a strange kinship in the mahogany fittings of yachts and the lacquered pear wood of violins--Red Hook Road is an intricate dance between art and nature, between foreignness and belonging, between still waters and storm.
There are love stories being told all over this book, and like all great love stories, these are volatile and enduring and bright with astonishment. These characters now take up residence in the city I?ve built out of the books I love. This book made me happy, and happy to be alive. It took me out of my home on the coast of South Carolina, placed me in the town along Red Hook Road, and changed me the way good books always do.
---
Ayelet Waldman on Red Hook Road
There comes a moment at every literary event, a moment every author dreads, when the lights go up and the Q&A starts. The vast majority of the Q is fine (I can?t speak for the A, you?ll have to be the judge). What book am I reading now, when did I first want to become a writer, how do my children feel about the title of my last book. I like those Qs. I like especially the Qs that haven?t been asked before, the ones that give me a chance to depart from my practiced answers. I?m not as fond of the Q that begins with some version of, "I hated this book, but not as much as I loathed your last one," but I can handle that. (I find it usually helps to agree with the person and to suggest alternatives. Ian McEwan never disappoints.) The Q I loath and despise, the Q every single writer I know loathes and despises, is this one:
Where, the reader asks, do you get your ideas?
It's a simple question, and my usual response is a kind of helpless, "I don?t know." But I do know. I?m just embarrassed to tell you. I get my ideas from you, or from your mother, or from someone else I run across to whom something bizarre or sad has happened, someone whose life is miserable, but in an interesting way. "Write What You Know," goes the old adage, but once you?ve written about what an unloved geek and freak you were in high school (and every writer I know claims to have been the most unhappy teenager who ever lived. Where were these people when I was sitting alone at the lunch table at George Washington Jr. High? I?d like to know. Couldn?t we have been sitting together?), once you?ve mined the exciting tale of your grandmother/grandfather's immigration to America from Russia/Italy/China/Vietnam, once you?ve spent an entire novel complaining about how much it sucks to have to wake up in the middle of the night with the baby, then what?
I?ll tell you what. Other people's misfortune. That's where we get those ideas that inspire us (and, we hope, you). Most writers spend their lives standing a little apart from the crowd, watching and listening and hoping to catch that tiny hint of despair, that sliver of malice, that makes them think, Aha, here is the story.
My new novel, Red Hook Road, began many years ago as a short article in the newspaper. A bride and a groom (or was it the groom and the best man?) were killed on their way from the church to the reception, when a speeding car smashed into their limousine. The horror of that happening on that day, at that moment, when you are about to embark on a completely new life, where everything is possible and the future is all that is on your mind... that stuck with me for years. I?d think of it time and again, as anyone would.
A normal person thinks about that tragedy, and maybe gets sad all over again. A writer thinks of it and wonders, "Can I use this?"
Until one day, you can, and you do. --Ayelet Waldman
(Photo © Reenie Raschke)
---
Excerpt
No Excerpt Currently Available
Weblinks
There are no web links at this time.
BECOME A MEMBER
it's free
Join the leading website for book clubs with over 35,000 clubs and 20,000 reading guides.
SEARCH OUR READING GUIDES
Search
JOIN OUR MAILING LIST
Get free weekly updates on top club picks, book giveaways, author events and more
Please wait...