BKMT READING GUIDES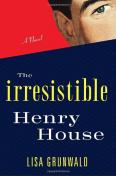 The Irresistible Henry House: A Novel

by Lisa Grunwald
Published: 2010-03-16
Hardcover : 432 pages
9 members reading this now
17 clubs reading this now
11 members have read this book
Recommended to book clubs by 4 of 4 members
It is the middle of the twentieth century, and in a home economics program at a prominent university, real babies are being used to teach mothering skills to young women. For a young man raised in these unlikely circumstances, finding real love and learning to trust will prove to be the ...
No other editions available.

Jump to
Introduction
(It is the middle of the twentieth century, and in a home economics program at a prominent university, real babies are being used to teach mothering skills to young women. For a young man raised in these unlikely circumstances, finding real love and learning to trust will prove to be the work of a lifetime. In this captivating novel, bestselling author Lisa Grunwald gives us the sweeping tale of an irresistible hero and the many women who love him.

From his earliest days as a ?practice baby? through his adult adventures in 1960s New York City, Disney's Burbank studios, and the delirious world of the Beatles? London, Henry remains handsome, charming, universally adored?and never entirely accessible to the many women he conquers but can never entirely trust.

Filled with unforgettable characters, settings, and action, The Irresistible Henry House portrays the cultural tumult of the mid-twentieth century even as it explores the inner tumult of a young man trying to transcend a damaged childhood. For it is not until Henry House comes face-to-face with the real truths of his past that he finds a chance for real love.

Amazon Best Books of the Month, March 2010: To the ranks of iconic mid-century modern men Gump and Garp, add The Irresistible Henry House. As imagined by Lisa Grunwald, inspired by the peculiar beginnings of a real baby, Henry's life unspools with more realism and intention than Gump's, with less a sense of dread than Garp's. But Henry and his story have the same almost-magic magnetism. Henry arrives in the world as a "practice baby," passed between a dozen young women at the Practice House of Wilton College's Home Economics program in a decidedly pre-Spock era that discouraged mothers from holding babies "too much." From the beginning, Henry inspires in women the desire for his exclusive attention--but none want them more than Martha Gaines, the program director, who has spent her career overseeing the proper raising of a string of "house" orphans who were eventually adopted out.

Unable to let Henry go, Martha raises him as her own. Burdened by her need and bewildered by his own inability to reciprocate affection, Henry retreats into a silence that buys him banishment to a school for troubled teens in Connecticut, far from Martha's grasp. In these mute years, Henry hones his aptitude for drawing and experiences the benefits of knowing instinctively how to please women (sometimes including Mary Jane, his real childhood sweetheart). His skills open doors for him at Disney Studios to draw Poppins penguins, and in London for Yellow Submarine. The multidimensional generations of women in his life make a fascinating microcosm of the cultural revolution that redefined the expectations of all American women in the latter half of the 20th century. But it's Henry's struggle to define the desires of his own heart that propels this story, culminating in a scene as transcendent as Carver's Cathedral. --Mari Malcolm

Amazon Exclusive: Lisa Grunwald on The Irresistible Henry House

This novel begins with a photograph, and my writing it began the same way. I was trolling the Web five years ago, looking for entries to add to Women's Letters, an anthology I was editing then. Somewhat by accident, I landed on a Website created by history students at Cornell University, and I saw for the first time a thumbnail photograph, just an icon, of an irresistible baby's face. I clicked on it, not knowing exactly why, and met an orphan who had spent the first year of his life being cared for as a "practice baby" in a home economics course. A real baby. Handed off in turns from practice mother to practice mother.
Initially, the journalist in me wanted to know what had happened to that baby. The novelist in me asked the same question. There was a brief skirmish. But when I read that the babies raised this way were returned to their orphanages and adopted like any of the other infants, the novelist in me won out. Without access to more information, I had a feeling that fiction would be if not stranger than at least longer than truth.
Still, the time frame in which the novel would be set plunged me into my first attempt at writing historical fiction, and other facts ended up being important to Henry House's story. A few examples of fun facts I found along the way:
Far from offering just the "MRS degree" that became part of its reputation, home economics--in teaching women about cleaning, cooking, and household equipment--provided an almost revolutionary path to subjects traditionally thought of as men's province: chemistry, biology, electrical engineering.
One of the most popular childcare experts in the 30s and 40s recommended a firm handshake as the best way to greet one's young children.
In the early 20th century, children with what we now know as learning disabilities were still being sent to institutions with names like the Custodial Asylum for Unteachable Idiots.
It was Walt Disney's own idea to replace the tuxedoed waiters in the book of Mary Poppins with the animated penguins who dance in the movie; as a child he had always thought tuxedoed men looked like penguins.
It wasn?t really the Beatles who did the speaking parts for Yellow Submarine.
All of these facts landed in my private file of "who knew?" and subsequently landed in the novel as well. But the central fact remained that the baby in the picture had started his life being cared for by multiple women, and I knew that no matter what else happened in the book, that weird fact would shape the heart of my character and, I will hope, the heart of the book. --Lisa Grunwald
(Photo © Jon LaPook)
---
Excerpt
No Excerpt Currently Available
Weblinks
There are no web links at this time.
BECOME A MEMBER
it's free
Now serving over 80,000 book clubs & ready to welcome yours. Join us and get the Top Book Club Picks of 2022 (so far).
SEARCH OUR READING GUIDES
Search
JOIN OUR MAILING LIST
Get free weekly updates on top club picks, book giveaways, author events and more
Please wait...