BKMT READING GUIDES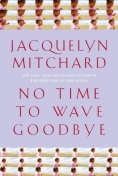 No Time to Wave Goodbye: A Novel

by Jacquelyn Mitchard
Published: 2009-09-15
Hardcover : 228 pages
0 members reading this now
0 club reading this now
1 member has read this book
Recommended to book clubs by 1 of 2 members
New York Times bestselling author Jacquelyn Mitchard captured the heart of a nation with The Deep End of the Ocean, her celebrated debut novel about mother Beth Cappadora, a child kidnapped, a family in crisis. Now, in No Time to Wave Goodbye, the unforgettable Cappadoras are in peril ...
No other editions available.

Jump to
Introduction
New York Times bestselling author Jacquelyn Mitchard captured the heart of a nation with The Deep End of the Ocean, her celebrated debut novel about mother Beth Cappadora, a child kidnapped, a family in crisis. Now, in No Time to Wave Goodbye, the unforgettable Cappadoras are in peril once again, forced to confront an unimaginable evil.

It has been twenty-two years since Beth Cappadora's three-year-old son Ben was abducted. By some miracle, he returned nine years later, and the family began to pick up the pieces of their lives. But their peace has always been fragile: Ben returned from the deep end as another child and has never felt entirely at ease with the family he was born into. Now the Cappadora children are grown: Ben is married with a baby girl, Kerry is studying to be an opera singer, and Vincent has emerged from his troubled adolescence as a fledgling filmmaker.

The subject of Vincent's new documentary, ?No Time to Wave Goodbye,? shakes Vincent's unsuspecting family to the core; it focuses on five families caught in the tortuous web of never knowing the fate of their abducted children. Though Beth tries to stave off the torrent of buried emotions, she is left wondering if she and her family are fated to relive the past forever.

The film earns tremendous acclaim, but just as the Cappadoras are about to celebrate the culmination of Vincent's artistic success, what Beth fears the most occurs, and the Cappadoras are cast back into the past, revisiting the worst moment of their lives?with only hours to find the truth that can save a life. High in a rugged California mountain range, their rescue becomes a desperate struggle for survival.

No Time to Wave Goodbye is Jacquelyn Mitchard at her best, a spellbinding novel about family loyalty, and love pushed to the limits of endurance.


From the Hardcover edition.


---
An Essay by Jacquelyn Mitchard
Motherhood?The Sequel
How I grieved when my three older sons??gen one? of my seven children?began to achieve young manhood. Every inch they grew made me shrink a little inside. The older they got, the less they would need me. I?d lost the sweet confidences, heartfelt hugs and even unruly tears of the little boys I?d known as a first-time mom. And I thought I had lost my sons.
How wrong I was.
Sure, I still miss those first little boys (although my youngest children today are little boys, too, just three and five). I still miss my effortless size six jeans, too. I haven?t seen them since.
But the way I feel about my older sons took me completely by surprise?as does the way they feel about me.
Like my character Beth Cappadora in No Time To Wave Goodbye, I thought motherhood was time-limited, a vocation that required gear, mittens with zippers, and car seats and bags of Cheerios. When I put away childish things, I felt, just as Beth did, that I?d outlived my usefulness to growing guys. I was just a sweet-and-sour relic of their past and. While I was anything but ?finished? with them, they were more than finished with me. But that turned out to be only adolescence.
As they grew older, I learned that they needed their mother differently, but equally urgently, as they did when they needed me to hold their spoons.
It's against me that they practice the beliefs I tried to instill (the ones they now praise as genuinely as they previously rejected them). It's with me that they offer a more quaint and tender courtship than they give their girlfriends?only the flowers on the bedside table are roses instead of dandelions.
I never imagined the bond I would feel when I heard Marty, 19, sing on a stage in front of 500 people?and saw him search the crowd for my face. I never anticipated the thrill of accompanying my 22-year-old chef-in-training to dinner and listening with quiet pride as he ordered for both of us. I marvel as my Rob, 25, (a fiercely indifferent high school student) now worries every college grade to an A?then turns to me for approval.
And so the 'sequel? to my biggest bestselling novel, The Deep End of the Ocean, is more than a tale of a family tested beyond the limits of endurance, twice in a lifetime. It's a story that reflects so much of what I?ve learned in 13 intervening years since the book was published. Love that changes isn?t love lost; just as mist and ice are only water in another form, equally lovely.
Beth Cappadora learns more than how tough she really is in her sons? time of agony in No Time To Wave Goodbye. She learns that she's still a mother and she still matters.
And so did I. Jacquelyn Mitchard
(Photo © Liane R. Harrison)


Excerpt
Chapter One
Before dawn on the day she would finally see his first real film, Beth Cappadora slipped into the guest room and lay down on the edge of the bed where her son, Vincent, slept.
Had she touched his hair or his shoulder, he would not have stirred. When he slept at all, Vincent slept like a man who'd fallen from a relaxed standing position after being hit on the back of the head by a frying pan. Still, she didn't take the risk. Her relationship with Vincent didn't admit of nighttime confidences, funny cards, all the trappings of the sentimental, platonic courtship between a mother and her grown boy. Instead, Beth blessed the air around his head, where coiled wisps of dark hair still sprang up as they had when he was a child. ...
view entire excerpt...
BECOME A MEMBER
it's free
Join the leading website for book clubs with over 35,000 clubs and 20,000 reading guides.
SEARCH OUR READING GUIDES
Search
JOIN OUR MAILING LIST
Get free weekly updates on top club picks, book giveaways, author events and more
Please wait...