BKMT READING GUIDES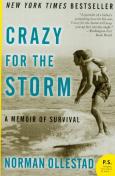 Crazy for the Storm LP: A Memoir of Survival

by Norman Ollestad
Published: 2010-05-11
Paperback : 304 pages
3 members reading this now
9 clubs reading this now
2 members have read this book
Recommended to book clubs by 2 of 2 members
"Breathtaking....Crazy for the Storm will keep you up late into the night."
—Washington Post Book World< ?xml:namespace prefix = o ns = "urn:schemas-microsoft-com:office:office" />
Norman Olstead's New York Times bestselling memoir Crazy for the Storm is the story of the harrowing plane crash the author miraculously survived at age eleven, framed by the ...
No other editions available.

Jump to
Introduction
"Breathtaking....Crazy for the Storm will keep you up late into the night."
—Washington Post Book World< ?xml:namespace prefix = o ns = "urn:schemas-microsoft-com:office:office" />
Norman Olstead's New York Times bestselling memoir Crazy for the Storm is the story of the harrowing plane crash the author miraculously survived at age eleven, framed by the moving tale of his complicated relationship with his charismatic, adrenaline-addicted father. Destined to stand with other classic true stories of man against nature—Into Thin Air and Into the Wild by Jon Krakauer; Sebastian Junger's The Perfect Storm—it is a literary triumph that novelist Russell Banks (Affliction) calls, "A heart-stopping story beautifully told….Norman Olstead has written a book that may well be read for generations."
Editorial Review
Amazon Best of the Month, June 2009:
The story itself could take your breath away: an 11-year-old boy, the only survivor of a small-plane crash in the San Gabriel Mountains in 1979, makes his way to safety down an icy mountain face in a blizzard, using the skills and determination he learned from his father. But it's the way that Norman Ollestad tells his tale that makes
Crazy for the Storm
a memoir that will last. He almost has too much to tell: a way-larger-than-life father--former child actor, FBI man (who took on Hoover in a controversial book), and surfer who drove his son to test his limits in the surf and on the slopes; a youth spent in the short-lived counterculture paradise of Topanga Canyon; a stepfather who could give Tobias Wolff's a run for his money; and of course the crash. But writing 30 years later, Ollestad is wise and talented enough to focus his story on the essentials, cutting elegantly back and forth between a moment-by-moment account of the crash and his memories of the difficult but often idyllic year leading up to it. More than a story of survival, it's a time-tempered reckoning with what it means to be a father and a son. --
Tom Nissley
Amazon Exclusive Essay: It Starts With a Good Story by Norman Ollestad
It was time for my eight-year old son, Noah, to read before bed. "Eh," he groaned. "Reading is so boring. It sucks." He'd been reciting this same mantra for months. I was resting beside him in his bed and I saw his whole life crumble--a slew of poor report cards and father-son arguments, ending in long term unemployment. "What about Dr. Seuss?" I reasoned. He glared at me with his brown eyes. "It's okay," he mumbled. I opened the book he was reading for his class and handed it to him. He stared at it, mute. "Noah," I said from my lowest register. He proceeded to read at a snail's pace and I pointed out that it would take him twice as long as usual to get through the required five pages. So he ran the words together, not even stopping at periods. I grabbed the book and told him we'd be reading all weekend to make up for his lack of cooperation. For months I coerced him like that, urging him past his lazy monotone, trying to get him to connect with the story. It was a long few months.
When I was Noah's age I also disliked reading. I just wanted to hear the story without having to work for it. I had wished my dad could work the same kind of magic he did with surfing: he'd push me into the waves so that I could simply enjoy the ride, eliminating the most arduous, frustrating part of surfing--paddling for the wave.
My father was always asking my mother, who was a grade-school teacher, why I wasn't a better reader. She advocated patience, and encouraged me by tirelessly pointing out things in each story that I might relate to. My father was killed when I was eleven, so he never got to witness my eventual love of reading.
In order to help Noah find that love, I searched for a seminal moment in my past that had transformed me. There was no single thing. But during my reminiscences I flashed on Dad reading aloud my grandparents' monthly letters from Mexico. They had retired to Puerto Vallarta and their letters were filled with stories. Stories about an inland village where Grandpa went twice a week to buy ice for their fridge, to keep their food cold. Stories about helping a Mexican family after a hurricane hit Puerto Vallarta. Stories of secret waterfalls and secluded isthmuses that Grandpa and Grandma had discovered around Vallarta. And that's when it hit me--it was very simple: the essence of my love for reading really emanates from my love for stories.
"How about I tell you a story tonight," I whispered with great zeal to Noah. His eyes lit up and he smiled. "What kind of story?"
"Any kind," I said.
"A story about a magic skateboard would be cool," he suggested. As I spun the impromptu tale, he rolled onto his side and stared at me, totally focused. The following night I made a bargain with him: "First read five pages, then I'll work up a story about whatever you want." Before I got myself nestled beside him, he was halfway through the first page. Progressively, Noah's topics became more elaborate, and soon he was giving me outlines for stories. Somewhere along the line his reading voice changed--he was gobbling up the sentences, his voice alive with inflection. He'd broken through. Noah was hooked on stories, like I got hooked on riding waves. Once he'd experienced the pleasure of going on that narrative ride, reading became second nature, like paddling for a wave. It all starts with a good story.
Photographs from Crazy For the Storm

(Click to Enlarge)
| | | | |
| --- | --- | --- | --- |
| | | | |
| My first surfboard, Topanga Beach, 1968 | Mom, Dad, and Me, Topanga Beach, 1968 | Dad in St. Anton, Austria, Early 1970's | St. Anton with Dad |
| | | | |
| --- | --- | --- | --- |
| | | | |
| Me, Ski racing | Skiing with Dad | Puerto Vallarta, 1975 | Three generations of Normans, 1977 |
Excerpt
I was close to the reef and my dad was behind me for some reason. Coming out of the trance, I realized the waves were twice my size. I sat up on my board. The reef halted the swell's forward momentum and the swell lurched upward then heaved outward, hollowing out the face of the wave. The leading crest was pointed like an arrow as it knifed down and impaled the surface of the ocean. My dad paddled up next to me. ...
view entire excerpt...
Discussion Questions
From the publisher:
From the age of three, Norman Ollestad was thrust into the world of surfing and competitive downhill skiing by the intense, charismatic father he both idolized and resented. While his friends were riding bikes, playing ball, and going to birthday parties, young Norman was whisked away in pursuit of wild and demanding adventures. Yet it were these exhilarating tests of skill that prepared "Boy Wonder," as his father called him, to become a fearless champion—and ultimately saved his life.
1. Discuss the various ways to interpret the book's title, "Crazy for the Storm"? How did this perspective/attitude shape young Norman's personality and life? Did it help save his life?
2. Was Norman's father too demanding of his son? How has parenting changed since the era of the book, the 1970's? How is the father-son relationship like or unlike your own relationship with your own father?
3. On that fateful day of the crash, little Norman was forced to draw from all the tools and lessons his father had instilled in him from birth. Discuss the connections between what his father exposed him to and when he had to put those experiences to quick use on the mountain.
4. Have you been faced with a seemingly insurmountable situation that forced you to reach deep down inside yourself in order to make it through?
5. What sports, activities or hobbies give you the most satisfaction? Discuss the role your favorite sport, activity or hobby plays in your life? Could you cope without it?
6. Have you had early childhood experiences forced upon you that at first you resisted and rejected, but later became a most favored or treasured experience, skill or pastime?
7. Empowering messages were engrained in Norman, the "Boy Wonder," from an early age such as "Never Give Up" and "We can do it all." These words fueled Norman to keep moving forward each time he weakened or seemed about to succumb. What words and thoughts wield significant power to you?
8. How does the tone from the beginning of the book compare to the end? Does Norman seem to have reconciled the tension generated by his father's insistence to push beyond the limits of the comfort zone? At the conclusion of the book, is the author softened, resolved or conflicted?
9. In contrast to his father's risk-taking nature, young Norman seemed to possess an inherent sense of reserve and caution. Throughout the story, when do we see Norman first begin to emerge from his fears and begin to embrace the joy of the thrill seeking his father craved?
10. There were a few important women that influenced Norman early in his life, including Patricia Chapman who had provided the warm, safe haven when he finally made it down the mountain. How did each relationship impact him and shape him? Did they offer a counterbalance to the dominant male personalities in his life?
About the author
Norman Ollestad studied creative writing at UCLA and attended the UCLA Film School. He grew up on Topanga Beach in Malibu, California, and now lives in Venice, California. He is the father of an 8-year-old son.
Book Club Recommendations
Recommended to book clubs by 2 of 2 members.
Listen to an interview with the author
by bblattner (see
profile
) 07/05/16
The Mischke Road Show Episode 55 podcast has a 40 minute interview with Norman Olestad that recaps the book and makes the reading experience come alive. Listen to this during your discussion.
BECOME A MEMBER
it's free
Join the leading website for book clubs with over 35,000 clubs and 20,000 reading guides.
SEARCH OUR READING GUIDES
Search
JOIN OUR MAILING LIST
Get free weekly updates on top club picks, book giveaways, author events and more
Please wait...