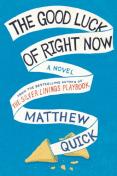 The Good Luck of Right Now
by Matthew Quick
Hardcover- $21.76
From Matthew Quick, the New York Times bestselling author of The Silver Linings Playbook, comes The Good Luck of Right Now, a funny and ...
Overall rating:
How would you rate this book?
Member ratings
"Dear Richard Gere"
by emw314 (see profile) 04/21/14
This was a quirky fun and insightful book. I don\'t know how many people will get the insightful part of it, because of the characters, but I caught the writers underlining message.
"Creative, tender tale about an unusual cast of characters."
by thewanderingjew (see profile) 05/04/14
At first, I did not know what to make of this book. A 39-year-old man, Bartholomew Neil, is overly attached to his mother, and he is grieving after her death. An errant priest, Father McNamee, off his meds and suffering from bi-polar disease, believed G-d once spoke to him but since has ceased. He has defrocked himself, and moved in with Bartholomew. He tells him G-d will now speak through Bartholomew instead. He will tell them how to go forward in life. He recommends that he has grief counseling and Wendy, not bound too tightly either, enters the picture and tells him to create life goals. She is in a terrible abusive relationship and is unable to help herself, let alone anyone else. At the counseling session Bartholomew attends, at her recommendation, he meets another rather dysfunctional, simple-minded 39-year-old young man, Max, bereft over the loss of Alice, who turns out to be a cat. Max is coincidentally the brother of a girl Bartholomew has eyed and loved from afar, Elizabeth, the girlbrarian at his local library. Bartholomew wonders, is this synchronicity? Max speaks mostly in curse words and believes his sister was abducted by aliens. Elizabeth is very skittish and depressed since she and her brother are about to be evicted from there apartment. There isn't a "normal" character among them!

Bartholomew's only job, his whole life, was to care for his mother. He has no idea who supported them or how their bills got paid, they simply got paid. He believes his father was murdered. He is dysfunctional, his development seems arrested, he was bullied as a youngster, has never had a friend or female relationship, has an "angry man" (ulcer?) dwelling in his stomach. He yells at him and punches him, from the inside, when he is confused or unable to act. Bartholomew is an innocent; he thinks simplistically about all problems and sometimes, because he has no guile, he seems like the brightest bulb in this box of dim lights. He analyzes others and incidents with the most straightforward insights. He exhibits compassion and offers uncomplicated explanations about THE GOOD LUCK OF RIGHT NOW.

Bartholomew's mother believed that in every event there was an opposite, so if you had misfortune, fortune would follow. When they were robbed and their home was trashed, she was grateful for, and enjoyed, the company and support of others. She thought that was THE GOOD LUCK OF RIGHT NOW. When his mother dies, he discovers a letter from Richard Gere, hidden in her drawer, and although it is not a personal letter, but one that is mass produced to raise money for Tibet, he imbues it with greater meaning. The book is infused with Budhist messages and philosophical phrases.

Bartholomew engages in a one-sided letter writing mission with Richard Gere, (alter ego, imaginary friend?) in which he seems to believe that they are friends, and Gere is his confidante offering needed advice and support. Either in his imagination or hallucination, Richard often appears to guide him.

Bartholomew wants to help others. Is this a weakness? Sometimes his optimism seemed ludicrous and at others, wondrous. One could say he enjoys taking in strays. At the end, I wasn't so much surprised by what happened, but I felt I could sum the whole book up by saying "will the real Richard please stand up?" All in all, it is a rather sweet and tender story about a group of characters that feel unloved and unwanted, unnecessary and useless. Together, will they find happiness?

It does sound a little trite as I write the review, but the humor holds it together and the simplistic narrative doesn't tax the brain. The conclusion is clear-cut, lemons turn into lemonade, Bartholomew is the quintessential caregiver and fairy tales come true. This odd bunch of misfits found each other and created a viable family which satisfies all their needs.

"Good Luck of Right Now"
by char83 (see profile) 06/19/14
I really liked the book. I was worried when I started it that the first chapters were sort of scattered. Once the story got started it was easier to follow. But the characters are good. It is eccentric and sweet.
BECOME A MEMBER
it's free
Join the leading website for book clubs with over 35,000 clubs and 20,000 reading guides.
SEARCH OUR READING GUIDES
Search
JOIN OUR MAILING LIST
Get free weekly updates on top club picks, book giveaways, author events and more
Please wait...