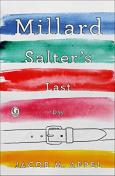 Millard Salter's Last Day
by Jacob M. Appel
Paperback- $8.80

In the spirit of the New York Times bestselling A Man Called Ove, this is the heartwarming story of a man who decides to end his life ...
Overall rating:
How would you rate this book?
Member ratings
"Millard Salter's Last Day"
by Silversolara (see profile) 11/03/17

Millard Salter was a psychiatrist who talked people out of committing suicide yet he wanted to avoid old age and its trials so he was planning his own suicide with no one stopping him because no one knew.

We walk with Millard on his last day as he visits patients and his family members and thinks about this being his last day. He avoids any promises so he won't feel bad when the promise can't be kept since he won't be here.


MILLARD SALTER'S LAST DAY isn't morose or morbid. In fact, Millard makes you laugh out loud with his last day antics and his last day actually being his birthday.

A few unexpected people stopped to see him on his "big" day, and he wondered how they knew what day it was going to turn out to be. Then they would say Happy Birthday, and he knew that is what they meant about his big day.

We get a trip down memory lane with Millard as well as learn some psychiatric trivia.

All in all, MILLARD SALTER'S LAST DAY had marvelous, detailed writing and characters.


MILLARD SALTER'S LAST DAY had some touchy issues discussed, some sad moments, and an unexpected ending. 4/5

This book was given to me free of charge and without compensation by the author and Net Galley in return for an honest review. All opinions are my own.
"A book that approaches a serious subject and with humor makes it really easy to read!"
by thewanderingjew (see profile) 08/24/18
Millard Salter's Last Day, Jacob M. Appel, author
It is rare that an author is able to take a dark, difficult subject and transform it into one that it is easy to read and is also very funny. Appel has accomplished this. This novel has been compared, by some, to "A Man Called Ove", which I truly enjoyed, but I think the message of this book is more profound and important. While the book is not laugh out loud humorous, the witticisms on every page will bring a smile to most readers' lips and surely make them think wistfully about how they approach and experience their own lives.
If you have ever lived in the New York area, the book will call to you more loudly and will certainly bring back memories. If you are of a certain age, it will touch your heart even more. Although the novel takes place in one day, it presents a composite of the last seven decades as it travels through the memories and present life of the main character. It was like traveling down a hallway filled with nostalgic pictures of life as it once was and life as it is today. The contrasts drawn were delightful and the book should really appeal to those of all ages.
Murphy's Law played a large role in the life of Millard Salter on his "last day". Everything that could delay his plans or change them, even the most bizarre of circumstances, occurred on his birthday. He met with people he hoped to avoid, experienced danger and encountered people at their best and their worst. The question of whether or not something would inevitably intervene and stop him from his final pursuit hung over every page. I kept rooting for him to choose to live.
Millard, a man of a certain age, has experienced a modicum of success with many moments of romance and love in his life. A psychiatrist, at a well known hospital, he has witnessed the frailties of human beings in all of its phases. After decades, the field of his specialty is still treated, by and large, with whispers. His office is located in the basement of the building with the more mundane services, like housekeeping. It is a building that will soon be torn down and relocated, to be replaced by what some would define as "progress".
Millard has also experienced disappointment. Over the years he has suffered loss and grief, as most people do with the passage of time. He has witnessed the suffering and indignity of those he has loved at the end of their lives. Millard is determined not to follow in their footsteps. He has decided to pick the day of his death rather than have death take him randomly.
Essentially, Millard is a dinosaur who believes that he has outlived his usefulness. He has lost many dear to him, and sees little else occurring in his life of any value. His children are grown and carving their own paths. His humor, once appreciated, is lost on the young generation. In short, Millard is really everyman who is aging and facing the ultimate result. He wants to walk down that final road with dignity rather than as a powerless and vulnerable victim. However, Millard is still respected and well liked and really does not have a reason to believe that he has come to the end of his road. He is still able to work and is in excellent health aside from an ache or pain which naturally comes with aging. Is his decision rational? He is after all a psychiatrist, the one who is sought when behavior is irrational.
Millard believes in "Compassionate Endings". As the reader travels down the road with him, the reader might choose a different path or two, but the reader will definitely be inspired to think about all of the decisions Millard makes with regard to their own lifestyle. The reader will witness the freedom that comes to Millard on the day he believes will be his last. He is unstressed and calm. He quietly terminates his relationships with those he knows and loves and those he dislikes. He ties up all of his loose ends. As his friend and lover, Delilah, suffering from a terminal disease, plots her own demise, he is drawn into her plans. He has witnessed her gradual descent into helplessness and her determination not to become completely dependent on others. He supports her right to choose.
Although the subject is dark, as death is, the author has treated it with such a light and witty hand, it feels commonplace and nonthreatening. The author's style and prose is really easy to read and is not heavy at all. He has made a subject that is tabu, very palatable. The book is not so much about life and death, or the choice between them, but it is about the idea of euthanasia, of living and ending one's life with dignity, not unnecessary distress. It is funny and filled with humanity. I highly recommend it.

BECOME A MEMBER
it's free
Join the leading website for book clubs with over 35,000 clubs and 20,000 reading guides.
SEARCH OUR READING GUIDES
Search
JOIN OUR MAILING LIST
Get free weekly updates on top club picks, book giveaways, author events and more
Please wait...