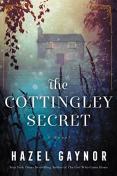 The Cottingley Secret: A Novel
by Hazel Gaynor
Paperback- $9.48
"The Cottingley Secret tells the tale of two girls who somehow convince the world that magic exists. An artful weaving of old legends ...
Overall rating:
How would you rate this book?
Member ratings
"The Cottingly Secret"
by nbaker (see profile) 06/28/17
This was my second book by this author (the first being The Girl Who Came Home). They bear a striking resemblance but perhaps it is her style of writing. They are both historical fiction stories, both tie together a story from the past (one from 1912 and this one from 1917) with a present day person and both have female protagonists who are crying out for absolution. The main difference is that in The Girl Who Came Home her difficulty was the realization that due to an international disaster that she had no control over, she survived while others did not. But in The Cottingley Secret, two girls created a controversy that hung over their heads and in the air for nearly 70 years - a situation they could have resolved but didn't.

Two girls, one camera, artistically drawn fairies and what started as an innocent prank sparks intrigue, accusations, lies and guilt to create a storm cloud over the heads of young Elsie and Frances that steadily rain down no matter how far they try to separate themselves from its path. One of the worlds greatest mystery writers, Sir Arthur Conan Doyle, even got swept up in the mystic of the photographs vowing them authentic and wrote articles about them in the "Strand".

I loved the stories of old with Elsie and Frances and recommend that future readers of the story do a bit of research about the fairy pictures before starting the book. I was impressed how two young girls were able to pull off such a story for so many years and my heart ached for the torture their souls must have endured for continually having to keep up with the lie. And yet there is a part of me that was enchanted by the possibility of a magical world unknown to us and I can only imagine what hope it must have instilled to those so affected by the war back then. I can only compare it to our beliefs and infatuation with Santa as children. While it was earth shattering to finally uncover the truth, you can never escape the many years of joy, anticipation, excitement and sheer pleasure we received by the image of this mythical man. If it created joyful memories of our childhood, how bad could the deceit have been?

In the end, for Elsie and Frances, if it brought a day of pleasure for others, a day that redirected sorrow into the light of happiness, if it instilled hope of greater things to come then how wrong could it be? But for the creators of the lie, the perpetrators of the scam was the burden of the truth worth the publicity it created? I suppose one just has to ask, "What price glory?"
"The Cottingley Secret"
by Silversolara (see profile) 08/01/17

Can Olivia have some connection to Elsie and Frances who lived 100 years ago? Can Olivia find it?

Is the connection somewhere in the pages of the rare books in the bookshop, SOMETHING OLD, that Olivia's grandfather left her? Is it in the story she finds that leads her to believe in herself like Elsie and Frances believed in fairies?

Olivia lives in present day and finds a manuscript in her grandfather's things that refers to fairies. As she reads the manuscript and deals with her unhappy life at this time, she believes her grandmother knew Frances.

Olivia is excited that she inherited the bookshop, but doesn't know what to do with it. What decision will she make about the bookshop and her life? Will she decide to move to Ireland and run the bookshop and most importantly follow what will make her happy or marry the man that she realizes isn't the man she should marry?

We move to 1917 and visit with Elsie and Frances who are cousins and live under the same roof since Frances moved there from South Africa while her father was called to serve in the war.

Frances is a precocious child and believes she sees fairies at the beck, but no one believes her . She and Elsie get together to prove the fairies are really there, and their story becomes a sensation.

THE COTTINGLEY SECRET took a few pages for me to connect, but once I got hooked and also realized that this fairy story was famous, I couldn't stop reading.

I loved how the book went back and forth from 1917 to present day, and I truly enjoyed the secrets and connections between the characters from both time periods as they were revealed.

Who doesn't love a book that has a bookshop in it? And who doesn't love an old bookshop with secrets and memories that might help you make personal decisions and find connections?

Hazel Gaynor's books are always magical whether there is magic in them or not.

And…her books are always filled with love.

ENJOY!! 5/5

This book was given to me free of charge and without compensation by the publisher in return for an honest review.
BECOME A MEMBER
it's free
Join the leading website for book clubs with over 35,000 clubs and 20,000 reading guides.
SEARCH OUR READING GUIDES
Search
JOIN OUR MAILING LIST
Get free weekly updates on top club picks, book giveaways, author events and more
Please wait...