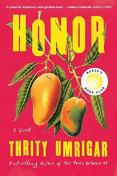 Honor
by Thrity Umrigar
Hardcover- $24.26

Click on the ORANGE Amazon Button for Book Description & Pricing Info
Overall rating:
How would you rate this book?
Member ratings
"Very good, but a difficult read."
by thewanderingjew (see profile) 04/11/22
Honor, Thrity Umrigar, author; Sneha Maathan, narrator
Two women, from two different walks of life, Smita and Meena, find common ground to communicate with each other and form a bond, even as their worlds collide and their differences can never be reconciled. The contrasts are many. One comes from privilege and the other from abject poverty. One is educated and the other illiterate. One works happily as a journalist, and the other is forbidden to work, and is punished for being employed. Yet both are compatible as the plight of the one is going to be published, to enlighten the public and the world about the atrocities that are committed in the name of religion, in the name of honor, the definition of which is often corrupted from its intended meaning.
This author was born in India and emigrated to America, just like Smita, but at different times in history. Umrigar came in the 70's to study, and this book begins around the mid 90's, when Smita and her family sought a place of refuge from religious prejudice. Still, regardless of the timeline, injustice still exists in parts of the world, and the author exposes the underbelly of that corruption. It once lurked loudly in many corners of her home country.
In this novel, Meena, a Hindu, had the misfortune of falling in love with Abdul, a Muslim. This book is the story of their forbidden love, one so pure, we will all hope to have had it, or to have it someday, a love that crossed the lines of what was acceptable. In their villages, villages that were backward and ruled by religious fundamentalists, the zealots worked their followers into a frenzy, calling on them to do unspeakable things when they felt dishonored. Meena and Abdul met at the factory, a place Meena had been forbidden to work at by her brothers, although they happily stole her earnings which was considered theirs, since she, as a female, was entitled to nothing. She worked there to protect her sister who had been the one who insisted on working there. Abdul was different than most men; he treated Meena with enormous respect, even allowing her to taste food before he did, something no Hindu would do in her village. So, their love grew, as the shame of her brothers grew, because they believed Meena's behavior was humiliating them in front of the other village men. The village elder agreed. He was a despicable person who believed in his own power, natural and supernatural, and used it to control the villagers. As Smita pursues the investigation for her article, she witnesses the abuseMeena is forced to endure. At the same time, she begins to grow close to her companion, interpreter and guide, Mohan, a privileged Parsi (like the author, who was also a Parsi). Is their love acceptable? It seems that she too has found an unusual, sensitive man who respects women. The outcome of both these loves will be totally different.
The narrator who read this novel was excellent. She captured the spirit and importance of each scene, and each character was portrayed so authentically, that the book played out in the theater of my mind as if I was viewing a stage production. Umrigar has truly captured man's inhumanity to man, but she has coupled it with man's ultimate humanity, as well. While she clearly illustrates that violence, pursued in the name of G-d, is not G-dly, but abhorrent, she finds ways to point out other moments in which the characters rise above their human failures to shine with boldness and goodness, lending justice to the use of the term honor.
Privilege does not make one worthy, character does, and the author has shown that Meena has the character and common sense to be a most worthy human being, and like all those who are poor or victims of circumstances stemming from fundamentalist religious beliefs or superstition, are deserving of decent lives and respect, and not of being tormented and punished or ridiculed. Meena was the perfect spokeswoman. Her words were genuine and heartfelt.
In this book, the author has explored the contrasts between the religious and temporal, sophistication and simplicity, elites vs commoners, and privileged vs the underprivileged on every page. In some cases, right and wrong , legal and illegal, retribution and reward, all depend on what money changes hands and what religious group has more power. In India, a country of caste and division, we witness a place of contradictions. The Taj Mahal and the major cities are in stark contrast to the villages where the illiterate and poverty-stricken manage to eke out a meager existence, where women, like chattel follow the rules of men and their traditions and culture closely. Women exist to cook, clean and birth babies. Women did as they were told, or they suffered the consequences. Men controlled everything, even what belonged to the women no longer belonged to them, but to their male siblings or husbands.
While this way of life exists today, it is rare, but there are places where religion and honor conflict with reality. In an interview, Umrigar stated that she feared the world was going backward not forward. She refers to the previous administration, and she believes the progress made in the last couple of decades, may be in the process of reversal. As a witness to the events of those decades she writes about, and the current one, I disagree with her. In her book, she has Anjelie (a lawyer who represented Meena in the murder case), and Smita, questioning whether or not they are purveyors of "poverty porn", just to get headlines. Are they achieving their goal of enlightening the world to the problems women face that will encourage meaningful change? In some way, is not the author, Umrigar, with her books, not doing the same thing. When a character in this novel compares an unjustified horrible and heinous religious act, resulting in the murder of its victim, to a policeman who may have justifiably shot an unarmed black man resisting arrest, it gave me pause. Was this the author's need to pass on her political viewpoint in a novel that had nothing to do with it. The two events had no comparison or common ground, and its inclusion diminished that moment in the book.
During an interview with Kabir Bhatia, at the the Hudson Library and Historical Society that is available on utube, I heard her say that the election of Trump appalled her. However, Trump's dislike of the terrorism of religious zealots, did not mean he disliked the religion of the zealot or the race of the terrorist.. Although these words are not in her book, others are, that give away her political predilection. I had searched for an interview to find out if the book stemmed from a real event and heard those words.
Absent the mention of racism in America and the intimation of her dislike of Trump, both of which were totally out of place, for me, I would have given it five stars. There are moments in this book when it will be hard to go on because the content is about incredible arrogance, injustice and brutality, but the book needs to be read to open other minds to the need to put an end to such behavior.

BECOME A MEMBER
it's free
Now serving over 80,000 book clubs & ready to welcome yours. Join us and get the Top Book Club Picks of 2022 (so far).
SEARCH OUR READING GUIDES
Search
JOIN OUR MAILING LIST
Get free weekly updates on top club picks, book giveaways, author events and more
Please wait...