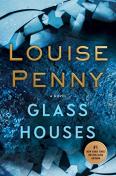 Glass Houses: A Novel (Chief Inspector Gamache Novel)
by Louise Penny
Hardcover- $18.87
An instant New York Times Bestseller and August 2017 LibraryReads pick!

"Penny's absorbing, intricately plotted 13th Gamache novel ...
Overall rating:
How would you rate this book?
Member ratings
"Glass Houses"
by Silversolara (see profile) 08/30/17

A conscience - we all have one, but do we know what may be on another person's conscience or even on ours that may bother us?

When a hooded figure appeared on the green in Three Pines and stayed without moving for three days, all the residents were tense and wondered what he was doing there. Did the hooded figure date back to the historical Cobrador who collected debts?

Armand Gamache, Chief Inspector, kept an eye on the figure and could do nothing within his powers to remove him. But...why is Armand Gamache now on the witness stand testifying about a death that occurred during the time the hooded figure was present?

We follow the situation by being introduced to the trial and then back again to the events in Three Pines with the hooded figure standing on the village green. The trial has something going on besides the trial, though, and the judge seems to be picking up on it.

Louise Penny has given us another beautifully written, intellectual, intriguing plot that will have you glued to the pages, thinking about what a conscience really is and how it helps or hinders one's choices, and feeling for Gamache as he must defend all that happened in the quiet village of Three Pines.

GLASS HOUSES had me confused during the first few chapters, but once GLASS HOUSES got going another fantastic Louise Penny read and outcome awaits you with the endings always being brilliant and unexpected.

Don't miss reading the latest from Louise Penny. 4/5

This book was given to me free of charge and without compensation by the publisher in return for an honest review.
"If you like the Gamache series, you will love this one!"
by thewanderingjew (see profile) 10/29/17
Glass Houses, Louise Penny, author; Robert Bathurst, narrator.
When the book opens, Armand Gamache, the man who is in charge of the Sûreté du Quebec, is giving testimony at a murder trial. He begins to explain about the suspicious "thing" that was dressed in a hooded black robe that had suddenly appeared on the village green and barely moved; it simply seemed to be watching. In a short time, it frayed the nerves of the townspeople. It was something called a cobrador, an ancient figure that collected debts, acted as a conscience, and haunted the subjects it came for until they paid in some way for their misdeeds. The government attorney and Gamache did not seem to be on the same page, during this questioning, although they were on the same side, presumably.
In this story, in his persona as Chief Superintendent, Gamache has discovered a major pattern in the drug trafficking industry, and he is willing to risk all to expose and capture the criminals to stop their activity. Drugs are causing the massacre of generations of people across the human spectrum. He created a subterfuge, using the murder trial as a tool, which some may question since it will ultimately have dangerous consequences. The reader will be left to decide whether or not the rule book should occasionally be tossed out, or whether it should always be followed in times of crisis. Also, the reader will have to think about whether or not someone should be punished if they break a rule for a good reason.
Penny has created a character in Gamache that is beloved by her readers. He is gentle, but strong and firm, as well. He is moral, but he is flexible in his thinking. He does not rush to judgment and always seems to err on the side of goodness, even when he is doing something bad. Reine-Marie, his wife, is understanding, warm and friendly. The town where they live, Three Pines, might be everyone's ideal location with its odd collection of people who are writers, chefs, artists, and more. They come from all different places, different backgrounds and have different needs. They all have some "ghost in their closet", some secret that they wish to conceal, something in their lives that had caused them shame; they all wondered if the "thing" in the robes had come for them, as "the thing" made them remember their own past sins and guilt. Should people in glass houses throw stones?
The opiod crisis facing all of us today was a major theme alongside the murder investigation. Many of the characters had personal experience with the tragedy of the drug epidemic and it brought home the depth and breadth of its reach into our own reality. I wondered if the fear of the black robed creature that could possibly incite people to act out violently, could be likened to the sometimes irrational fear many have of women in burqas, along with a generalized fear of Muslims because of what the mind conjures up with thoughts of terrorism. These are just some ideas which occurred to me while reading.
I am not sure if the author writes with this remarkably soft touch that conveys deeper messages, as she presents her narrative, or if this very talented narrator interprets the words that way. Regardless, though, it works well. Also, the gentle wit of her prose will sometimes cause the reader to smile quietly, and her text will make the reader think about and investigate her ideas even after the book ends. The devastating effect of opiods and the history and existence of the cobrador will make for interesting future study.
The books create a manageable tension while the problems mount and solutions seem to slip away, as moving back and forth, in the memory of Gamache on the witness stand, the novel develops. The familiar cast of sometimes outrageous characters, in the Inspector Gamache series, will bring the reader back again and again as each new book in the series is written. The narrator, Robert Bathurst perfectly captures the nuances of each of them and will also inspire readers to return.

"Glass Houses"
by Carolynr (see profile) 08/10/18
so!! I've been binge reading all of the books in this series since early spring. And am done! until the new release in November. NEVER have i ever been so caught up in a series. And I would never have expected that I would have read THIRTEEN books about the same characters, the same village, etc and totally enjoyed every single one. Kudos to Louise Penny!! Love the way she weaves history into almost every story; love he characters and the humanness she puts in all of them. Yes they are great murder mysteries, but also great studies in character.
BECOME A MEMBER
it's free
Join the leading website for book clubs with over 35,000 clubs and 20,000 reading guides.
SEARCH OUR READING GUIDES
Search
JOIN OUR MAILING LIST
Get free weekly updates on top club picks, book giveaways, author events and more
Please wait...