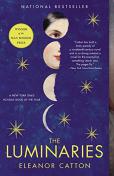 The Luminaries
by Eleanor Catton
Paperback- $12.34

The bestselling, Man Booker Prize-winning novel hailed as "a true achievement. Catton has built a lively parody of a 19th-century novel, ...
Overall rating:
How would you rate this book?
Member ratings
"This is not an easy book to read, but boy, is it worth the effort!"
by thewanderingjew (see profile) 06/08/15
When I turned the last page of the book, my first reaction was "whew'! It took me a long time to read this book. There were so many characters, and although the author carefully developed them, some were easier to remember than others. They were all related in some way, as each had some unusual connection to the other, and yet most seemed to remain ignorant of the way in which they were all related to each other, even at the end.
The story felt like a giant riddle. A man is murdered, a woman of ill repute may have attempted suicide, a fortune is found and lost, a man is missing and another one or two suddenly turn up. How are all of these people and more, connected? Every chapter raises more questions and the mystery broadens. As each character's hidden past is revealed, the story twists in a new direction. The author accomplished a monumental feat keeping track of all of them. None were blameless, and all seemed to be involved in some way in a scheme to swindle someone, only to find out, as the reader does, that they too, had also been duped.
It takes at least four/fifths of the book until all the clues fall into place and in the last 50-100 pages an attempt is made to explain everything, as the story works its way backward to explain how it eventually moved forward. Truth be told, it is a confusing book, even with taking notes, which I did, but it held my attention completely and kept calling me back over the six weeks it took me to read it, cover to cover, to find out what ultimately happened. The prose is scholarly and if one closed their eyes they might imagine they were back in time, in the mid 1800's, or perhaps imagine they were reading a classic they had heretofore not come across. Who were the villains? Were all of them villains in some way? Was anyone innocent? If they were, it certainly proved that no good deed goes unpunished.
To my mind, Francis Carver and Lydia Wells were the culprits and the biggest dupes were Emery Staines and Anna Wetherell, and by that I don't mean dopes, but rather that they were taken advantage of the most, with Crosbie Wells running a close second to them, in that contest.
As far as the involvement of astronomy, it went over my head. I couldn't concentrate on the characters, the plot and the stars. Perhaps the individuals personalities related to the zodiac signs, but I would have to read it a second time to try and ferret all that out. The names of some of the characters were telling: Does Anna weather it all? Is Emery stained? For sure, Carver points to Francis Carver's scarred face.
The story begins with a journey to a remote location in New Zealand where the gold rush is the rage. There are missing people, missing trunks, gowns with seams containing treasure, dead bodies, drunks, identity stealers, petty thieves, gold "panners", swindlers, blackmailers, fortune tellers, whores, shipping agents, constables, ministers, immigrants indentured to men of means, and opium dealers. The tale is rich in the diversity of its characters. However, not one among them seems free of sinful behavior or of planning some kind of mischief. Each one of the major characters accuses another of doing something dastardly. They break promises, destroy evidence, don't honor agreements and contracts, and lie with impunity in unison. As prospectors and diggers flock to various far-flung fields to try and make a strike, to get rich quick if their luck holds, the twists and turns of the plot with its convoluted pathways and narrative, with scoundrels that make up the multi-tiered cast of characters, the reader is tossed and teased with hints of a story that is never fully realized until the end of the book, some 800 pages later.
At the end I wondered if there would be a sequel to fully realize the fate of all of the characters. I wondered if all of the tragedies and dishonorable behavior was much ado about nothing. What was the real crime? There were so many arms extended from the original misdeed that it was hard to know if anyone should have been punished? They all wanted to do each other in, in some way. I had so many questions. Did Staines find his buried treasure? Did Adrian Moody ever find his son Walter Moody or the other son from whom he was also estranged? What happened ultimately to the Maori man? Did Lydia get to keep her inheritance? Did Anna get hers? Did Emery repay his debts and serve his term? Did he deserve it? Did crime pay in the end? The story is full of irony as each man thinks he is manipulating the other as each is a victim of what I would call "trompe l'oeil". The story really begins in earnest on January 27th, under the sign of Aquarius, and indeed, water plays a huge role in the tale with ship voyages, ship ownership and shipwrecks. All sorts of false conclusions are drawn, all sorts of misdirection is employed by the author, as the characters attempt to manipulate each other for their own benefit. Each character is introduced with an air of mystery and disquiet and each is unique in his/her own way, creating anxiety and tension, leaving the reader to try and figure out how they are involved in the murder, the theft, the conspiracy or the odd coincidence. Who is complicit and who is innocent? Who is privy to the real story? The plot just keeps thickening.
It takes more than 160 pages to work the story to its pivotal point when it starts to trend backwards to explain part of the mysteries in which each character is involved in some way. Then the reader has to wait until the very end for the author to unravel most of the confusing details. It is worth the effort to read as the story has something for everyone, romance, mystery, murder, mayhem, justice and injustice.
I keep wondering if there is a sequel in the offing to follow some of the characters and tie up my loose ends!


BECOME A MEMBER
it's free
Join the leading website for book clubs with over 35,000 clubs and 20,000 reading guides.
SEARCH OUR READING GUIDES
Search
JOIN OUR MAILING LIST
Get free weekly updates on top club picks, book giveaways, author events and more
Please wait...