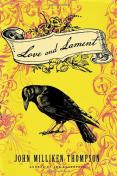 Love and Lament
by John Milliken Thompson
Paperback- $15.06

A dauntless heroine coming of age at the turn of the twentieth century confronts the hazards of patriarchy and prejudice, and discovers the ...
Overall rating:
How would you rate this book?
Member ratings
"This novel is written eloquently."
by thewanderingjew (see profile) 06/21/14
This is a well written, but heartbreaking story about two families, the Hartsoes and the Murchesons. Cicero Murcheson marries Susan Elizabeth Hartsoe and she bears 9 children. The tragedies that follow their lifeline are tenderly expressed by this author. The tale is told from the perspective of Mary Bet Hartsoe, the youngest and last surviving child of the family. She has witnessed the deaths of her grandparents, siblings and mother. She has had to deal with her brother's deafness and had to watch her father's descent into madness following his own father's path. At the end of his life, her grandfather Hartsoe, was obsessed with creating a perpetual motion machine. This story is about superstition and, possibly, the perpetual motion of life, the forward marching of this family and others like it, that in spite of their inexorable, difficult journey toward heartache and loss, continue on, never quite giving up. The decisions Mary Bet was forced to make were heartfelt but difficult, yet make them she did. She was a strong and independent woman in a time period when women were docile and compliant. A forerunner to more vocal champions of women's rights, she achieved a place of honor in a man's world and, ultimately, discovered her own rightful place in the world.
The novel begins as the 19th century nears its end and continues until the end of World War I when Mary Bet's life finally takes a different turn. Mary Bet was born in 1887 and she spent the next three decades seeking solutions to her questions and uncertainties and trying to discover her true purpose in life. Her quiet strength and determination, her kindness, her manners, her fears and her sorrows are all presented in detail, making her into a character we grow to know and identify with; we feel her burdens and share in her pain as she faces the sorrows rained down upon her family. We are privy to her doubts about herself and her faith in an ever present G-d, her fear of death and the devil, and on the other end of the spectrum, her ultimate optimism in the face of trauma. She rarely shows anger and most often exhibits common sense in her dealings with people. Throughout her life, Mary Bet is pretty even-tempered, kind and generous, but she has committed her own sins in the past which have continued to loom larger in her mind. She must come to terms with them. She wonders if her family could be cursed. The family's genetic field is threaded with madness. Even Mary Bet sometimes feels that she is not quite tethered to the ground. She once had an imaginary friend. She believed the devil was coming for her. She witnessed her father's bouts of madness when he talked to himself, admonished himself, tried to shoot himself.
She lives in a time when change is everywhere. There are horseless carriages, advances in civil rights, improvements for the rights of women. There is racial bias and religious prejudice which is just beginning to be addressed. So this story is about a time when not only Mary Bet searches for answers, but so does America. Should women and blacks have improved rights and benefits, the right to vote, own property; should the country go to war, conscript men, allow women to hold office, should companies discriminate, should Christians mix with Jews? It is a time when there area no miracle drugs and very few adequate treatments for disease and other afflictions.
The image of life in the heady days at the turn of the century is vivid. The reader is taken back into the past with Mary Bet. It is a world in which different classes, religions and race are stressed. Mixing is forbidden. Sometimes it feels like there is too much detail, but it is the minute explanations of everyday life that allow the reader to get to know the main character and live in that time with her, although some characters seem to come and go before they are fully developed.
The reader may wonder if Mary Bet's insecurities and burdens were brought on by her own behavior, her own tentativeness and instability. However, she comes into her own, becoming the first woman to serve as interim sheriff in North Carolina. She manages the job well, solving crimes, reforming juveniles, and settling many petty disputes and economic issues that have remained unresolved for years.
Also, as I read, I sometimes wondered where this book was going. It seemed to march on without a goal, and yet, in the end, it was simply a very good story, a story told without the vitriol, crude language and concentration on sex that is so prevalent in many of the cruder novels of today. Mary Bet is a warm and endearing character, a bit afraid of G-d and the Devil. Religion and its dogma scare her. She has suffered so much loss that she may be afraid to love, afraid to lose again, afraid she could be cursed. This book is about her coming of age, her growing into herself and learning to deal with the contrasting aspects of life.
The title comes from a poem by George Herbert, Bittersweet.

BECOME A MEMBER
it's free
Join the leading website for book clubs with over 35,000 clubs and 20,000 reading guides.
SEARCH OUR READING GUIDES
Search
JOIN OUR MAILING LIST
Get free weekly updates on top club picks, book giveaways, author events and more
Please wait...