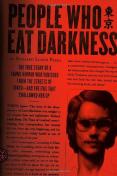 People Who Eat Darkness: The True Story of a Young Woman Who Vanished from the Streets of Tokyo--and the Evil That Swallowed Her Up
by Richard Lloyd Parry
Paperback- $10.95

Lucie Blackman—tall, blond, twenty-one years old—stepped out into the vastness of Tokyo in the summer of 2000, and disappeared forever. ...
Overall rating:
How would you rate this book?
Member ratings
"Evil does exist!"
by thewanderingjew (see profile) 06/16/14

People Who Eat Darkness: The True Story of a Young Woman Who Vanished from the Streets of Tokyo--and the Evil That Swallowed Her Up, Richard Lloyd Parry
We know Lucy Blackman is dead. What we don't know, is how she died or why she died. This mystery is so thoroughly investigated by Richard Parry, that the details may at one time or another, become overwhelming, almost tedious, but all of the information is pertinent. The reader will come to understand the politics and culture of the countries and the characters involved. The author has drawn a picture of all the people involved so that the reader can visualize them, can understand the workings of their minds and can identify with the heartache and the reactions of all those touched by the murder and the investigation surrounding it which uncovered many other instances of rape and abuse and even, perhaps, more murders.
Lucy was only 21 when she decided to go off to Japan to work and hopefully pay off her mounting debts. She had bounced around from one job to another, finally becoming a flight attendant for British Airways, but was still accumulating unpaid bills. As her debts grew, she sought a way out. Her wealthy father could have paid them off for her, but he was aloof and thought she should be more responsible. She decided to move to Japan with her friend Louise, for what she thought would be about three months, the time she thought it would take her to accumulate enough money to pay off her debts. She soon realized she would have to stay longer than that.
Although many people cared about her, she was unhappy with her home life. Her mom was controlling, a very "type A" personality, her parents marriage had failed and her father had a new wife and family. She felt like a misfit. She didn't like herself or her situation very much. Yet, Lucy was very organized, very social and gregarious with her friend Louise and her family, often revealing the most minute details of her life to them. Therefore, when she so suddenly disappeared, they knew it was not a casual absence.
In Japan she lives in a run-down apartment, sharing facilities with several other people. She and Louise find jobs in a place called Casablanca; this is a dance club where they will be hostesses. Hostesses entertain and dance with the men who come there. The men take them to dinner, often give them cash and even buy them gifts. Scoring a wealthy client is a lucrative achievement for them. There job is to keep the client in the club because they pay by the hour and the hostess. After that, their job is to perpetuate the relationship. The club is in the International District so there are many foreigners there and language is not as much of a problem as it would be elsewhere. Their job's description is nebulous, it could have many meanings.
At the time that Lucie goes missing, the author, Richard Parry, is a foreign correspondent, living in Japan. He observed how the family worked the press to their advantage; at one point the case became front page news, and Tim Blackman, Lucie's father, even discussed it with Tony Blair, who eventually intervened with the Japanese government, asking for a thorough investigation and a quick resolution of the case. Mr. Blackman hired private investigators, followed up on tips, unwittingly hired con men, arms dealers and cranks. The Blackmans called upon friends, relatives, private investigators, and psychics. An enormous amount of money was spent, to no avail.
Parry followed the case carefully and did an amazing amount of research into the writing of this book. Covering the investigation, he discovered many pieces of information that provided insights into what happened to Lucie in her final days and the picture he paints is not pretty. Although this is a true story, I found myself wishing it was not. Like Truman Capote's "In Cold Blood" the truth actually defies your own reality, defies comprehension! The details of Lucie's abduction and murder, her last hours of life, will never be known for sure, unless the murderer confesses, but there is no escaping the fact that they were macabre and bizarre.
Joji Obara, the man who was ultimately deemed responsible for her death can only be described as a cold-blooded sadist, devoid of normal human emotion. His identity changed many times over several decades and his background was checkered with secrets and lies. His heritage may have played a part in developing the monster he became; he was a Japanese of Korean descent known as Zainichi. Opportunities for them were limited; they were second class citizens for most of their lives.
Obara kept a private dungeon, as did other Japanese men. They kept pornographic videos, made their own, had violent and disgusting kinds of restraints for their victims, and this degrading, abnormal behavior was tolerated by Japanese society. This man kept videotapes of many of the women he drugged, seduced, raped and mistreated during the time they were blacked out. They never knew what had happened to them. When they suddenly woke up, they were often unaware of where they were, at first, and then unaware of what happened during those missing hours of their lives. The Japanese police and the Japanese authorities turned a blind eye to the illegal working girls that populated the clubs. Therefore, the girls were afraid to report the sex offenders, and even when they did, the police ignored them. However, if the police decided to make an example of them, when their plight became public, the girls could be prosecuted, as well. They had come into Japan on a visitor's visa and were not permitted to work, so they mostly kept silent to avoid discovery.
The investigation of Lucie's disappearance and trial took years. The police were not experienced in murder investigations and they were, frankly, if the author's information is accurate, completely inept. When the verdict was finally handed down, it was surprisingly unsatisfactory, but it was eventually revised and became more acceptable, more just. Lucy was naïve. She wanted more out of her young life, and she got more than she bargained for; she paid a heavy price for her naïveté.
BECOME A MEMBER
it's free
Join the leading website for book clubs with over 35,000 clubs and 20,000 reading guides.
SEARCH OUR READING GUIDES
Search
JOIN OUR MAILING LIST
Get free weekly updates on top club picks, book giveaways, author events and more
Please wait...