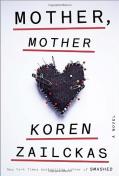 Mother, Mother: A Novel
by Koren Zailckas
Hardcover- N/A

From Koren Zailckas, author of the iconic memoir SMASHED: an electrifying debut novel about a family being torn apart by the woman who ...
Overall rating:
How would you rate this book?
Member ratings
"Once you start it, you will not be able to stop reading until the end!"
by thewanderingjew (see profile) 06/07/14
Before you begin this book, make sure you have lots of free time because you will not be able to put it down! Did you like Gone Girl? I thought this was even more of a cliffhanger. When it ended, I kind of hoped that there would be a sequel to follow.
In order of age, there are three children: Rose, Viola and William. Rose has disappeared, run away from home, Viola (Violet) is rebelling, she is on a weird starvation diet, and William is being home-schooled as a result of bullying. He has recently been diagnosed as both epileptic and autistic. Douglas, the father, is an alcoholic. Josephine is the mother, and you will soon get a picture of a family with dysfunction, a family in which Josephine appears to be the only one who is put together with all the right parts in the right place. But you will keep wondering, is she?
Violet, Will and Doug, all have some kind of blackout episodes: Will from stress, Doug from drink and Violet from drugs. Whenever a traumatic incident occurs, Josephine takes charge, assumes the position of authority, makes the decisions, and relates the details to everyone. She creates the narrative everyone believes. She seems to be the only one who has a clear-head and a complete awareness of events.
Nothing, however, is what it appears to be. Trompe l'oeil, sleight of hand and misdirection appear in every chapter. Each chapter is labeled either William Hurst or Violet Hurst, and the tale evolves through their eyes, through their interpretation of events with sudden insights and/or mistakes of judgment. It is their conclusions that ultimately define the events that occur.
Violet has a really good friend named Imogen. Her mother, Beryl, is suffering from Cancer. Beryl and Josephine represent two sides of a coin, two types of sickness, the head and the tail, the good and the evil; in a way, both are extreme representations of the dominant quality of their own personalities. One is perhaps, a little overly empathetic, kind and interested in others, while the other is, perhaps, a narcissist, only interested in herself and the attention she can attract.
The author's writing style relates these events in such an easy-going manner that everything that happens seems plausible, albeit from different and opposing vantage points. There is no evidence to disprove anything any character believes, so conclusions, right and wrong, are drawn with whatever evidence is provided.
Who is the favorite child? Is it William, Rose or Violet, is it a double entendre? Is it the child that once was Josephine or Doug? Who can tell? Read on and try and find out. It is a story about relationships, emotional and mental illness, learning disabilities, overreactions, parenting styles, healthy and unhealthy environments and the growing pains of children as they mature. All of these subjects and more, are a bit hidden in the pages, but they are subtly explored within the diabolical, Alfred Hitchcock type plot; you can almost hear the theme song. The story is addictive, written in an almost matter-of-fact, conversational tone, so that once you begin, you will be drawn into the conversation, and you won't want to stop reading until you find out who is the villain, who is the cruel and sadistic, cold and calculating liar, the puppeteer orchestrating all episodes.
Enough said, or I will give something away. You must read this book for yourself to discover the truth or, perhaps, what appears to be the truth! The minds of the characters are explored so thoroughly that you may want to jump into the book and throttle one of them, shake some sense into them, change the course of action, but you can't! The tale will march on to its own conclusion with you as its captive.

BECOME A MEMBER
it's free
Join the leading website for book clubs with over 35,000 clubs and 20,000 reading guides.
SEARCH OUR READING GUIDES
Search
JOIN OUR MAILING LIST
Get free weekly updates on top club picks, book giveaways, author events and more
Please wait...