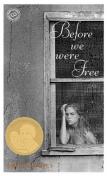 Before We Were Free (Readers Circle)
by Julia Alvarez
Mass Market Paperback- $6.87

Anita de la Torre never questioned her freedom living in the Dominican Republic. But by her 12th birthday in 1960, most of her relatives ...
Overall rating:
How would you rate this book?
Member ratings
" Before We Were Free, Julia Alvarez"
by thewanderingjew (see profile) 02/06/14
This book is historic fiction for the middle grade student. The story takes place in 1961, during a time of great unrest in the Dominican Republic. Rafael Trujillo was the brutal dictator who had ruled with an iron thumb for decades. An Underground group developed a plan to assassinate him. America's President Eisenhower had pledged support, but when President Kennedy took office, he withdrew it. The plan was already in motion, and perhaps doomed to failure because of this action. Following the assassination, the perpetrators were rounded up and a more brutal regime followed, ruled by Trujillo's son. In this book, the young reader will learn the real meaning of what it means to fight for freedom and will appreciate the fact that the United States is a free country.
Julia Alvarez reads her own book and does it very well. Her tone is modulated and her expression perfect. The book is straight-forward and the language is simple. Although the book was written for those who are 12 and up, the language and simple style of the writing might be appropriate for a younger reader, as well, so long as certain concepts are explained, such as: puberty, expressions of puppy love, death of a parent, imprisonment and torture. All of these issues are dealt with simply, within the book, without instigating undue fear.
Anita, a not quite 12-year-old child, relates the story. Because of this, the book might lend itself more to girls than boys, however, there are boys in the story who are important characters, and the members of the Underground, including the "Butterflies" who were murdered, are both male and female. My thoughts are that the book should be read by both boys and girls.
Anita father is a collaborator in the resistance movement to overthrow/assassinate Rafael Trujillo, after decades of his violent rule, accompanied by excessive murders and wanton bloodshed. As the book begins, Anita is deemed too young to understand the many secret events being discussed and the conversation often stops or the subject is changed, when she is present. She is therefore often confused about the whispered conversations, and her curiosity is aroused. She asks many questions which are answered cryptically to avoid telling her the truth. Her confusion also arouses her fear since she knows something is happening that is of concern to her entire family and it is frightening them.
Anita's family is actively involved in what can be called "freedom fighting, however, the corrupt government would certainly frown furiously upon their behavior, regardless of how justified it might be with regard to human rights and civil liberties. The book exposes the awfulness of living under the regime of a power hungry dictator, without stressing out the young reader, because of it's clear presentation of facts. It explains what it must feel like to live in a country where there is little freedom of expression or movement that is not sanctioned by the dictator and his minions.
When the plot to assassinate Trujillo succeeds, but the overthrow of his government does not, an immediate search for the perpetrators is launched. When his body is found in the trunk of the car owned by Anita's father, he and other members of is group, are imprisoned. She and her mother go into hiding. Her sister had already been spirited away to America when Trujillo's eye fell upon her, and her brother was being hidden in the American Consulate. She and her mother are forced to go into hiding in the closet of a home near the consulate. Anita worries about her family, especially her father who is still in prison, when she and her mother escape to NY, where they find their relatives eagerly awaiting their arrival. Their joy is subdued because of the absence of her uncle and her father, and eventually darkened by news of their deaths.
Anita has to get used to living a country in which people speak a different language and are far more outgoing and opinionated than her own country's men and women. The politics of her homeland and her family's actions have cut short the joys of her childhood. The reader will learn how she deals with her plight and take pride in the small things she does and the ways she adopts to help her accept her situation bravely. She matures and experiences romantic yearnings and closer attachment to her family. Her respectful behavior should stand as an example to all young boys and girls coming of age in a free country, in a time of plenty, when the lack of even basic needs, like a toilet, adequate food, freedom to move around, confronted Anita and compromised her life. The author has treated the subject with respect and Anita is a fully realized character. The values expressed in this book are worthy of sharing with young readers.

BECOME A MEMBER
it's free
Join the leading website for book clubs with over 35,000 clubs and 20,000 reading guides.
SEARCH OUR READING GUIDES
Search
JOIN OUR MAILING LIST
Get free weekly updates on top club picks, book giveaways, author events and more
Please wait...