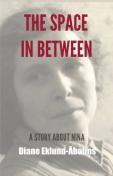 The Space in Between
by Diane Eklund-Abolins
Paperback- $16.00

War, revolution and war again. This is the background against which Nina grows up, fleeing her homeland, Latvia, on three separate occasions. With ...
Overall rating:
How would you rate this book?
Member ratings
" The Space in Between by Diane Eklund-Abolins"
by thewanderingjew (see profile) 12/13/13
The book is an interesting story about Nina (Nikolina) Kindahle, and her family's struggle to survive in Latvia, as the country went through the many incarnations forced upon it by the tragic events of the twentieth century. It is written by a woman who shares her married name, a woman whose novel was informed by the information provided to her by Andris Abolins, the son of Nina and Ernests Abolins and by the memories of other relatives who knew Nina.
Although it is described as a novel, it feels more like the memoir of this real woman, who lived through a terrible time of struggle, for freedom and independence, in the country she called home. It is a country that is torn apart by war, a country that falls victim to the capricious nature of politics, a country that becomes a pawn in a terrible chess game in which the Latvians are always in the position of checkmate and are left to suffer while the world turns a blind eye to the havoc they are causing for these innocent people. It is the story of a woman who is forced to leave Latvia, a dangerous endeavor, in order to survive. She lives out her life in the country she adopts, or we might say, that adopted her, Sweden. A story within a story, it tells the tale of a country's struggle for autonomy coupled with its people's struggle for survival amidst the winds of war and political games.
As well as being a memorable novel about Nina, it is a story that needs to be told about Latvia's moment in history's narrative. It is a history that cries out to be explored since I am sure, like me, there are many out there who are completely unaware of the suffering and abuse visited upon that country and its inhabitants as it became the object of desire for both Russia and Germany and a victim of the politics of the times.
Nina valiantly attempts to survive even as everyone she loves succumbs to the forces of life and evil that surround her. The book is a testimony to her strength of character and courage in the face of trauma and heartbreak, none of which are under her control. As we learn of Nina's life, the history and background of Latvia is detailed well in the book, and it is a compelling narration which brings the country to life. It is a story about upheaval and migration, and its effect on family, a story that is about the tragedy that is caused by conflicts and war, politics and the desire for power.
I felt as if it had an identity crisis, not knowing whether it wanted to be fact or fiction, memoir or novel, exposé of the times or a fantasy created around it. The accurate telling of the history and politics of the time was compelling but the personal story often got bogged down with language that felt far too poetic and flowery with allusions to images that were excessive. It just seemed too philosophical and too wordy, at times, which distracted me rather than engaged me.
The introduction was a little confusing and unclear. I did not feel that the character development had enough depth, at first. Some of the names were inconsistent, and therefore, there were times when I was not sure of which character I was reading about or why they were in the narrative. As they came and went, I was often unsure of not only who they were but also of their purpose in the story.
I thought the title was poignant and perfectly chosen for it is the story of what took place between the moments before and after; it is about the time we occupy, the time in which we live. It was a moving story about love and devotion, endurance and perseverance, nationalism and honor, politics and war, courage and commitment, but sometimes it was lost in the morass of excessive description. The editor should have edited out the unnecessary flights of fancy, when it was overly emotive and also should have corrected many of the grammatical errors I detected.
It was a difficult book to get into and it didn't call me back to it, when I put it down. Still, I was glad I soldiered on and finished it because the story was one that needed to be told. I had to read the entire book to feel its impact, so that when I turned the final page, I indeed thought, this was really a good book, but if I didn't force myself to continue to read it, I would not have known that. One has to hope that other readers don't give up before they finish.
BECOME A MEMBER
it's free
Join the leading website for book clubs with over 35,000 clubs and 20,000 reading guides.
SEARCH OUR READING GUIDES
Search
JOIN OUR MAILING LIST
Get free weekly updates on top club picks, book giveaways, author events and more
Please wait...