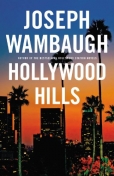 Hollywood Hills: A Novel
by Joseph Wambaugh
Hardcover- N/A

The legendary Hollywood Hills are home to wealth, fame, and power--passing through the neighborhood, it's hard not to get a little greedy.

Overall rating:
How would you rate this book?
Member ratings
"Joseph Wambaugh Hollywood Hills"
by GelatisScoop (see profile) 12/16/10
Back in the day I used to read all of Joseph Wambaugh's novels: The New Centurions, The Blue Night, The Choirboys, The Black Marble, The Glitter Dome, The Onion Field (non-fiction). It seems I have missed nine novels since and four non-fiction books. I am not going to list them; you can see them on the inside of the novel, Hollywood Hills when you crack it open. Let's get into the action shall we?
"The legendary Hollywood Hills are home to wealth, fame, and power--passing through the neighborhood, it's hard not to get a little greedy.
LAPD veteran "Hollywood Nate" Weiss could take or leave the opulence, but he wouldn't say no to onscreen fame. He may get his shot when he catches the appreciative eye of B-list director Rudy Ressler, and his troublemaking fiancée, Leona Brueger, the older-but-still-foxy widow of a processed-meat tycoon. Nate tries to elude her crafty seductions, but consents to keep an eye on their estate in the Hollywood Hills while they're away.
Also minding the mansion is Raleigh Dibble, a hapless ex-con trying to put the past behind him. Raleigh is all too happy to be set up for the job--as butler-cum-watchdog--by Nigel Wickland, Leona's impeccably dressed art dealer. What Raleigh doesn't realize is that under the natty clothes and posh accent, Nigel has a nefarious plan: two paintings hanging on the mansion's walls will guarantee them more money than they've ever seen.
Everyone's dreams are just within reach--the only problem is, this is Hollywood. A circle of teenage burglars that the media has dubbed The Bling Ring has taken to pillaging the homes of Hollywood celebutants like Paris Hilton and Lindsay Lohan, and when a pair of drug-addled young copycats stumbles upon Nigel's heist, that's just the beginning of the disaster to come. Soon Hollywood Nate, surfer cops Flotsam and Jetsam, and the rest of the team at Hollywood Station have a deadly situation on their hands."
My little siesta from his work I think worked to my advantage as far as my enjoyment level of this novel. How can you say that Giovanni, really? Joseph Wambaugh was named Grand Master by the Mystery Writers of America in 2004 so it isn't that he can't write. My angst and the reason why I stopped reading his work, I think, comes from the old adage that imitation is the sincerest form of flattery. Everybody has a style, and I enjoy his style; it is pretty awesome. I just think I got into a rut where everybody wanted to be him, the next Joseph Wambaugh. There is only one that I know of.
Hollywood Hills helped me rediscover my enjoyment for what he brings to the table: witty repartee between his characters, off the wall characters, sub-plots galore, and a way to weave them altogether in a very interesting way. Did I keep up with his literary mimics? No. I don't remember any of them, but after I cracked this open, the reason why he is The Man in this genre came back pretty quick and hard. Being the OCD reader I am, I have just received a wake-up call that I am not going to miss and backtrack to the novels I have passed on and enjoy them. Don't be like me, be a choirboy and read Hollywood Hills, it won't leave you crying in The Onion Field over time lost.
What are you reading today? Check us out and become our friend on Shelfari & Linkedin. Go to Goodreads and become our friend there and suggest books for us to read and post on. You can also follow us on Twitter, Wattpad and the Gelati's Scoop Facebook Fan Page. Did you know you can shop directly on Amazon by clicking the Amazon Banner on our blog? Thanks for stopping by today; We will see you tomorrow. Have a great day. http://www.gelatisscoop.blogspot.com



BECOME A MEMBER
it's free
Join the leading website for book clubs with over 35,000 clubs and 20,000 reading guides.
SEARCH OUR READING GUIDES
Search
JOIN OUR MAILING LIST
Get free weekly updates on top club picks, book giveaways, author events and more
Please wait...