BKMT READING GUIDES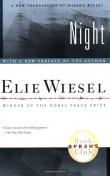 Night (Oprah's Book Club)

by Elie Wiesel
Published: 2006-01-16
Paperback : 120 pages
70 members reading this now
57 clubs reading this now
66 members have read this book
Recommended to book clubs by 14 of 14 members
Alert: This product may be shipped with or without the inclusion of the Oprah Book Club sticker. Please note that regardless of the cover, the books are identical. Night is Elie Wiesel's masterpiece, a candid, horrific, and deeply poignant autobiographical account of his survival as a ...
No other editions available.

Jump to
Introduction
Alert: This product may be shipped with or without the inclusion of the Oprah Book Club sticker. Please note that regardless of the cover, the books are identical.
Night is Elie Wiesel's masterpiece, a candid, horrific, and deeply poignant autobiographical account of his survival as a teenager in the Nazi death camps. This new translation by Marion Wiesel, Elie's wife and frequent translator, presents this seminal memoir in the language and spirit truest to the author's original intent. And in a substantive new preface, Elie reflects on the enduring importance of Night and his lifelong, passionate dedication to ensuring that the world never forgets man's capacity for inhumanity to man.

Night offers much more than a litany of the daily terrors, everyday perversions, and rampant sadism at Auschwitz and Buchenwald; it also eloquently addresses many of the philosophical as well as personal questions implicit in any serious consideration of what the Holocaust was, what it meant, and what its legacy is and will be.

Editorial Review
In Nobel laureate Elie Wiesel's memoir
Night
, a scholarly, pious teenager is wracked with guilt at having survived the horror of the Holocaust and the genocidal campaign that consumed his family. His memories of the nightmare world of the death camps present him with an intolerable question: how can the God he once so fervently believed in have allowed these monstrous events to occur? There are no easy answers in this harrowing book, which probes life's essential riddles with the lucid anguish only great literature achieves. It marks the crucial first step in Wiesel's lifelong project to bear witness for those who died.
Excerpt
Preface to the New Translation by Elie Wiesel IF IN MY LIFETIME I WAS TO WRITE only one book, this would be the one. Just as the past lingers in the present, all my writings after Night, including those that deal with biblical, Talmudic, or Hasidic themes, profoundly bear its stamp, and cannot be understood if one has not read this very first of my works. Why did I write it? Did I write it so as not to go mad or, on the contrary, to go mad in order to understand the nature of madness, the immense, terrifying madness that had erupted in history and in the conscience of mankind? Was it to leave behind a legacy of words, of memories, to help prevent history from repeating itself? Or was it simply to preserve a record of the ordeal I endured as an adolescent, at an age when one's knowledge of death and evil should be limited to what one discovers in literature? There are those who tell me that I survived in order to write this text. I am not convinced. I don't know how I survived; I was weak, rather shy; I did nothing to save myself. A miracle? Certainly not. If heaven could or would perform a miracle for me, why not for others more deserving than myself? It was nothing more than chance. However, having survived, I needed to give some meaning to my survival. Was it to protect that meaning that I set to paper an experience in which nothing made any sense? In retrospect I must confess that I do not know, or no longer know, what I wanted to achieve with my words. I only know that without this testimony, my life as a writer—or my life, period—would not have become what it is: that of a witness who believes he has a moral obligation to try to prevent the enemy from enjoying one last victory by allowing his crimes to be erased from human memory. For today, thanks to recently discovered documents, the evidence shows that in the early days of their accession to power, the Nazis in Germany set out to build a society in which there simply would be no room for Jews. Toward the end of their reign, their goal changed: they decided to leave behind a world in ruins in which Jews would seem never to have existed. That is why everywhere in Russia, in the Ukraine, and in Lithuania, the Einsatzgruppen carried out the Final Solution by turning their machine guns on more than a million Jews, men, women, and children, and throwing them into huge mass graves, dug just moments before by the victims themselves. Special units would then disinter the corpses and burn them. Thus, for the first time in history, Jews were not only killed twice but denied burial in a cemetery. It is obvious that the war which Hitler and his accomplices waged was a war not only against Jewish men, women, and children, but also against Jewish religion, Jewish culture, Jewish tradition, therefore Jewish memory. CONVINCED THAT THIS PERIOD in history would be judged one day, I knew that I must bear witness. I also knew that, while I had many things to say, I did not have the words to say them. Painfully aware of my limitations, I watched helplessly as language became an obstacle. It became clear that it would be necessary to invent a new language. But how was one to rehabilitate and transform words betrayed and perverted by the enemy? Hunger—thirst—fear—transport—selection—fire—chimney: these words all have intrinsic meaning, but in those times, they meant something else. Writing in my mother tongue—at that point close to extinction—I would pause at every sentence, and start over and over again. I would conjure up other verbs, other images, other silent cries. It still was not right. But what exactly was "it"? "It" was something elusive, darkly shrouded for fear of being usurped, profaned. All the dictionary had to offer seemed meager, pale, lifeless. Was there a way to describe the last journey in sealed cattle cars, the last voyage toward the unknown? Or the discovery of a demented and glacial universe where to be inhuman was human, where disciplined, educated men in uniform came to kill, and innocent children and weary old men came to die? Or the countless separations on a single fiery night, the tearing apart of entire families, entire communities? Or, incredibly, the vanishing of a beautiful, well-behaved little Jewish girl with golden hair and a sad smile, murdered with her mother the very night of their arrival? How was one to speak of them without trembling and a heart broken for all eternity? Deep down, the witness knew then, as he does now, that his testimony would not be received. After all, it deals with an event that sprang from the darkest zone of man. Only those who experienced Auschwitz know what it was. Others will never know. But would they at least understand? Could men and women who consider it normal to assist the weak, to heal the sick, to protect small children, and to respect the wisdom of their elders understand what happened there? Would they be able to comprehend how, within that cursed universe, the masters tortured the weak and massacred the children, the sick, and the old? And yet, having lived through this experience, one could not keep silent no matter how difficult, if not impossible, it was to speak. And so I persevered. And trusted the silence that envelops and transcends words. Knowing all the while that any one of the fields of ashes in Birkenau carries more weight than all the testimonies about Birkenau. For, despite all my attempts to articulate the unspeakable, "it" is still not right. Is that why my manuscript—written in Yiddish as "And the World Remained Silent" and translated first into French, then into English—was rejected by every major publisher, French and American, despite the tireless efforts of the great Catholic French writer and Nobel laureate François Mauriac? After months and months of personal visits, letters, and telephone calls, he finally succeeded in getting it into print. Though I made numerous cuts, the original Yiddish version still was long. Jérôme Lindon, the legendary head of the small but prestigious Éditions de Minuit, edited and further cut the French version. I accepted his decision because I worried that some things might be superfluous. Substance alone mattered. I was more afraid of having said too much than too little. Example: in the Yiddish version, the narrative opens with these cynical musings: In the beginning there was faith—which is childish; trust—which is vain; and illusion—which is dangerous. We believed in God, trusted in man, and lived with the illusion that every one of us has been entrusted with a sacred spark from the Shekhinah's flame; that every one of us carries in his eyes and in his soul a reflection of God's image. That was the source if not the cause of all our ordeals. Other passages from the original Yiddish text had more on the death of my father and on the Liberation. Why not include those in this new translation? Too personal, too private, perhaps; they need to remain between the lines. And yet . . . I remember that night, the most horrendous of my life: ". . . Eliezer, my son, come here . . . I want to tell you something . . . Only to you . . . Come, don't leave me alone . . . Eliezer . . ." I heard his voice, grasped the meaning of his words and the tragic dimension of the moment, yet I did not move. It had been his last wish to have me next to him in his agony, at the moment when his soul was tearing itself from his lacerated body—yet I did not let him have his wish. I was afraid. Afraid of the blows. That was why I remained deaf to his cries. Instead of sacrificing my miserable life and rushing to his side, taking his hand, reassuring him, showing him that he was not abandoned, that I was near him, that I felt his sorrow, instead of all that, I remained flat on my back, asking God to make my father stop calling my name, to make him stop crying. So afraid was I to incur the wrath of the SS. In fact, my father was no longer conscious. Yet his plaintive, harrowing voice went on piercing the silence and calling me, nobody but me. "Well?" The SS had flown into a rage and was striking my father on the head: "Be quiet, old man! Be quiet!" My father no longer felt the club's blows; I did. And yet I did not react. I let the SS beat my father, I left him alone in the clutches of death. Worse: I was angry with him for having been noisy, for having cried, for provoking the wrath of the SS. "Eliezer! Eliezer! Come, don't leave me alone . . ." His voice had reached me from so far away, from so close. But I had not moved. I shall never forgive myself. Nor shall I ever forgive the world for having pushed me against the wall, for having turned me into a stranger, for having awakened in me the basest, most primitive instincts. His last word had been my name. A summons. And I had not responded. In the Yiddish version, the narrative does not end with the image in the mirror, but with a gloomy meditation on the present: And now, scarcely ten years after Buchenwald, I realize that the world forgets quickly. Today, Germany is a sovereign state. The German Army has been resuscitated. Ilse Koch, the notorious sadistic monster of Buchenwald, was allowed to have children and live happily ever after . . . War criminals stroll through the streets of Hamburg and Munich. The past seems to have been erased, relegated to oblivion. Today, there are anti-Semites in Germany, France, and even the United States who tell the world that the "story" of six million assassinated Jews is nothing but a hoax, and many people, not knowing any better, may well believe them, if not today then tomorrow or the day after . . . I am not so naïve as to believe that this slim volume will change the course of history or shake the conscience of the world. Books no longer have the power they once did. Those who kept silent yesterday will remain silent tomorrow. THE READER would be entitled to ask: Why this new translation, since the earlier one has been around for forty-five years? If it is not faithful or not good enough, why did I wait so long to replace it with one better and closer to the original? In response, I would say only that back then, I was an unknown writer who was just getting started. My English was far from good. When my British publisher told me that he had found a translator, I was pleased. I later read the translation and it seemed all right. I never reread it. Since then, many of my other works have been translated by Marion, my wife, who knows my voice and how to transmit it better than anyone else. I am fortunate: when Farrar, Straus and Giroux asked her to prepare a new translation, she accepted. I am convinced that the readers will appreciate her work. In fact, as a result of her rigorous editing, I was able to correct and revise a number of important details. And so, as I reread this text written so long ago, I am glad that I did not wait any longer. And yet, I still wonder: Have I used the right words? I speak of my first night over there. The discovery of the reality inside the barbed wire. The warnings of a "veteran" inmate, counseling my father and myself to lie about our ages: my father was to make himself younger, and I older. The selection. The march toward the chimneys looming in the distance under an indifferent sky. The infants thrown into fiery ditches . . . I did not say that they were alive, but that was what I thought. But then I convinced myself: no, they were dead, otherwise I surely would have lost my mind. And yet fellow inmates also saw them; they were alive when they were thrown into the flames. Historians, among them Telford Taylor, confirmed it. And yet somehow I did not lose my mind. BEFORE CONCLUDING this introduction, I believe it important to emphasize how strongly I feel that books, just like people, have a destiny. Some invite sorrow, others joy, some both. Earlier, I described the difficulties encountered by Night before its publication in French, forty-seven years ago. Despite overwhelmingly favorable reviews, the book sold poorly. The subject was considered morbid and interested no one. If a rabbi happened to mention the book in his sermon, there were always people ready to complain that it was senseless to "burden our children with the tragedies of the Jewish past." Since then, much has changed. Night has been received in ways that I never expected. Today, students in high schools and colleges in the United States and elsewhere read it as part of their curriculum. How to explain this phenomenon? First of all, there has been a powerful change in the public's attitude. In the fifties and sixties, adults born before or during World War II showed a careless and patronizing indifference toward what is so inadequately called the Holocaust. That is no longer true. Back then, few publishers had the courage to publish books on that subject. Today, such works are on most book lists. The same is true in academia. Back then, few schools offered courses on the subject. Today, many do. And, strangely, those courses are particularly popular. The topic of Auschwitz has become part of mainstream culture. There are films, plays, novels, international conferences, exhibitions, annual ceremonies with the participation of the nation's officialdom. The most striking example is that of the United States Holocaust Memorial Museum in Washington, D.C.; it has received more than twenty-two million visitors since its inauguration in 1993. This may be because the public knows that the number of survivors is shrinking daily, and is fascinated by the idea of sharing memories that will soon be lost. For in the end, it is all about memory, its sources and its magnitude, and, of course, its consequences. For the survivor who chooses to testify, it is clear: his duty is to bear witness for the dead and for the living. He has no right to deprive future generations of a past that belongs to our collective memory. To forget would be not only dangerous but offensive; to forget the dead would be akin to killing them a second time. SOMETIMES I AM ASKED if I know "the response to Auschwitz"; I answer that not only do I not know it, but that I don't even know if a tragedy of this magnitude has a response. What I do know is that there is "response" in responsibility. When we speak of this era of evil and darkness, so close and yet so distant, "responsibility" is the key word. The witness has forced himself to testify. For the youth of today, for the children who will be born tomorrow. He does not want his past to become their future. E.W. Copyright © 2006 by Hill and Wang, a division of Farrar, Straus and Giroux.
view abbreviated excerpt only...
Discussion Questions
Questions for Discussion from the Publisher's Reading Guide:
1. Compare Wiesel's preface to the memoir itself. Has his perspective shifted in any way over the years?
2. In his Nobel lecture, presented in 1986, Wiesel writes of the power of memory, including the notion that the memory of death can serve as a shield against death. He mentions several sources of injustice that reached a boiling point in the 1980s, such as Apartheid and the suppression of Lech Walesa, as well as fears that are still
with us, such as terrorism and the threat of nuclear war. Will twenty-first-century society be marked by remembrance, or by forgetting?
3. How does the author characterize himself in Night? What does young Eliezer tell us about the town, community, and home that defined his childhood? How would you describe his storytelling tone?
4. Why doesn't anyone believe Moishe the Beadle? In what way did other citizens around the world share in Sighet's naïveté? Would you have heeded Moishe's warnings, or would his stories have seemed too atrocious to be true? Has modern journalism solved the problem of complacency, or are Cassandras more prevalent than ever?
5. As Eliezer's family and neighbors are confined to a large ghetto and then expelled to a smaller, ghostlier one whose residents have already been deported, what do you learn about the process by which Hitler implemented doom? How are you affected by the uncertainty endured by Sighet's Jews on their prolonged journey to the concentration camps?
6. With the words "Women to the right!" Eliezer has a final glimpse of his mother and of his sister, Tzipora. His father later wonders whether he should have presented his son as a younger boy, so that Eliezer could have joined the women. What turning point is represented by that moment, when their family is split and the gravity of every choice is made clear?
7. At Birkenau, Eliezer considers ending his life by running into the electric fence. His father tells him to remember Mrs. Schächter, who had become delusional on the train. What might account for the fact that Eliezer and his father were able to keep their wits about them while others slipped into madness?
8. Eliezer observes the now-infamous inscription above the entrance to Auschwitz, equating work with liberty. How does that inscription come to embody the deceit and bitter irony of the Nazi camps? What was the "work" of the prisoners? Were any of the Auschwitz survivors ever liberated emotionally?
9. Eliezer's gold crown makes him a target for spurious bargaining, concluding in a lavatory with Franek, the foreman, and a dentist from Warsaw. Discuss the hierarchies in place at Auschwitz. How was a prisoner's value determined? Which prisoners were chosen for supervisory roles? Which ones were more likely to face bullying, or execution?
10. Eliezer expresses sympathy for Job, the biblical figure who experienced horrendous loss and illness as Satan and God engaged in a debate over Job's faithfulness. After watching the lynching and slow death of a young boy, Eliezer tells himself that God is hanging from the gallows as well. In his Nobel lecture, Wiesel describes the Holocaust as "a universe where God, betrayed by His creatures, covered His face in order not to see." How does Wiesel's understanding of God change throughout the book? How did the prisoners in Night, including rabbis, reconcile their agony with their faith?
11. After the surgery on Eliezer's foot, he and his father must face being marched to a more remote camp or staying behind to face possible eleventh-hour execution amid rumors of approaching Red Army troops. Observing that Hitler's deadliness is the only reliable aspect of their lives, Wiesel's father decides that he and his son should leave the camp. The memoir is filled with such crossroads, the painful outcomes of which can be known only in retrospect. How does Wiesel respond to such outcomes? Do you believe these outcomes are driven by destiny, or do they simply reflect the reality of decision-making?
12. In his final scenes with his father, Eliezer must switch roles with him, becoming the provider and comforter, despite advice from others to abandon the dying man. What accounts for the tender, unbreakable bond between Eliezer and his father long after other men in their camp begin fending for themselves? How does their bond compare to those in your family?
13. What is the significance of the book's final image, Wiesel's face, reflected in a mirror? He writes that a corpse gazed back at him, with a look that has never left him. What aspects of him died during his ordeal? What aspects were born in their place? What do you make of his observation that among the men liberated with him, not one sought revenge?
14. Wiesel faced constant rejection when he first tried to publish Night; numerous major publishing houses in France and the United States closed their doors to him. His memoir is now a classic that has inspired many other historians and Holocaust survivors to write important contributions to this genre of remembrance. What is
unique about Wiesel's story? How does his approach compare to that of other memoirists whose work you have read?
BECOME A MEMBER
it's free
Join the leading website for book clubs with over 35,000 clubs and 20,000 reading guides.
SEARCH OUR READING GUIDES
Search
JOIN OUR MAILING LIST
Get free weekly updates on top club picks, book giveaways, author events and more
Please wait...