BKMT READING GUIDES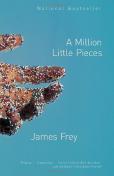 A Million Little Pieces (Oprah's Book Club)

by James Frey
Published: 2005-09-22
Paperback : 448 pages
23 members reading this now
30 clubs reading this now
38 members have read this book
Recommended to book clubs by 3 of 5 members
At the age of 23, James Frey woke up on a plane to find his front teeth knocked out and his nose broken. He had no idea where the plane was headed nor any recollection of the past two weeks. An alcoholic for ten years and a crack addict for three, he checked into a treatment facility ...
No other editions available.

Jump to
Introduction
At the age of 23, James Frey woke up on a plane to find his front teeth knocked out and his nose broken. He had no idea where the plane was headed nor any recollection of the past two weeks. An alcoholic for ten years and a crack addict for three, he checked into a treatment facility shortly after landing. There he was told he could either stop using or die before he reached age 24. This is Frey's acclaimed account of his six weeks in rehab.
Editorial Review
Book Description
At the age of 23, James Frey woke up on a plane to find his front teeth knocked out and his nose broken. He had no idea where the plane was headed nor any recollection of the past two weeks. An alcoholic for ten years and a crack addict for three, he checked into a treatment facility shortly after landing. There he was told he could either stop using or die before he reached age 24. This is Frey's acclaimed account of his six weeks in rehab.
Amazon.com Review
The electrifying opening of James Frey's debut memoir, A Million Little Pieces, smash-cuts to the then 23-year-old author on a Chicago-bound plane "covered with a colorful mixture of spit, snot, urine, vomit and blood." Wanted by authorities in three states, without ID or any money, his face mangled and missing four front teeth, Frey is on a steep descent from a dark marathon of drug abuse. His stunned family checks him into a famed Minnesota drug treatment center where a doctor promises "he will be dead within a few days" if he starts to use again, and where Frey spends two agonizing months of detox confronting "The Fury" head on:
I want a drink. I want fifty drinks. I want a bottle of the purest, strongest, most destructive, most poisonous alcohol on Earth. I want fifty bottles of it. I want crack, dirty and yellow and filled with formaldehyde. I want a pile of powder meth, five hundred hits of acid, a garbage bag filled with mushrooms, a tube of glue bigger than a truck, a pool of gas large enough to drown in. I want something anything whatever however as much as I can.
One of the more harrowing sections is when Frey submits to major dental surgery without the benefit of anesthesia or painkillers (he fights the mind-blowing waves of "bayonet" pain by digging his fingers into two old tennis balls until his nails crack). His fellow patients include a damaged crack addict with whom Frey wades into an ill-fated relationship, a federal judge, a former championship boxer, and a mobster (who, upon his release, throws a hilarious surf-and-turf bacchanal, complete with pay-per-view boxing). In the book's epilogue, when Frey ticks off a terse update on everyone, you can almost hear the Jim Carroll Band's brutal survivor's lament "People Who Died" kicking in on the soundtrack of the inevitable film adaptation.
The rage-fueled memoir is kept in check by Frey's cool, minimalist style. Like his steady mantra, "I am an Alcoholic and I am a drug Addict and I am a Criminal," Frey's use of repetition takes on a crisp, lyrical quality which lends itself to the surreal experience. The book could have benefited from being a bit leaner. Nearly 400 pages is a long time to spend under Frey's influence, and the stylistic acrobatics (no quotation marks, random capitalization, left-aligned text, wild paragraph breaks) may seem too self-conscious for some readers, but beyond the literary fireworks lurks a fierce debut. --Brad Thomas Parsons
Excerpt
I wake to the drone of an airplane engine and the feeling of something warm dripping down my chin. I lift my hand to feel my face. My front four teeth are gone, I have a hole in my cheek, my nose is broken and my eyes are swollen nearly shut. I open them and I look around and I'm in the back of a plane and there's no one near me. I look at my clothes and my clothes are covered with a colorful mixture of spit, snot, urine, vomit and blood. I reach for the call button and I find it and I push it and I wait and thirty seconds later an Attendant arrives. How can I help you? Where am I going? You don't know? No. You're going to Chicago, Sir. How did I get here? A Doctor and two men brought you on. They say anything? They talked to the Captain, Sir. We were told to let you sleep. How long till we land? About twenty minutes. Thank you. Although I never look up, I know she smiles and feels sorry for me. She shouldn't. A short while later we touch down. I look around for anything I might have with me, but there's nothing. No ticket, no bags, no clothes, no wallet. I sit and I wait and I try to figure out what happened. Nothing comes. Once the rest of the Passengers are gone I stand and start to make my way to the door. After about five steps I sit back down. Walking is out of the question. I see my Attendant friend and I raise a hand. Are you okay? No. What's wrong? I can't really walk. If you make it to the door I can get you a chair. How far is the door? Not far. I stand. I wobble. I sit back down. I stare at the floor and take a deep breath. You'll be all right. I look up and she's smiling. Here. She holds out her hand and I take it. I stand and I lean against her and she helps me down the Aisle. We get to the door. I'll be right back. I let go of her hand and I sit down on the steel bridge of the Jetway that connects the Plane to the Gate. I'm not going anywhere. She laughs and I watch her walk away and I close my eyes. My head hurts, my mouth hurts, my eyes hurt, my hands hurt. Things without names hurt. I rub my stomach. I can feel it coming. Fast and strong and burning. No way to stop it, just close your eyes and let it ride. It comes and I recoil from the stench and the pain. There's nothing I can do. Oh my God. I open my eyes. I'm all right. Let me find a Doctor. I'll be fine. Just get me out of here. Can you stand? Yeah, I can stand. I stand and I brush myself off and I wipe my hands on the floor and I sit down in the wheelchair she has brought me. She goes around to the back of the chair and she starts pushing. Is someone here for you? I hope so. You don't know. No. What if no one's there? It's happened before, I'll find my way. We come off the Jetway and into the Gate. Before I have a chance to look around, my Mother and Father are standing in front of me. Oh Jesus. Please, Mom. Oh my God, what happened? I don't want to talk about it, Mom. Jesus Christ, Jimmy. What in Hell happened? She leans over and she tries to hug me. I push her away. Let's just get out of here, Mom. My Dad goes around to the back of the chair. I look for the Attendant but she has disappeared. Bless her. You okay, James? I stare straight ahead. No, Dad, I'm not okay. He starts pushing the chair. Do you have any bags? My Mother continues crying. No. People are staring. Do you need anything? I need to get out of here, Dad. Just get me the fuck out of here. They wheel me to their car. I climb in the backseat and I take off my shirt and I lie down. My Dad starts driving, my Mom keeps crying, I fall asleep. About four hours later I wake up. My head is clear but everything throbs. I sit forward and I look out the window. We've pulled into a Filling Station somewhere in Wisconsin. There is no snow on the ground, but I can feel the cold. My Dad opens the Driver's door and he sits down and he closes the door. I shiver. You're awake. Yeah. How are you feeling? Shitty. Your Mom's inside cleaning up and getting supplies. You need anything? A bottle of water and a couple bottles of wine and a pack of cigarettes. Seriously? Yeah. This is bad, James. I need it. You can't wait. No. This will upset your Mother. I don't care. I need it. He opens the door and he goes into the Filling Station. I lie back down and I stare at the ceiling. I can feel my heart quickening and I hold out my hand and I try to keep it straight. I hope they hurry. Twenty minutes later the bottles are gone. I sit up and I light a smoke and I take a slug of water. Mom turns around. Better? If you want to put it that way. We're going up to the Cabin. I figured. We're going to decide what to do when we get there. All right. What do you think? I don't want to think right now. You're gonna have to soon. Then I'll wait till soon comes. We head north to the Cabin. Along the way I learn that my Parents, who live in Tokyo, have been in the States for the last two weeks on business. At four a.m. they received a call from a friend of mine who was with me at a Hospital and had tracked them down in a hotel in Michigan. He told them that I had fallen face first down a Fire Escape and that he thought they should find me some help. He didn't know what I was on, but he knew there was a lot of it and he knew it was bad. They had driven to Chicago during the night. So what was it? What was what? What were you taking? I'm not sure. How can you not be sure? I don't remember. What do you remember? Bits and pieces. Like what. I don't remember. We drive on and after a few hard silent minutes, we arrive. We get out of the car and we go into the House and I take a shower because I need it. When I get out there are some fresh clothes sitting on my bed. I put them on and I go to my Parents' room. They are up drinking coffee and talking but when I come in they stop. Hi. Mom starts crying again and she looks away. Dad looks at me. Feeling better? No. You should get some sleep. I'm gonna. Good. I look at my Mom. She can't look back. I breathe. I just. I look away. I just, you know. I look away. I can't look at them. I just wanted to say thanks. For picking me up. Dad smiles. He takes my Mother by the hand and they stand and they come over to me and they give me a hug. I don't like it when they touch me so I pull away. Good night. Good night, James. We love you. I turn and I leave their Room and I close their door and I go to the Kitchen. I look through the cabinets and I find an unopened gallon bottle of whiskey. The first sip brings my stomach back up, but after that it's all right. I go to my Room and I drink and I smoke some cigarettes and I think about her. I drink and I smoke and I think about her and at a certain point blackness comes and my memory fails me. Back in the car with a headache and bad breath. We're heading north and west to Minnesota. My Father made some calls and got me into a Clinic and I don't have any other options, so I agree to spend some time there and for now I'm fine with it. It's getting colder. My face has gotten worse and it is hideously swollen. I have trouble speaking, eating, drinking, smoking. I have yet to look in a mirror. We stop in Minneapolis to see my older Brother. He moved there after getting divorced and he knows how to get to the Clinic. He sits with me in the backseat and he holds my hand and it helps because I'm scared. We pull into the Parking Lot and park the car and I finish a bottle and we get out and we start walking toward the Entrance of the Clinic. Me and my Brother and my Mother and my Father. My entire Family. Going to the Clinic. I stop and they stop with me. I stare at the Buildings. Low and long and connected. Functional. Simple. Menacing. I want to run or die or get fucked up. I want to be blind and dumb and have no heart. I want to crawl in a hole and never come out. I want to wipe my existence straight off the map. Straight off the fucking map. I take a deep breath. Let's go. We enter a small Waiting Room. A woman sits behind a desk reading a fashion magazine. She looks up. May I help you? My Father steps forward and speaks with her as my Mother and Brother and I find chairs and sit in them. I'm shaking. My hands and my feet and my lips and my chest. Shaking. For any number of reasons. Mother and Brother move next to me and they take my hands and they hold them and they can feel what is happening to me. We look at the floor and we don't speak. We wait and we hold hands and we breathe and we think. My Father finishes with the woman and he turns around and he stands in front of us. He looks happy and the woman is on the phone. He kneels down. They're gonna check you in now. All right. You're gonna be fine. This is a good place. The best place. That's what I hear. You ready? I guess so. We stand and we move toward a small Room where a man sits behind a desk with a computer. He meets us at the door. I'm sorry, but you have to leave him here. My Father nods. We'll check him in and you can call later to make sure he's all right. My Mother breaks down. He's in the right place. Don't worry. My Brother looks away. He's in the right place. I turn and they hug me. One at a time and hold tight. Squeezing and holding, I show them what I can. I turn and without a word I walk into the Room and the man shuts the door and they're gone. The man shows me a chair and returns to his desk. He smiles. Hi. Hello. How are you? How do I look? Not good. I feel worse. Your name is James. You're twenty-three. You live in North Carolina. Yeah. You're going to stay with us for a while. You okay with that? For now. Do you know anything about this Facility? No. Do you want to know anything? I don't care. He smiles, stares at me for a moment. He speaks. We are the oldest Residential Drug and Alcohol Treatment Facility in the World. We were founded in 1949 in an old house that sat on the land where these Buildings, and there are thirty-two interconnected Buildings here, sit now. We have treated over twenty thousand Patients. We have the highest success rate of any Facility in the World. At any given time, there are between two hundred and two hundred and fifty Patients spread through six Units, three of which house men and three of which house women. We believe that Patients should stay here for as long a term as they need, not something as specific as a twenty-eight day Program. Although it is expensive to come here, many of our Patients are here on scholarships that we fund and through subsidies that we support. We have an endowment of several hundred million dollars. We not only treat Patients, we are also one the leading Research and Educational Institutions in the field of Addiction Studies. You should consider yourself fortunate to be here and you should be excited to start a new chapter in your life. I stare at the man. I don't speak. He stares back at me, waiting for me to say something. There is an awkward moment. He smiles. You ready to get started? I don't smile. Sure. He gets up and I get up and we walk down a hall. He talks and I don't. The doors are always open here, so if you want to leave, you can. Substance use is not allowed and if you're caught using or possessing, you will be sent Home. You are not allowed to say anything more than hello to any women aside from Doctors, Nurses or Staff Members. If you violate this rule, you will be sent Home. There are other rules, but those are the only ones you need to know right now. We walk through a door into the Medical Wing. There are small Rooms and Doctors and Nurses and a Pharmacy. The cabinets have large steel locks. He shows me to a Room. It has a bed and a desk and a chair and a closet and a window. Everything is white. He stands at the door and I sit on the bed. A Nurse will be here in a few minutes to talk with you. Fine. You feel okay? No, I feel like shit. It'll get better. Yeah. Trust me. Yeah. The man leaves and he shuts the door and I'm alone. My feet bounce, I touch my face, I run my tongue along my gums. I'm cold and getting colder. I hear someone scream. The door opens and a Nurse walks into the Room. She wears white, all white, and she is carrying a clipboard. She sits in the chair by the desk. Hi, James. Hi. I need to ask you some questions. All right. I also need to check your blood pressure and your pulse. All right. What type of substances do you normally use? Alcohol. Every day? Yes. What time do you start drinking? -------------------------------------------------------------------------------- Excerpted from A Million Little Pieces by James Frey Copyright © 2003 by James Frey. Excerpted by permission of Anchor, a division of Random House, Inc. All rights reserved.
view abbreviated excerpt only...
Discussion Questions
Questions from the Publisher's Reading Guide:
1. A Million Little Pieces presents some unusual formal innovations: Instead of using quotation marks, each piece of dialogue is set off on its own line with only occasional authorial indications of who is speaking; paragraphs are not indented; sentences sometimes run together without punctuation; and many passages read more like poetry than prose. How do these innovations affect the pace of the writing? How do they contribute to the book's rawness and immediacy? How is James Frey's unconventional style appropriate for this story?
2. A Million Little Pieces is a nonfiction memoir, but does it also read like a novel? How does Frey create suspense and sustain narrative tension throughout? What major questions are raised and left unresolved until the end of the book? Is this way of writing about addiction more powerful than an objective study might be?
3. Why does the Tao Te Ching speak to James so powerfully? Why does he connect with it whereas the Bible and Twelve Steps literature leave him cold? How is this little book of ancient Chinese wisdom relevant to the issues an addict must face?
4. James is frequently torn between wanting to look into his own eyes to see himself completely and being afraid of what he might find: "I want to look beneath the surface of the pale green and see what's inside of me, what's within me, what I'm hiding. I start to look up but I turn away. I try to force myself but I can't" [p. 32]. Why can't James look himself in the eye? Why is it important that he do so? What finally enables him to see himself?
5. When his brother Bob tells James he has to get better, James replies, "I don't know what happened or how I ever ended up like this, but I did, and I've got some huge fucking problems and I don't know if they're fixable. I don't know if I'm fixable" [p. 131]. Does the book ever fully reveal the causes of James's addictions? How and why do you think he ended up "like this"?
6. Why are James and Lilly so drawn to each other? In what way is their openness with each other significant for their recovery?
7. Joanne calls James the most stubborn person she has ever met. At what moments in the book does that stubbornness reveal itself most strongly? How does being stubborn help James? How does it hurt or hinder him?
8. The counselors at the clinic insist that the Twelve Steps program is the only way addicts can stay sober. What are James's reasons for rejecting it? Are they reasons that might be applicable to others or are they only relevant to James's own personality and circumstances? Is he right in thinking that a lifetime of "sitting in Church basements listening to People whine and bitch and complain" is nothing more than "the replacement of one addiction with another" [p. 223]?
9. What are the sources of James's rage and self-hatred? How do these feelings affect his addictions? How does James use physical pain as an outlet for his fury?
10. How is Frey able to make the life of an addict so viscerally and vividly real? Which passages in the book most powerfully evoke what it's like to be an addict? Why is it important, for the overall impact of the book, that Frey accurately convey these feelings?
11. When Miles asks James for something that might help him, James thinks it's funny that a Federal Judge is asking him for advice, to which Miles replies: "We are all the same in here. Judge or Criminal, Bourbon Drinker or Crackhead" [p. 271]. How does being a recovering addict in the clinic negate social and moral differences? In what emotional and practical ways are the friendships James develops, especially with Miles and Leonard, crucial to his recovery?
12. James refuses to see himself as a victim; or to blame his parents, his genes, his environment, or even the severe physical and emotional pain he suffered as a child from untreated ear infections for his addictions and destructive behavior. He blames only himself for what has happened in his life. What cultural currents does this position swim against? How does taking full responsibility for his actions help James? How might finding someone else to blame have held him back?
13. Bret Easton Ellis, in describing A Million Little Pieces, commented, "Beneath the brutality of James Frey's painful process, there are simple gestures of kindness that will reduce even the most jaded to tears." What are some of those moments of kindness and compassion and genuine human connection that make the book so moving? Why do these moments have such emotional power?
14. In what ways does A Million Little Pieces illuminate the problem of alcohol and drug addiction in the United States today? What does Frey's intensely personal voice add to the national debate about this issue?
BECOME A MEMBER
it's free
Join the leading website for book clubs with over 35,000 clubs and 20,000 reading guides.
SEARCH OUR READING GUIDES
Search
JOIN OUR MAILING LIST
Get free weekly updates on top club picks, book giveaways, author events and more
Please wait...