BKMT READING GUIDES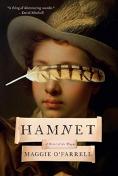 Hamnet

by O'Farrell Maggie
Published: 2020-07-21T00:0
Hardcover : 320 pages
29 members reading this now
221 clubs reading this now
8 members have read this book
Recommended to book clubs by 3 of 3 members
NATIONAL BOOK CRITICS CIRCLE AWARD WINNER • NEW YORK TIMES BESTSELLER • "Of all the stories that argue and speculate about Shakespeare's life ... here is a novel ... so gorgeously written that it transports you." —The Boston Globe
In 1580's England, during the Black Plague ...
No other editions available.

Jump to
Introduction
NATIONAL BOOK CRITICS CIRCLE AWARD WINNER • NEW YORK TIMES BESTSELLER • "Of all the stories that argue and speculate about Shakespeare's life ... here is a novel ... so gorgeously written that it transports you." —The Boston Globe
In 1580's England, during the Black Plague a young Latin tutor falls in love with an extraordinary, eccentric young woman in this "exceptional historical novel" (The New Yorker) and best-selling winner of the Women's Prize for Fiction.
Agnes is a wild creature who walks her family's land with a falcon on her glove and is known throughout the countryside for her unusual gifts as a healer, understanding plants and potions better than she does people. Once she settles with her husband on Henley Street in Stratford-upon-Avon she becomes a fiercely protective mother and a steadfast, centrifugal force in the life of her young husband, whose career on the London stage is taking off when his beloved young son succumbs to sudden fever.
A luminous portrait of a marriage, a shattering evocation of a family ravaged by grief and loss, and a tender and unforgettable re-imagining of a boy whose life has been all but forgotten, and whose name was given to one of the most celebrated plays of all time, Hamnet is mesmerizing, seductive, impossible to put down—a magnificent leap forward from one of our most gifted novelists.
Don't miss Maggie O'Farrell's new novel, The Marriage Portrait, coming in September!
Excerpt
No Excerpt Currently Available
Discussion Questions
From the publisher:
The questions, discussion topics, and other material that follow are intended to enhance your group's conversation of Maggie O'Farrell's Hamnet, a critically acclaimed imagination of the real-life events inspiring William Shakespeare's great work Hamlet. O'Farrell's novel takes us deep into seventeenth-century, plague-besotted England and the quiet yet remarkable lives of a family gripped by loss, and healed by art.
Questions and Topics for Discussion
1. What did you know about the origins of Hamlet, and about the history of William Shakespeare's life and family, before reading this novel? How did the novel change your interpretation of the play?
2. How do Agnes's special gifts affect her reputation throughout the town and her connection to her husband? Consider especially the way she feels the space between a person's index finger and thumb, where "a person's ability, their reach, their essence can be gleaned," and how she uses this part of the body to connect with different people in the novel (49).
3. Describe the nature of Agnes's love for her husband, and his for her. What draws them to each other, despite their different backgrounds?
4. What makes Susanna's birth different from that of the twins? How does this manifest itself in each of the children's relationships with their mother?
5. Throughout the book, Susanna expresses a frustration with the rumors about her mother and her strange ways, which is exacerbated after Hamnet's death. Why do you think this daughter still takes up her mother's work in the garden, caring for the house, and teaching of Judith, in spite of these feelings? What do you expect her prospects of marriage are, as she reflects on them at the end of the novel?
6. Discuss the lineage of mothers within the two families in the novel vis-à-vis the expectations of women at the time. How do Mary, Joan, and Agnes differ in their approach to women's work in the world and rearing children, especially their daughters? How do Agnes's insights, especially her vision of two children at the foot of her deathbed, affect her decisions as a mother? Consider her thought during the birth of the twins, when she fears one of her children will die: "She will place herself between them and the door leading out, and she will stand there, teeth bared, blocking the way" (202).
7. The fathers in the book—John, Hamnet's father, and King Hamlet—all create a physical and/or emotional distance between themselves and their families. How does this affect their children and lineage overall? Consider the ultimate future of the Shakespeare line (in a bodily sense and otherwise) after Hamnet's death. How did John's actions ultimately impact how his own son would be remembered?
8. The plague is an insidious, but somewhat familiar, presence for the inhabitants of England during the time of the novel. How is its arrival marked and felt by the families we follow? What signs of infection are visible in the body and in how people behave? Were these notions familiar to you at all in the wake of the conditions during the COVID-19 pandemic, or other periods of large-scale disease you experienced in your lifetime or that occurred at other points in history?
9. Hamnet's death comes as a shock to all in his family, but our insight into the twins' last moments together reflects a kind of knowing that not even Agnes is able to access. How do their similarities affect the family's ability to grieve and heal? How does Hamnet live on as "Agnes watches the child drop from her younger daughter, as a cloak from a shoulder" but still looks for her son's face in Judith, as he might have aged into it (279)?
10. Agnes's husband says of her that it is a joy and a curse to be married to "'Someone who knows everything about you, before you even know it yourself. Someone who can just look at you and divine your deepest secrets, just with a glance. Someone who can tell what you are about to say—and what you might not—before you say it'" (268). Can you relate to this feeling at all, regarding your spouse, other relatives, friends, or coworkers? What does it feel like when a secret part of you is laid bare to another without your knowing, and how does that manifest itself in pursuits such as writing and art? Did reading this book, or any others you've read in the past, make you feel like the author knew something about you?
11. Agnes is very sensitive to her environment, including when she moves between different homes. What information do the three houses, indoor and outdoor, that she inhabits tell her about what will happen there? How do the energetics of the spaces, and the people who live there with her, become characters in and of themselves?
12. Why do you think William Shakespeare goes unnamed in the novel? From how he is described—as a Latin tutor, with a diminutive stature, et cetera—would you have recognized him as the great playwright without knowing this was his family's story?
13. Discuss the significance of names in the novel overall, including the interchangeable spelling of "Hamnet" and "Hamlet." Who is afforded their own name, and who is known exclusively by their relation to others?
14. What are the consequences of Agnes's encouraging her husband to go to London? Do you think she still regrets the decision at the end of the book as she is watching Hamlet onstage?
15. Describe Agnes's trip to London and her time at the playhouse. What does she learn about her husband's life there from her attempts to find him? What does she discover about his pursuits when she sees him onstage? Do you think she forgives him in the end upon witnessing his homage to his son?
16. Based on the portrayal of the play in this novel, how are Hamnet and his father, and Hamlet (the character) and his father related to one another? Is the correlation one-to-one (son/son, father/father), or is there a crossing among them?
17. Shakespeare's plays are known for their supernatural elements and figures. What might be considered supernatural about the events of the novel? Who are the conduits for these mysterious forces and messages among the living and the dead?
18. What roles do the written word, the spoken word, and words that are neither written nor spoken play in how the characters know one another and how we know them? How are various kinds of literacy—whether it's reading letters on a page, reading gestures on a stage, reading plants in a garden, or reading souls in bodies—valued or not valued in the society of the novel? Are those values similar or different from those of our current society?
Weblinks
There are no web links at this time.
BECOME A MEMBER
it's free
Now serving over 80,000 book clubs & ready to welcome yours. Join us and get the Top Book Club Picks of 2022 (so far).
SEARCH OUR READING GUIDES
Search
JOIN OUR MAILING LIST
Get free weekly updates on top club picks, book giveaways, author events and more
Please wait...