BKMT READING GUIDES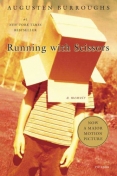 Running with Scissors: A Memoir

by Augusten Burroughs
Published: 2003-06-01
Paperback : 320 pages
42 members reading this now
41 clubs reading this now
38 members have read this book
Recommended to book clubs by 4 of 4 members
The #1 New York Times Bestseller
An Entertainment Weekly Top Ten Book of the Year
Now a Major Motion Picture

Running with Scissors is the true story of a boy whose mother (a poet with delusions of Anne Sexton) gave him away to be raised by her unorthodox psychiatrist who bore a striking ...
No other editions available.

Jump to
Introduction
"Running with Scissors" is the true story of a boy whose mother (a poet with delusions of Anne Sexton) gave him away to be raised by her unorthodox psychiatrist who bore a striking resemblance to Santa Claus. The funny, harrowing and bestselling account of an ordinary boy's survival under the most extraordinary circumstances.
Editorial Review
There is a passage early in Augusten Burroughs's harrowing and highly entertaining memoir,
Running with Scissors
, that speaks volumes about the author. While going to the garbage dump with his father, young Augusten spots a chipped, glass-top coffee table that he longs to bring home. "I knew I could hide the chip by fanning a display of magazines on the surface, like in a doctor's office," he writes, "And it certainly wouldn't be dirty after I polished it with Windex for three hours." There were certainly numerous chips in the childhood Burroughs describes: an alcoholic father, an unstable mother who gives him up for adoption to her therapist, and an adolescence spent as part of the therapist's eccentric extended family, gobbling prescription meds and fooling around with both an old electroshock machine and a pedophile who lives in a shed out back. But just as he dreamed of doing with that old table, Burroughs employs a vigorous program of decoration and fervent polishing to a life that many would have simply thrown in a landfill. Despite her abandonment, he never gives up on his increasingly unbalanced mother. And rather than despair about his lot, he glamorizes it: planning a "beauty empire" and performing an a capella version of "You Light Up My Life" at a local mental ward. Burroughs's perspective achieves a crucial balance for a memoir: emotional but not self-involved, observant but not clinical, funny but not deliberately comic. And it's ultimately a feel-good story: as he steers through a challenging childhood, there's always a sense that Burroughs's survivor mentality will guide him through and that the coffee table will be salvaged after all.
--John Moe
Excerpt
No Excerpt Currently Available
Discussion Questions
Questions from the Publisher's Reading Guide:
1. Author Augusten Burroughs was raised by his mother's psychiatrist, who lived in a dilapidated house of almost unimaginable squalor. Why are psychiatrists such dirty people? Do you think medical schools should teach basic house-cleaning skills to psychiatric residents?
2. Hair and hairdressing are themes that resonate throughout the memoir. Are you happy with your own hairstyle? What would you do if somebody were to offer you a makeover?
3. Augusten Burroughs was fascinated with celebrity and pop culture as a child, and wanted to be famous himself. Now that Augusten Burroughs is famous, do you think he still does his own laundry, or do you think he sends it out? In addition, would Augusten have an easier time getting a good table at a New York City restaurant than you?
4. Members of the Finch family regularly consult the bible when faced with making a decision, no matter how small. A question is asked, the bible is opened, and a word is chosen at random. Is "Bible-dipping" something you would like to incorporate into your daily life and if so, should Wall Street begin using this strategy as a forecasting tool?
5. One of the most disturbing features of Running with Scissors is the graphic sexual relationship between the thirteen year old author and the thirty-four year old Bookman, who is Dr. Finch's patient and "adopted" son. Yet if Bookman had been a television star, this would have been an exciting relationship any parent would approve of. Discuss why.
6. Throughout the memoir, Augusten's mentally ill mother is obsessed with achieving her own fame as a poet. But everybody knows that nobody reads poetry, and thus it's almost impossible to achieve fame as a poet. Why didn't Augusten's mother write a line of Chinese romance novels instead?
7. Running with Scissors details a world with no boundaries, little personal privacy and regrettable decorating and fashion decisions. Now that Target sells tasteful yet inexpensive items designed by famed designers Michael Graves and Todd Oldham, everyone can afford to look good and live in a nice home. Do you wish Target had been around when you were a child?
8. Augusten uses humor throughout his memoir, even while describing "appalling" or "horrifying" aspects of his unconventional childhood. Does this inspire you to do something "appalling" or "horrifying" and then tell somebody about it, trying for laughs?
9. The "memoir" genre of literature has come under a lot of fire. Because there have been so many memoirs published, it almost seems that Augusten "jumped on the memoir bandwagon" a little late. Explain why most of the other memoirs should be pulped, while Augusten should continue to write yet even more memoirs.
10. Reviews have compared Augusten Burroughs to David Sedaris, yet Augusten is a much funnier writer and has more unusual "material" to work with. Do you think David Sedaris hates Augusten Burroughs? If so, should Augusten send him a sympathy note?
11. The last chapter of Running with Scissors describes the opening scene to The Mary Tyler Moore Show. Since then, has Mary Tyler Moore had more cosmetic surgery and do you think her eyes are too tight and surprised?
BECOME A MEMBER
it's free
Join the leading website for book clubs with over 35,000 clubs and 20,000 reading guides.
SEARCH OUR READING GUIDES
Search
JOIN OUR MAILING LIST
Get free weekly updates on top club picks, book giveaways, author events and more
Please wait...