BKMT READING GUIDES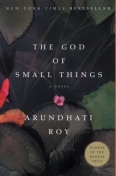 The God of Small Things

by Arundhati Roy
Published: 1998-05-01
Paperback : 336 pages
9 members reading this now
27 clubs reading this now
6 members have read this book
Recommended to book clubs by 6 of 8 members
The story of the tragic decline of an Indian family whose members suffer the terrible consequences of forbidden love, The God of Small Things is set in the state of Kerala, on the southernmost tip of India. Armed only with the invincible innocence of children, the twins Rahel and ...
No other editions available.

Jump to
Introduction
The story of the tragic decline of an Indian family whose members suffer the terrible consequences of forbidden love, The God of Small Things is set in the state of Kerala, on the southernmost tip of India. Armed only with the invincible innocence of children, the twins Rahel and Esthappen fashion a childhood for themselves in the shade of the wreck that is their family -- their lonely, lovely mother, Ammu (who loves by night the man her children love by day), their blind grandmother, Mammachi (who plays Handel on her violin), their beloved uncle Chacko (Rhodes scholar, pickle baron, radical Marxist, bottom-pincher), their enemy, Baby Kochamma (ex-nun and incumbent grandaunt), and the ghost of an imperial entomologist's moth (with unusually dense dorsal tufts).
When their English cousin and her mother arrive on a Christmas visit, the twins learn that Things Can Change in a Day. That lives can twist into new, ugly shapes, even cease forever. The brilliantly plotted story uncoils with an agonizing sense of foreboding and inevitability. Yet nothing prepares you for what lies at the heart of it.
Editorial Review
In her first novel, award-winning Indian screenwriter Arundhati Roy conjures a whoosh of wordplay that rises from the pages like a brilliant jazz improvisation.
The God of Small Things
is nominally the story of young twins Rahel and Estha and the rest of their family, but the book feels like a million stories spinning out indefinitely; it is the product of a genius child-mind that takes everything in and transforms it in an alchemy of poetry.
The God of Small Things
is at once exotic and familiar to the Western reader, written in an English that's completely new and invigorated by the Asian Indian influences of culture and language.
Excerpt
Paradise Pickles & Preserves May in Ayemenem is a hot, brooding month. The days are long and humid. The river shrinks and black crows gorge on bright mangoes in still, dustgreen trees. Red bananas ripen. Jackfruits burst. Dissolute bluebottles hum vacuously in the fruity air. Then they stun themselves against clear windowpanes and die, fatly baffled in the sun. The nights are clear, but suffused with sloth and sullen expectation. But by early June the southwest monsoon breaks and there are three months of wind and water with short spells of sharp, glittering sunshine that thrilled children snatch to play with. The countryside turns an immodest green. Boundaries blur as tapioca fences take root and bloom. Brick walls turn mossgreen. Pepper vines snake up electric poles. Wild creepers burst through laterite banks and spill across the flooded roads. Boats ply in the bazaars. And small fish appear in the puddles that fill the PWD potholes on the highways. It was raining when Rahel came back to Ayemenem. Slanting silver ropes slammed into loose earth, plowing it up like gunfire. The old house on the hill wore its steep, gabled roof pulled over its ears like a low hat. The walls, streaked with moss, had grown soft, and bulged a little with dampness that seeped up from the ground. The wild, overgrown garden was full of the whisper and scurry of small lives. In the undergrowth a rat snake rubbed itself against a glistening stone. Hopeful yellow bullfrogs cruised the scummy pond for mates. A drenched mongoose flashed across the leaf-strewn driveway. The house itself looked empty. The doors and windows were locked. The front verandah bare. Unfurnished. But the skyblue Plymouth with chrome tailfins was still parked outside, and inside, Baby Kochamma was still alive. She was Rahel's baby grandaunt, her grandfather's younger sister. Her name was really Navomi, Navomi Ipe, but everybody called her Baby. She became Baby Kochamma when she was old enough to be an aunt. Rahel hadn't come to see her, though. Neither niece nor baby grandaunt labored under any illusions on that account. Rahel had come to see her brother, Estha. They were two-egg twins. "Dizygotic" doctors called them. Born from separate but simultaneously fertilized eggs. Estha--Esthappen--was the older by eighteen minutes. They never did look much like each other, Estha and Rahel, and even when they were thin-armed children, flat-chested, wormridden and Elvis Presley-puffed, there was none of the usual "Who is who?" and "Which is which?" from oversmiling relatives or the Syrian Orthodox bishops who frequently visited the Ayemenem House for donations. The confusion lay in a deeper, more secret place. In those early amorphous years when memory had only just begun, when life was full of Beginnings and no Ends, and Everything was Forever, Esthappen and Rahel thought of themselves together as Me, and separately, individually, as We or Us. As though they were a rare breed of Siamese twins, physically separate, but with joint identities. Now, these years later, Rahel has a memory of waking up one night giggling at Estha's funny dream. She has other memories too that she has no right to have. She remembers, for instance (though she hadn't been there), what the Orangedrink Lemondrink Man did to Estha in Abhilash Talkies. She remembers the taste of the tomato sandwiches--Estha's sandwiches, that Estha ate--on the Madras Mail to Madras. And these are only the small things. Anyway, now she thinks of Estha and Rahel as Them, because, separately, the two of them are no longer what They were or ever thought They'd be. Ever. Their lives have a size and a shape now. Estha has his and Rahel hers. Edges, Borders, Boundaries, Brinks and Limits have appeared like a team of trolls on their separate horizons. Short creatures with long shadows, patrolling the Blurry End. Gentle half-moons have gathered under their eyes and they are as old as Ammu was when she died. Thirty-one. Not old. Not young. But a viable die-able age. They were nearly born on a bus, Estha and Rahel. The car in which Baba, their father, was taking Ammu, their mother, to hospital in Shillong to have them, broke down on the winding tea-estate road in Assam. They abandoned the car and flagged down a crowded State Transport bus. With the queer compassion of the very poor for the comparatively well off, or perhaps only because they saw how hugely pregnant Ammu was, seated passengers made room for the couple, and for the rest of the journey Estha and Rahel's father had to hold their mother's stomach (with them in it) to prevent it from wobbling. That was before they were divorced and Ammu came back to live in Kerala. According to Estha, if they'd been born on the bus, they'd have got free bus rides for the rest of their lives. It wasn't clear where he'd got this information from, or how he knew these things, but for years the twins harbored a faint resentment against their parents for having diddled them out of a lifetime of free bus rides. They also believed that if they were killed on a zebra crossing, the Government would pay for their funerals. They had the definite impression that that was what zebra crossings were meant for. Free funerals. Of course, there were no zebra crossings to get killed on in Ayemenem, or, for that matter, even in Kottayam, which was the nearest town, but they'd seen some from the car window when they went to Cochin, which was a two-hour drive away. The Government never paid for Sophie Mol's funeral because she wasn't killed on a zebra crossing. She had hers in Ayemenem in the old church with the new paint. She was Estha and Rahel's cousin, their uncle Chacko's daughter. She was visiting from England. Estha and Rahel were seven years old when she died. Sophie Mol was almost nine. She had a special child-sized coffin. Satin lined. Brass handle shined. She lay in it in her yellow Crimplene bell-bottoms with her hair in a ribbon and her Made-in-England go-go bag that she loved. Her face was pale and as wrinkled as a dhobi's thumb from being in water for too long. The congregation gathered around the coffin, and the yellow church swelled like a throat with the sound of sad singing. The priests with curly beards swung pots of frankincense on chains and never smiled at babies the way they did on usual Sundays. -------------------------------------------------------------------------------- The foregoing is excerpted from The God of Small Things by Arundati Roy. All rights reserved.
view abbreviated excerpt only...
Discussion Questions
Questions from the Publisher's Reading Guide:
1. Who -- or what -- is the God of Small Things? What other names and what divine and earthly attributes are associated with this god? What -- or who -- are the Small Things over which this god has dominion, and why do they merit their own god?
2. What are the various laws, rules, and regulations -- familial, social, cultural, political, and religious -- including "the Love Laws," to which Roy makes repeated references?
3. Various dwellings are important to the unfolding of Roy's story. How is each described? To what extent does each embody or reflect the forces and burdens of history, social order, and custom?
4. How does the river that flows through Ayemenem in 1969 differ from the river in 1992? What is its importance in the lives and histories of the two families and in the twins' childhood?
5. To what extent are race, social class, and religion important? What specific elements of each take on predominant importance, and with what consequences? How do the concept and the reality of "the Untouchable" function in the novel?
BECOME A MEMBER
it's free
Join the leading website for book clubs with over 35,000 clubs and 20,000 reading guides.
SEARCH OUR READING GUIDES
Search
JOIN OUR MAILING LIST
Get free weekly updates on top club picks, book giveaways, author events and more
Please wait...