BKMT READING GUIDES
No.
9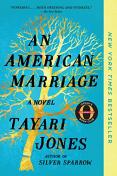 An American Marriage: A Novel (Oprah's Book Club 2018 Selection)

by Tayari Jones
Published: 2019-02-05
Paperback : 336 pages
150 members reading this now
329 clubs reading this now
26 members have read this book
Recommended to book clubs by 6 of 8 members
A NEW YORK TIMES AND WASHINGTON POST NOTABLE BOOK

A 2018 BEST OF THE YEAR SELECTION OF NPR  * TIME  * BUSTLE  * O, THE OPRAH MAGAZINE  * THE DALLAS MORNING NEWS  * AMAZON.COM

OPRAH'S BOOK CLUB 2018 SELECTION

WINNER OF THE WOMEN'S PRIZE FOR FICTION

WINNER OF THE 2019 ASPEN WORDS ...
No other editions available.

Jump to
Introduction
A NEW YORK TIMES AND WASHINGTON POST NOTABLE BOOK

A 2018 BEST OF THE YEAR SELECTION OF NPR  * TIME  * BUSTLE  * O, THE OPRAH MAGAZINE  * THE DALLAS MORNING NEWS  * AMAZON.COM

OPRAH'S BOOK CLUB 2018 SELECTION

WINNER OF THE WOMEN'S PRIZE FOR FICTION

WINNER OF THE 2019 ASPEN WORDS LITERARY PRIZE
 
WINNER OF THE 2019 NAACP IMAGE AWARD FOR OUTSTANDING LITERARY WORK—FICTION

LONGLISTED FOR THE 2018 NATIONAL BOOK AWARD FOR FICTION

"A moving portrayal of the effects of a wrongful conviction on a young African-American couple." —Barack Obama

"Haunting . . . Beautifully written." —The New York Times Book Review
 
"Brilliant and heartbreaking . . . Unforgettable." —USA Today
 
"A tense and timely love story . . . Packed with brave questions about race and class." —People
 
"Compelling." —The Washington Post
 
"Epic . . . Transcendent . . . Triumphant." —Elle

Newlyweds Celestial and Roy are the embodiment of both the American Dream and the New South. He is a young executive, and she is an artist on the brink of an exciting career. But as they settle into the routine of their life together, they are ripped apart by circumstances neither could have imagined. Roy is arrested and sentenced to twelve years for a crime Celestial knows he didn't commit. Though fiercely independent, Celestial finds herself bereft and unmoored, taking comfort in Andre, her childhood friend, and best man at their wedding. As Roy's time in prison passes, she is unable to hold on to the love that has been her center. After five years, Roy's conviction is suddenly overturned, and he returns to Atlanta ready to resume their life together.
 
This stirring love story is a profoundly insightful look into the hearts and minds of three people who are at once bound and separated by forces beyond their control. An American Marriage is a masterpiece of storytelling, an intimate look deep into the souls of people who must reckon with the past while moving forward—with hope and pain—into the future.
Excerpt
Dear Roy, I'm writing this letter sitting at the kitchen table. I'm alone in a way that's more than the fact that I am the only living person within these walls. Up until now, I thought I knew what was and wasn't possible. Maybe that's what innocence is, having no way to predict the pain of the future. When something happens that eclipses the imaginable, it changes a person. It's like the difference between a raw egg and a scrambled egg. It's the same thing, but it's not the same at all. That's the best way that I can put it. I look in the mirror and I know it's me, but I can't quite recognize myself. Sometimes it's exhausting for me to simply walk into the house. I try and calm myself, remember that I've lived alone before. Sleeping by myself didn't kill me then and will not kill me now. But this is what loss has taught me of love. Our house isn't simply empty, our home has been emptied. Love makes a place in your life, it makes a place for itself in your bed. Invisibly, it makes a place in your body, rerouting all your blood vessels, throbbing right alongside your heart. When it's gone, nothing is whole again. Before I met you, I was not lonely, but now I'm so lonely I talk to the walls and sing to the ceiling. They said that you can't receive mail for at least a month. Still, I'll write to you every night. Yours, Celestial Dear Celestial, aka Georgia, I don't think I have written a letter to anyone since I was in high school and assigned a French pen pal. (That whole thing lasted about ten minutes.) I know for sure that this is the first time I ever wrote a love letter, and that's what this is going to be, a love letter. Celestial, I love you. I miss you. I want to come home to you. Look at me, telling you the things you already know. I'm trying to write something on this paper that will make you remember me—the real me, not the man you saw standing in a broke-down country courtroom, broke down myself like a sand castle on a rainy afternoon. I was too ashamed to turn toward you, but now I wish I had, because right now I would do anything for one more look at you. This love letter thing is uphill for me. I have never even seen one unless you count the third grade: Do you like me ___ yes ___ no. (Don't answer that, ha!) A love letter is supposed to be like music or like Shakespeare, but I don't know anything about Shakespeare. But for real, I want to tell you what you mean to me, but it's like trying to count the seconds of a day on your fingers and toes. Why didn't I write you love letters all the while, so I could be in practice? Then I would know what to do. That's how I feel every day here, like I don't know what to do or how to do it. I have always let you know how much I care, right? You never had to wonder. I've never been a man for words. My daddy showed me that you do for a woman. Remember that time when you damn near had a nervous breakdown because it looked like the hickory-nut tree in the front yard was thinking about dying? Where I'm from, we don't believe in spending money on pets, let alone trees. But I couldn't bear to see you crying, so I hired a tree doctor. See, in my mind, that was a love letter. The first thing I did as your husband was to "sit you down," like the old folks say. You were wasting your time and your talents doing temp work. You wanted to sew, so I made it happen. No strings. That was my love letter, to say, "I got this. Make your art. Rest yourself. Whatever you need to do." But now all I have is this paper and this raggedy ink pen. It's a ballpoint, but they take away the casing so you just have the nib and this plastic tube of ink. I'm looking at it, thinking, This is all I have to be a husband with? But here I am trying. Love, Roy Dear Georgia, Hello from Mars! That's not really a joke. The dorms here are all named for planets. (This is the truth. I couldn't make this up.) Your letters were delivered to me yesterday. All of them. I was very happy to receive them. Overjoyed. I am not sure even where to start. I haven't even been here three months, and already I have had three cell partners. The one I have now says he's here for good, and he says it like has some type of inside track. His name is Walter. He's been incarcerated for most of his adult life, so he knows what's what around here. I write letters for him but not for free. It's not that I'm not compassionate, but you get no respect when you do things for free. (This I learned in real life, and it's ten times as true in here.) Walter doesn't have money, so I let him give me cigarettes. (Don't make that face. I know you, girl. I don't smoke them. I trade them for other things—like ramen noodles. I kid you not.) The letters I write for Walter are to women he meets through personal ads. You would be surprised how many ladies want to pen-pal with convicts. (Don't get jealous, ha ha.) Sometimes I get irritated, staying up so late answering all his questions. He says he used to live in Eloe, so he wants me to bring him up to date. When I said that I haven't lived in Eloe since before I went to college, he says he has never set foot on a college campus and he wants me to tell him all about that, too. He was even curious about how I got the name Roy. It's not like my name is Patrice Lumumba, something that needs explaining, but Walter is what Olive would call "a character." We call him the "Ghetto Yoda" because he's always getting philosophical. I accidentally said "Country Yoda" and he got mad. I swear it was an honest mistake, and it's one I won't make again. But it's all good. He looks out for me, saying that "us bowlegged brothers got to stick together." (You should see his legs. Worse than mine.) So that's all I got in terms of atmosphere. Or all that I want you to know about. Don't ask me questions about the details. Just suffice it to say that it's bad in here. Even if you killed somebody, you don't deserve to spend more than a couple of years in this place. Please tell your uncle to get on it. There is so much here that makes you stop and say, "Hmm . . ." Like there are about fifteen hundred men in this facility (mostly brothers), and that's the same number of students at "Dear Morehouse." I don't want to be some kind of crazy conspiracy nut, but it's hard not to think about things in that way. For one, prison is full of people who call themselves "dropping science," and second, things here are so bent that you think somebody must be bending it on purpose. My mother wrote to me, too, and you know her theory—it's Satan! My dad thinks it's the Klan. Well, not the Klan specifically with hoods and crosses but more like AmeriKKKa. I don't know what I think. Besides thinking that I miss you. I finally got to make my visitors' list and right at the top is you, Celestial GLORIANA Davenport. (They want your full government name.) I'll put Dre on, too—does he have a middle name? It's probably something religious like Elijah. You know he's my boy, but when you come the first time, come by yourself. Meanwhile, keep the letters coming, baby. How did I forget that you have such a pretty handwriting? If you decide not to be a famous artist, you could go be a schoolteacher with that penmanship. You must bear down on the pen because the paper buckles. At night, when the lights are out—not that they are ever really out, because they make it dark enough that you can't read but too light to really sleep—but when they cut the lights off, I run my fingers over your letters and try to read them like Braille. (Romantic, right? Ha ha.) And thank you for putting money on my books. You have to buy anything you think you might want in here. Underwear, socks. Anything you need to try and make your life a little better. This isn't a hint, but it would be nice to have a clock radio, and of course the main thing that would make my life a little better would be seeing you. Love, Roy PS: When I first started calling you Georgia, it was because I could tell you were homesick. Now I call you that because I'm the one missing home and home is you.
view abbreviated excerpt only...
Discussion Questions
1) The title of this novel is An American Marriage. Do you feel this title accurately represents the novel? Why or why not? And if you do find the title appropriate, what about the story makes it particularly "American"?
2) When Celestial asks Roy if he would have waited for her for more than five years, he doesn't answer her question but reminds her that, as a woman, she would not have been imprisoned in the first place. Do you feel that his response is valid, and do you think it justifies his infidelity? Do you believe that he would have remained faithful if Celestial had been the one incarcerated? Does this really matter, and if so, why?
3) In her "Dear John" letter to Roy, Celestial says, "I will continue to support you, but not as your wife." What do you think she means by this statement? Do you feel that Roy is wrong to reject her offer?
4) You may not have noticed that Tayari Jones does not specify the race of the woman who accuses Roy of rape. How did you picture this woman? What difference does the race of this woman make in the way you understand the novel's storyline?
5) Andre insists that he doesn't owe Roy an apology for the way his relationship with Celestial changed. Do you agree? Why or why not?
6) There are two father figures in Roy's life: Big Roy is the one who shepherded him into adulthood and helped him grow into a responsible, capable person, but Walter is the one who taught Roy how to survive. Do you feel these men deserve equal credit? If not, which was the more important figure in Roy's life and why?
7) Big Roy explains that he and Olive never had children of their own because Olive feared that he would not love Roy as much if he had his "own" children. Do you feel she had the authority to make that decision? And do you feel she was right in making that decision?
8) When Roy is released from prison, he first goes to his childhood home and almost immediately makes a connection with Davina. Do you feel that given the tenuous relationship he has with Celestial—who is still legally his wife—he is cheating? Why or why not? And when Roy announces to Davina his intention to return to his wife, do you feel that her anger is justified?
9) Roy is hurt when Celestial, in discussing her career as an artist, doesn't mention him or the role he played in giving her the encouragement and freedom to follow her dreams, but Walter argues that she is justified in her silence. Do you agree? Do you think her silence is due to shame, or is she just being practical in how she presents herself to advance her career?
10) It is obvious that Andre is different from Roy in many ways. Do you feel that ultimately he is a better match for Celestial? If so, why? Also, why do you think Celestial and Andre decide against formally marrying? Do you think that as a couple they will be good and nurturing parents? Do you feel that as a couple, they will be better at parenting than Celestial and Roy would have been? If so, why?
11) Do you think that Andre strategized to get Celestial to fall in love with him, or did it happen naturally? Do you feel that it was a surprise to them that it happened after all those years? Do you predict that Celestial's parents will come to accept Andre as her life partner?
12) Toward the end of the novel, Celestial does a complete about-face and returns to Roy. What do you think her emotions were in coming to that decision? Do you feel that it was the right decision?
From Oprah.com
BECOME A MEMBER
it's free
Join the leading website for book clubs with over 35,000 clubs and 20,000 reading guides.
SEARCH OUR READING GUIDES
Search
JOIN OUR MAILING LIST
Get free weekly updates on top club picks, book giveaways, author events and more
Please wait...