BKMT READING GUIDES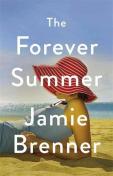 The Forever Summer

by Jamie Brenner
Published: 2017-04-25
Hardcover : 368 pages
9 members reading this now
7 clubs reading this now
4 members have read this book
Recommended to book clubs by 2 of 2 members
*A National Bestseller*
Named one of PopSugar's Best Books of 2017
When a DNA test reveals long-buried secrets, three generations of women reunite on Cape Cod for the homecoming of a lifetime.

Marin Bishop has always played by the rules, and it's paid off: at twenty-eight she has a ...
No other editions available.

Jump to
Introduction
*A National Bestseller*




Named one of PopSugar's Best Books of 2017




When a DNA test reveals long-buried secrets, three generations of women reunite on Cape Cod for the homecoming of a lifetime.

Marin Bishop has always played by the rules, and it's paid off: at twenty-eight she has a handsome fiancé, a prestigious Manhattan legal career, and the hard-won admiration of her father. But one moment of weakness leaves Marin unemployed and alone, all in a single day. Then a woman claiming to be Marin's half-sister shows up, and it's all Marin can do not to break down completely. Seeking escape, Marin agrees to a road trip to meet the grandmother she never knew she had. As the summer unfolds at her grandmother's quaint beachside B&B, it becomes clear that the truth of her half-sister is just the beginning of revelations that will change Marin's life forever. THE FOREVER SUMMER is a delicious page-turner and a provocative exploration of what happens when our notions of love, truth, and family are put to the ultimate test.

Full of delicious descriptions of coastal New England and richly imagined characters, THE FOREVER SUMMER is an emotional, hot-topic page-turner and a summer must-read
Excerpt
Provincetown, Massachusetts Spring The annual opening of the Beach Rose Inn marked the unofficial start of summer. It was part of the rhythm of life in Provincetown, like the ferry service from Boston, the whale watching tour schedule, and the route of the Fourth of July parade. Amelia understood this, and it was something she had weighed carefully in making her decision to close it. The old house had been in her family for three generations and every spring required pre-beach season maintenance that she had long managed like clockwork. There was re-shingling, re-painting, flower bed maintenance, cable and internet upgrades, and of course a multitude of unpredictable repairs depending on how harsh the New England winter they'd just endured. And then, once the summer got into full swing, the work really began. For fifteen straight weeks, from May until early September, her home was filled with guests. Some were new, some were old (more like old friends than guests, really) but all of them kept Amelia and her partner Kelly on their toes all season long. And she loved it. At age seventy-five, running the inn had been part of her life for so long, she couldn't imagine a summer without it. But things changed, and it was time to slow down. But then, the phone call. Out of nowhere. Amelia was in the kitchen when the call came in. Standing at the sink, she looked out the window at the long wooden table that stretched the length of the backyard to the tip of the sand that framed Cape Cod Bay. Her guests always took their breakfast at the table, dining communally, making new friends that she had heard often lasted well beyond their vacation week. "May I speak to Amelia Cabral?" the young woman's voice shook. "Speaking," said Amelia, prepared to tell her the Inn was closed that summer -- perhaps closed indefinitely. After months of such conversations, it had not gotten any easier. "Hi, um -- I'm sorry to bother you." A long pause. "Yes, dear. How can I help you?" Amelia prompted gently. "Mrs. Cabral, my name is Rachel. I live in LA. And I'm pretty sure you're my… grandmother." The word hung in the ether between them, heavy and weightless at the same time. Amelia had thought that at her age the days of surprises -- good and bad -- were long behind her. She had been standing in that very spot when a call came in nearly three decades earlier, news so devastating all she could do was grip the countertop as if it were the only thing tethering her to the earth. And as the young woman told her story, that's exactly what Amelia did once again. When she finally hung up the phone, she had to hug herself to stop the shaking. Funny, Amelia thought, how quick we are to greet both extremely bad news and extremely good news in the same way: disbelief. In a daze, Amelia walked out the back door of the house, into the early spring sunshine. Her first thought was that she had to tell Kelly, stalwart Kelly, who had helped her keep the inn afloat all these years, and had only reluctantly supported her decision to close it for the season. What would Kelly make of this? What did she make of it? All Amelia knew was that she'd spent the last thirty years filling the house with strangers. But in a few weeks, she would have family under her roof. After all this time, her family.
view abbreviated excerpt only...
Discussion Questions
1. In the beginning of The Forever Summer, Marin feels her life is falling apart and looks for escape in a spontaneous road trip with her mother and half-sister. Is it sometimes okay to escape your problems? How did Marin's decision to run away shape her family by the end of the summer?
2. What role does truth versus secrets play in this story? Is the truth always better, or does it depend on the circumstance? Is it understandable that Blythe kept the truth from her daughter?
3. In what ways does the intimate, seaside Provincetown shape the family reunion? How might the story have been different in another setting?
4. Would Blythe's marriage to Kip have been better or worse if she hadn't met Nick Cabral? If her transgression did ultimately save her marriage, does the ends justify the means?
5. Blythe loves gardening because "there is a solution for everything." Over the course of the summer, the women find solutions to life's challenges. What are some examples of their resiliency?
6. Amelia takes great pride in her Portuguese cooking, telling Rachel that food connects us to the past. What role does food play in this story? In families in general?
7. Amelia's daughter is threatened by the arrival of new family members, particularly when it comes to the future of the ancestral home. Does she have a right to feel this way?
8. Forgiveness is a major theme in The Forever Summer. Does Blythe deserve Marin's forgiveness? Her husband's? Does Amelia deserve her daughter's forgiveness?
9. Was Kelly's decision at the end selfish or selfless?
10. Considering the increasing popularity of DNA testing and non-traditional family relationships, what does The Forever Summer say about the families we make versus the biological relations we are born with? Is nature or nurture more important? And what does it mean to be a family (a parent, a sibling, or grandparent) in this evolving definition of family?
BECOME A MEMBER
it's free
Join the leading website for book clubs with over 35,000 clubs and 20,000 reading guides.
SEARCH OUR READING GUIDES
Search
JOIN OUR MAILING LIST
Get free weekly updates on top club picks, book giveaways, author events and more
Please wait...