BKMT READING GUIDES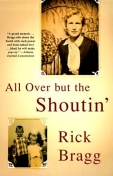 All Over But the Shoutin'

by Rick Bragg
Published: 2010-08-18
Kindle Edition : 353 pages
17 members reading this now
23 clubs reading this now
6 members have read this book
Recommended to book clubs by 6 of 6 members
A New York Times Notable Book of the Year

This haunting, harrowing, gloriously moving recollection of a life on the American margin is the story of Rick Bragg, who grew up dirt-poor in northeastern Alabama, seemingly destined for either the cotton mills or the penitentiary, and instead ...
No other editions available.

Jump to
Introduction
This haunting, harrowing, and gloriously moving recollection of a life on the American margin tells the story of Rick Bragg, who grew up dirt poor in Alabama, and who became a Pulitzer Prize-winning reporter for "The New York Times". Photos.
Editorial Review
One reason Rick Bragg won a Pulitzer Prize for his feature articles at the
New York Times
is that he never forgets his roots. When he writes about death and violence in urban slums, Bragg draws on firsthand knowledge of how poverty deforms lives and on his personal belief in the dignity of poor people. His memoir of a hardscrabble Southern youth pays moving tribute to his indomitable mother and struggles to forgive his drunken father.
All Over but the Shoutin'
is beautifully achieved on both these counts--and many more.
Excerpt
Chapter 1: A man who buys books because they're pretty
My mother and father were born in the most beautiful place on earth, in the foothills of the Appalachians along the Alabama-Georgia line. It was a place where gray mists hid the tops of low, deep-green mountains, where redbone and bluetick hounds flashed through the pines as they chased possums into the sacks of old men in frayed overalls, where old women in bonnets dipped Bruton snuff and hummed "Faded Love and Winter Roses" as they shelled purple hulls, canned peaches and made biscuits too good for this world. It was a place where playing the church piano loud was near as important as playing it right, where fearless young men steered long, black Buicks loaded with yellow whiskey down roads the color of dried blood, where the first frost meant hog killin' time and the mouthwatering smell of cracklin's would drift for acres from giant, bubbling pots. It was a place where the screams of panthers, like a woman's anguished cry, still haunted the most remote ridges and hollows in the dead of night, where children believed they could choke off the cries of night birds by circling one wrist with a thumb and forefinger and squeezing tight, and where the cotton blew off the wagons and hung like scraps of cloud in the branches of trees. ...
view entire excerpt...
Discussion Questions
Discussion Questions from Publisher's Reading Guide:
1. Why does Bragg begin his memoir with the image of redbirds fighting? Why do you think he includes the story of a bird attacking its own image in the mirror?
2. In the prologue, Bragg claims several times that "this is not an important book." Does he convince us that in fact it is important? If so, how? Why does he feel that he "cannot take the chance of squandering the knowledge and the stories that [my mother] and my people hold inside them" [p. xvi]?
3. Bragg describes a memory of himself on a gunny sack that his mother is pulling through a cotton field as she works; at three, he "rides the back of the six-foot-long sack like a magic carpet" [p. 23]. How does this particular image sum up his mother's love for him? Is his mother's devotion to her sons' welfare out of the ordinary?
4. Does Bragg regret his inability to forgive his dying father? Would reconciliation have alleviated Bragg's need to compensate his mother for his father's failures? What is the significance of the gift of books by an illiterate father to his clever son?
5. Although many aspects of his family's life were ruled by poverty, Bragg was immersed in the traditions of the pinewoods, where self-reliant people were adept at music, building, and handcrafts, where "likker and religion flowed together" [p. 34]. Are certain elements of the life he describes enviable? Do you get the impression that his memories of childhood are colored by nostalgia? To what extent do you think nostalgia plays a role in the memories and experiences of everyone?
6. While many African-Americans--from Frederick Douglas to Maya Angelou--have given us their stories of growing up poor and black, the segment of society disparagingly called "poor white trash" has produced relatively few writers. Does this book change your view of the large segment of whites who live in rural poverty?
7. Although Bragg sees his background as a handicap in his profession, the unmistakably Southern way he uses the English language can be part of the appeal of his writing. One editor warned him about exploiting his gift to produce "too many pretty lines" [p. 228]. Do you agree that this is a danger for Bragg? What do you notice about his style, imagery, humor, and approach to news stories that is distinctive?
8. Did luck make the difference between Rick Bragg's life and the lives of his two brothers? Or do their different choices have more to do with temperament and character than with the hazards of fortune? Do you see Rick Bragg as a man who is more determined and driven than he admits? Why does he insist on attributing his success to luck?
9. Race relations, as Bragg shows, are complicated for poor whites in the South. What do you learn from the story of the black family down the road bringing food to Rick's mother? From his family's devotion to the demagogue George Wallace? From his work in Haiti?
10. Why is Bragg particularly drawn to stories about "living and dying and the trembling membrane in between" [p. 139]? Why is he so good at writing about violence and tragedy? What is it about journalism that most disturbs him?
11. Has Bragg's attempt to compensate for his mother's unhappy life contributed to his inability to settle down with someone? Is his avoidance of intimacy a legacy from his father or is it simply the syndrome of a successful and driven man who doesn't have time to attend to the emotional side of life?
12. Despite the revolution in American life that was brought about by the women's movement, the culture of the South is well known for its lingering devotion to ideals of chivalry. Does Rick Bragg raise his mother onto a pedestal? Does he risk turning her into a passive heroine who depends upon his help?
13. What, if any, are the definitive class barriers in our society? Does having been born poor mean that a person will always feel inferior to those who weren't? Do financial or professional achievements raise a person's "class" level? Is Bragg justified in his resentment of those who seem sophisticated or "elite" to him--the wealthy people of the South or people he meets at Harvard and at The New York Times?
14. Bragg's response to the Susan Smith case is particularly interesting. What does he identify with in her? Why is he so scornful of her?
15. What aspect of Bragg's youth was most damaging to his sense of himself? Is it possible for him to "belong" anywhere? Can winning the Pulitzer Prize make him an insider in the profession of journalism? Is the rootless life of a journalist appropriate for him?
16. With his urgent desire to make up his mother's losses, Bragg struggles between his impulse to "rewrite history so late in the volume of our lives" [p. 272] and the more realistic, if discouraging, realization that "you can't fix everything" [p. 312]. Is he sacrificing himself for his mother? Or is he what he does more for his own sake than hers?
17. Why does Bragg address one of the final chapters of his book to his father? How accurate is he in saying to his father, "I am just like you" [p. 318]? What has he learned in the process of writing this memoir? Why is his honesty so moving?
BECOME A MEMBER
it's free
Join the leading website for book clubs with over 35,000 clubs and 20,000 reading guides.
SEARCH OUR READING GUIDES
Search
JOIN OUR MAILING LIST
Get free weekly updates on top club picks, book giveaways, author events and more
Please wait...