BKMT READING GUIDES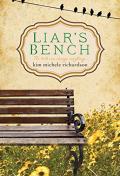 Liar's Bench

by Kim Michele Richardson
Published: 2015-04-28
Paperback : 272 pages
5 members reading this now
9 clubs reading this now
2 members have read this book
Recommended to book clubs by 5 of 5 members
In 1972, on Mudas Summers' seventeenth birthday, her beloved Mama, Ella, is found hanging from the rafters of their home. Most people in Peckinpaw, Kentucky, assume that Ella's no-good husband did the deed. Others think Ella grew tired of his abuse and did it herself. Muddy is determined ...
No other editions available.

Jump to
Introduction
In 1972, on Mudas Summers' seventeenth birthday, her beloved Mama, Ella, is found hanging from the rafters of their home. Most people in Peckinpaw, Kentucky, assume that Ella's no-good husband did the deed. Others think Ella grew tired of his abuse and did it herself. Muddy is determined to find out for sure either way, especially once she finds strange papers hidden amongst her mama's possessions.

But Peckinpaw keeps its secrets buried deep. Muddy's almost-more-than-friend, Bobby Marshall, knows that better than most. Though he passes for white, one of his ancestors was Frannie Crow, a slave hanged a century ago on nearby Hark Hill Plantation. Adorning the town square is a seat built from Frannie's gallows. A tribute, a relic--and a caution--it's known as Liar's Bench. Now, the answers Muddy seeks soon lead back to Hark Hill, to hatred and corruption that have echoed through the years--and lies she must be brave enough to confront at last.

Kim Michele Richardson's lush, beautifully written debut is set against a Southern backdrop passing uneasily from bigotry and brutality to hope. With its compelling mystery and complex yet relatable heroine, Liar's Bench is a story of first love, raw courage, and truths that won't be denied.
Excerpt
1 The Scars of Others August 11, 1972 It could've easily been left unnamed, but like most small towns carved out from the back roads of Anywhere, USA, Peckinpaw, Kentucky, had its staple—its Liar's Bench. Used for both the telling of tales and for courting, the bench sat on the curb, nes- tled between two geranium-filled copper pots positioned in front of a Dolly Parton and Porter Wagoner dream-themed leather goods store: the Parton & Porter. Next door, the scents of peach cobbler and chicken fried steak wafted out from the Top Hat Café and onto the bench. And in western Kentucky, a good cornerstone was the strength of any town, tale, or courtship just as sure as the bench's weathered planks of oak and wrought-iron arms and legs cradling it were the support for its tale spinners and sinners. Now, you didn't necessarily have to be a liar or a courter to sit on Liar's Bench, just maybe the better liar or courter at the time. My daddy, Adam Persis Summers, was a good one. Liar, that is, when he sat on this bench and swore to my mama that he hadn't betrayed her. But Mama's next husband, Tommy Dale Whitlock, had proved to be the better courter and liar three times over. On this very bench, he'd promised my mama, Ella Mudas Tilley, that he would always love her—but he cheated. He swore 6 Kim Michele Richardson to protect her—but he beat her. He vowed to honor her—but he buried her under six feet of rich Kentucky soil. Mama only lied once. She promised Tommy she'd never leave him—but she did. Today, on my seventeenth birthday. The legacy of the old bench—what it had heard, what it had borne witness to—sat like a deep scar covering broken bones, bones that hadn't healed right and never would. I'd known as much from the first time my grammy Essie warned me of its taint, to the day I'd sat on it and accepted a friendship ring from my ex-boyfriend, Tripp Seacat, not so long ago. But the very worst was way back when: the day I'd spied Tommy Whitlock holding my mama's hand here on this bench, snugged up tight as a tick, and telling tall tales. There'd been plenty of talk about Liar's Bench being cursed— whispers of how it had soaked in the wrong of Frannie Crow's death. Of how those lies would splinter into anyone who sat upon its weather-beaten wood. And on more than one occasion over the years, a God-fearing citizen of Peckinpaw would even go so far as to take up a petition to burn it. But the elders wouldn't hear of it. When I'd asked Grammy Essie, who was also the town librarian, why not, she'd quoted St. Jerome, say- ing, "Muddy, the scars of others should teach us caution." And so the elders would quiet the naysayers, insisting that the bench served up a dish of "cautious reminder" to others. But everyone knows that liars and their willing sponges don't heed warnings. That's why I have been, on occasion, firmly in the camp that would like to see it burn. Today, this bench seemed like the only place that could soak up my grief. I sat down on Liar's Bench, lit a match to my gasoline- soaked thoughts, and wept red-hot tears. Moments later, Daddy walked up behind me, put his hands on my shoulders, and squeezed. "Thanks for waiting," he said, circling around the bench to take a seat. Closing up his law of- fice always took a while since he had lots of important legal pa- pers that had to be locked up. I ran my thumb across each finger LIAR'S BENCH 7 of my right hand, picking up speed. Continuously gliding, tick- ing off my rattled thoughts. "Muddy, everything's going to be okay." Daddy noted my longtime habit, and lifted my hand and squeezed. He grew quiet for a spell. "Sheriff wants me to meet with him as soon as possible." I turned and looked up at him. He paused, drawing his lips back to his teeth. "I'm so sorry, lil birdie, real sorry. I don't know what to say. It isn't right losing your mama like this . . . and on your birthday, too." His eyes filled up same as mine. "Ella was a good mother, a good woman. . . . There's not a day that goes by that I haven't wished it had turned out differently between us. I'm sorry, Muddy. I'm so sorry." A breeze stirred as the silence lengthened around us. Normally, I'd light into him for calling me Muddy. Instead, I shuttered my grief-soaked eyes, leaned into his shoulder, and in- haled the comforting blends of his woodsy aftershave. For this moment, I let his mistakes with Mama slip away. My thoughts became mercifully numb, suspended somewhere between calm and pandemonium. "Before I forget, baby, Pastor Dugin called and asked to drop by this evening. I told him that would be fine." I nodded my consent. "Muddy, there's something else. . . ." I met his eyes and saw the flatness that meant bad news was coming; like the time he'd told me my dog Charlie had been hit by a pickup. Then, again when Grammy Essie crossed over, and soon after, when Papaw had followed. Now, my mama was dead, too. What more could there possibly be? "Nothing's official yet, but they're strongly leaning toward ruling this a suicide." I stiffened. "Suicide? No. No way! Everything was just fine when I visited her Thursday. . . ." I ran my hand over my face to swab off the sorrow left trailing down my cheeks. "I don't be- lieve for one minute Mama took her life!" Daddy shook his head and studied his secretary as she crossed the street toward his courthouse office. "Me neither, 8 Kim Michele Richardson baby." Weary, he pulled himself up. "I'm so glad you got to see her yesterday. . . . Right now I'm fixin' to head on over to Ella's to talk with the sheriff and the coroner. I'll take you on home first." I stood to face him. "No, I have to see her. I'm going with you." I planted my feet firmly in front of his. He cleared his throat, ready to lend argument and put his foot down with me. I crossed my arms. "I'm old enough to go with you. I'm sev- enteen now—an adult." Daddy cocked his head and shoved his hands deep inside his pockets. "You sure 'bout this?" My throat locked up, forcing out a croaked, "Yes." With a shaky hand, I grabbed the back of Liar's Bench, leaving one more lie to soak in and feed.
view abbreviated excerpt only...
Discussion Questions
a) The South of 1972 was not far removed from freedom riders, police dogs and water blasts attacking peaceful protesters. How does the Civil Rights movement influence Mudas? How does it affect her actions, her fears, and her relationship with Bobby?
b) In the large majority of divorces, mothers retain primary custody of the children. In LIAR'S BENCH, Muddy remains in her father's care, which would have been particularly unusual in the 70s. Is Adam a good father? Does his gender make him ill-equipped to parent a teenage girl? How might Mudas' life turned out differently if she had continued to live with her mother?
c) Grammy Essie explained "true love" to Muddy through scent. Our sense of smell plays a powerful part in our lives. How does the sense of smell affect your life and how does it influence us, either romantically or in our culture? How does smell trigger emotional responses? Are there any particular scents that evoke childhood memories for you? What are they?
d) LIAR'S BENCH is infused with descriptions of the plants, the sky, the soil, the birds and their songs. Have we, today, lost the ability to see, feel, and appreciate our natural surroundings? Have we become disconnected from nature?
e) Today, we live in the age of information. Everything is accessible, right at our fingertips. With that in mind, consider how Muddy's story would be different if it happened today. Would it be easier for her to find out the truth about her mama's death? Or would the wealth of information be a smoke-screen, making it harder than ever to distinguish fact from fiction?
Suggested by Members
Change the time of the story to present day- what factors would be impacted most? How would that change the story?
by amrace1
(see profile)
02/16/16
BECOME A MEMBER
it's free
Now serving over 80,000 book clubs & ready to welcome yours. Join us and get the Top Book Club Picks of 2022 (so far).
SEARCH OUR READING GUIDES
Search
JOIN OUR MAILING LIST
Get free weekly updates on top club picks, book giveaways, author events and more
Please wait...