BKMT READING GUIDES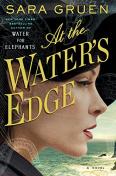 At the Water's Edge: A Novel

by Sara Gruen
Published: 2015-03-31
Hardcover : 368 pages
43 members reading this now
110 clubs reading this now
40 members have read this book
Recommended to book clubs by 26 of 33 members
NEW YORK TIMES BESTSELLER

In this thrilling new novel from the author of Water for Elephants, Sara Gruen again demonstrates her talent for creating spellbinding period pieces. At the Water's Edge is a gripping and poignant love story about a privileged young woman's awakening as she ...
No other editions available.

Jump to
Introduction
NEW YORK TIMES BESTSELLER

In this thrilling new novel from the author of Water for Elephants, Sara Gruen again demonstrates her talent for creating spellbinding period pieces. At the Water's Edge is a gripping and poignant love story about a privileged young woman's awakening as she experiences the devastation of World War II in a tiny village in the Scottish Highlands.

After disgracing themselves at a high society New Year's Eve party in Philadelphia in 1944, Madeline Hyde and her husband, Ellis, are cut off financially by his father, a former army colonel who is already ashamed of his son's inability to serve in the war. When Ellis and his best friend, Hank, decide that the only way to regain the Colonel's favor is to succeed where the Colonel very publicly failed—by hunting down the famous Loch Ness monster—Maddie reluctantly follows them across the Atlantic, leaving her sheltered world behind.
 
The trio find themselves in a remote village in the Scottish Highlands, where the locals have nothing but contempt for the privileged interlopers. Maddie is left on her own at the isolated inn, where food is rationed, fuel is scarce, and a knock from the postman can bring tragic news. Yet she finds herself falling in love with the stark beauty and subtle magic of the Scottish countryside. Gradually she comes to know the villagers, and the friendships she forms with two young women open her up to a larger world than she knew existed. Maddie begins to see that nothing is as it first appears: the values she holds dear prove unsustainable, and monsters lurk where they are least expected.
 
As she embraces a fuller sense of who she might be, Maddie becomes aware not only of the dark forces around her, but of life's beauty and surprising possibilities.

Praise for At the Water's Edge
 
"Breathtaking . . . a daring story of adventure, friendship, and love in the shadow of WWII."—Harper's Bazaar
 
"A gripping, compelling story . . . Gruen's characters are vividly drawn and her scenes are perfectly paced."—The Boston Globe
 
"A page-turner of a novel that rollicks along with crisp historical detail."—Fort Worth Star-Telegram
 
"Powerfully evocative."—USA Today
 
"Gruen is a master at the period piece—and [this] novel is just another stunning example of that craft."—Glamour
 
"A captivating tale."—Us Weekly
 
"Compulsively readable . . . a rich, beautiful novel . . . at once a gripping love story, a profound examination of the effects of war on ordinary women, and a compelling portrait of female friendship."—Kristin Hannah
 
"Utterly winning."—The Miami Herald
 
"A compelling, enthralling read, a novel which captivates and rewards, paying off in a series of emotional and narrative twists . . . comfort reading of the highest order."—The Globe and Mail
 
"A super steamy love story."—Good Housekeeping
 
"Unique in its setting and scope, this impeccably researched historical fiction is full of the gorgeous prose I've come to expect from this author."—Jodi Picoult
 
"[Gruen] conveys the lure of the Scottish Highlands. . . . At the Water's Edge captivates with its drama, intrigue and glimpses of both the dark and light of humanity."—BookPage
Excerpt
Chapter One Scottish Highlands, January 14, 1945 "Oh God, make him pull over," I said as the car slung around yet another curve in almost total darkness. It had been nearly four hours since we'd left the naval base at Aultbea, and we'd been careening from checkpoint to checkpoint since. I truly believe those were the only times the driver used the brakes. At the last checkpoint, I was copiously sick, narrowly missing the guard's boots. He didn't even bother checking our papers, just lifted the red and white pole and waved us on with a look of disgust. "Driver! Pull over," said Ellis, who was sitting in the backseat between Hank and me. "I'm afraid there is no 'over,'?" the driver said in a thick Highland accent, his R's rolling magnificently. He came to a stop in the middle of the road. It was true. If I stepped outside the car I would be ankle-deep in thorny vegetation and mud, not that it would have done any more to destroy my clothes and shoes. From head to toe I was steeped in sulfur and cordite and the stench of fear. My stockings were mere cobwebs stretched around my legs, and my scarlet nails were broken and peeling. I hadn't had my hair done since the day before we'd sailed from the shipyard in Philadelphia. I had never been in such a state. I leaned out the open door and gagged while Ellis rubbed my back. Wet snow collected on the top of my head. I sat up again and pulled the door shut. "I'm sorry. I'm finished. Do you think you can take those things off the headlights? I think it would be better if I could see what's coming." I was referring to the slotted metal plates our one-eyed driver had clipped on before we'd left the base. They limited visibility to about three feet ahead of us. "Can't," he called back cheerfully. "It's the Blackout." As he cranked up through the gears, my head lurched back and forth. I leaned over and cradled my face in my hands. Ellis patted my shoulder. "We should be nearly there. Do you think fresh air would help?" I sat up and let my head flop against the back of the torn leather seat. Ellis reached across and rolled the window down a crack. I turned toward the cold air and closed my eyes. "Hank, can you please put out your cigarette?" He didn't answer, but a whoosh of frigid air let me know he had tossed it out the window. "Thank you," I said weakly. Twenty minutes later, when the car finally came to a stop and the driver cut the engine, I was so desperate for solid ground I spilled out before the driver could get his own door open, never mind mine. I landed on my knees. "Maddie!" Ellis said in alarm. "I'm all right," I said. There was a fast-moving cloud cover under a nearly full moon, and by its light I first laid eyes on our unlikely destination. I climbed to my feet and reeled away from the car, thinking I might be sick again. My legs propelled me toward the building, spinning ever faster. I crashed into the wall, then slid down until I was crouching against it. In the distance, a sheep bleated. .?.?. To say that I wished I wasn't there would be a ludicrous understatement, but I'd only ever had the illusion of choice: We have to do this, Hank had said. It's for Ellis. To refuse would have been tantamount to betrayal, an act of calculated cruelty. And so, because of my husband's war with his father and their insane obsession with a mythical monster, we'd crossed the Atlantic at the very same time a real madman, a real monster, was attempting to take over the world for his own reasons of ego and pride. I would have given anything to go back two weeks, to the beginning of the New Year's Eve party, and script the whole thing differently. Chapter Two Rittenhouse Square, Philadelphia, December 31, 1944 "Five! Four! Three! Two!" The word "one" had already formed on our lips, but before it could slide off there was an explosion overhead. As screams rose around us, I pitched myself against Ellis, tossing champagne over both of us. He threw an arm protectively around my head and didn't spill a drop. When the screams petered out, I heard a tinkling above us, like glass breaking, along with an ominous groaning. I peeked out from my position against Ellis's chest. "What the hell?" said Hank, without a hint of surprise. I think he was the only person in the room who hadn't jumped. All eyes turned upward. Thirty feet above us, a massive chandelier swung on its silver-plated chain, throwing shimmering prisms across the walls and floor. It was as if a rainbow had burst into a million pieces, which were now dancing across the marble, silks, and damask. We watched, transfixed. I glanced nervously at Ellis's face, and then back at the ceiling. An enormous cork landed next to General Pew, our host at what was easily the most anticipated party of the year, bouncing outrageously like a bloated mushroom. A split second later a single crystal the size of a quail's egg fell from the sky and dropped smack into his cocktail, all but emptying it. He stared, bemused and tipsy, then calmly took out his handkerchief and dabbed his jacket. As everyone burst into laughter, I noticed a footman in old-fashioned knee breeches perched near the top of a stepladder, pallid, motionless, struggling to contain the biggest bottle of champagne I'd ever seen. On the marble table in front of him was a structure of glasses arranged so that if someone poured continuously into the top one, they would eventually all be filled. As a rush of bubbles cascaded over the sides of the bottle and into the footman's sleeves, he stared in white-faced horror at Mrs. Pew. Hank assessed the situation and apparently took pity on the fellow. He raised his glass, as well as his other hand, and with the flair and flourish of a ringmaster boomed, "One! Happy New Year!" The orchestra struck up "Auld Lang Syne." General Pew conducted with his empty glass, and Mrs. Pew beamed at his side—not only was her party a smashing success, but it now had a comic anecdote people would speak of for years. Should auld acquaintance be forgot, and never brought to mind Should auld acquaintance be forgot, and old lang syne .?.?. Those who knew the words sang along. I had refreshed my memory that afternoon in order to be ready for the big moment, but when cork met crystal, the lyrics were knocked straight out of my brain. By the time we got to running about slopes and picking daisies fine, I gave up and joined Ellis and Hank in la-la-la'ing our way through the rest. They waved their glasses in solidarity with General Pew, their free arms looped around my waist. At the end, Ellis leaned in to kiss me. Hank looked to one side, then the other, and appeared baffled. "Hmm. I seem to have misplaced my date. What have I done with her?" "What you haven't done is marry her," I said and then snorted, nearly expelling champagne through my nose. I had sipped my way through at least four glasses on an empty stomach and was feeling bold. His mouth opened in mock offense, but even he couldn't pretend ignorance about Violet's growing desperation at the seemingly endless nature of their courtship. "Did she actually leave?" he said, scanning the room a little more seriously. "I'm not sure," I said. "I haven't seen her in a while." "Then who will give me my New Year's kiss?" he asked, looking bereft. "Oh, come here, you big lug." I stood on tiptoe and planted a kiss on his cheek. "You've always got us. And we don't even require a ring." Ellis threw us an amused side eye and motioned to Hank that he should wipe my lipstick off his cheek. Beyond him, the footman was still balanced on the second to highest rung of the stepladder. He was bent at the waist, trying to aim the bottle at the top glass, and had gone from pale to purple with the effort. His mouth was pressed into a grim line. I looked around to see if reinforcements were coming and didn't see any. "Ellis? I think he needs help," I said, tilting my head in the footman's direction. Ellis glanced over. "You're right," he said, handing me his glass. "Hank? Shall we?" "Do you really think she's left?" Hank said wistfully, his lips hovering near the edge of his glass. "She was a vision tonight. That dress was the color of the gloaming, the sequins jealous stars in the galaxy of her night, but nothing, nothing could compare to the milky skin of her—" "Boys! Concentrate!" I said. Hank snapped back to life. "What?" "Maddie thinks that man needs help," said Ellis. "That thing's enormous," I said. "I don't think he can hold it on his own." "I should think not. That's a Balthazar," said Ellis. "That's not a Balthazar," Hank said. "That's a Nebuchadnezzar." The footman's arms were quaking. He began pouring but missed. Champagne fell between the glasses, splashing onto the table and floor. His gloves and sleeves were saturated. "Uh-oh," said Hank. "Uh-oh indeed," said Ellis. "Mrs. Pew will not be pleased." "I rather suspect Mrs. Pew is never pleased," Hank said. Rivulets of sweat ran down the footman's forehead. It was plain to see that he was going to fall forward, right onto the glasses. I looked to Mrs. Pew for help, but she had disappeared. I tried to signal the General, but he was holding court with a replenished cocktail. I dug my elbow into Ellis's side. "Go!" I said urgently. "Go help him." "Who's she talking about?" said Hank. I glared at him, and then some more, until he remembered. "Oh! Of course." He tried to hand me his glass, but I was already holding two. He set his on the floor and yanked his lapels in a businesslike manner, but before he and Ellis could mobilize, help arrived in the form of other servants bearing four smaller but still very large bottles, and three more stepladders. Mrs. Pew glided in behind them to make sure all was under control. "Now those are Balthazars," said Hank, with a knowing nod. He retrieved his drink from the floor and drained it. "No. Those are Jeroboams," said Ellis. "I think I know my champagne," said Hank. "And I don't?" "I think you're both wrong. Those are Ebenezers," I said. That stopped them. I broke into tipsy giggles. "Ebenezer? Get it? Christmas? The holidays? Oh never mind. Someone get me another. I spilled mine." "Yes. On me," said Ellis. Hank spun around and set his glass on the tray of a passing waiter. He clapped his hands. "All right, who's up for a snowball fight?" We toppled outside and made snow angels right there in front of the Pews' home and all the cars and liveried drivers that were lined up waiting for guests. I gathered one snowball and managed to land it on Ellis's chest before screeching and running back inside. In the vast foyer, Ellis helped brush the snow off my back and hair. Hank hung his jacket over my bare shoulders, and the two of them guided me to a trio of ornate, embroidered chairs near a roaring fire. Hank, who had had the presence of mind to grab my mink stole on the way back in, shook it off and draped it over the edge of the rosewood table in front of us. Ellis went in search of hot toddies, and I peeled off my gloves, which were stained and soaked. "God, look at me," I said, gazing down at myself. "I'm a mess." My silk dress and shoes were ruined. I tried in vain to smooth out the water spots, and checked quickly to make sure I still had both earrings. The gloves were of no consequence, but I hoped the stole could be saved. If not, I'd succeeded in destroying my entire outfit. "You're not a mess. You're magnificent," said Hank. "Well, I was," I lamented. I'd spent the afternoon at Salon Antoine having my hair and makeup done, and had eaten almost nothing for two days before so my dress would drape properly. It was a beautiful pomegranate-red silk, the same material as my shoes. It matched my ruby engagement ring, and all of it set off my green eyes. Ellis had given me the dress and shoes a few days earlier, and before the party I had presented myself to him like a flamenco dancer, twirling so the skirt would take flight. He professed his delight, but I felt a familiar pang of sorrow as I tried, yet again, to imagine exactly what he was seeing. My husband was profoundly color-blind, so to him my ensemble must have been a combination of grays. I wondered which ones, and how many variations there were, and whether they had different depths. I couldn't imagine a world without color. Hank dropped into a chair, leaving one leg dangling over its arm. He pulled his bow tie open and undid his cuffs and collar. He looked like a half-drowned Clark Gable. I shivered into his jacket, holding it closed from the inside. Hank patted his chest and sides. He stopped suddenly and lifted an eyebrow. "Oh!" I said, realizing what he was looking for. I retrieved the cigarette case from his inside pocket and handed it to him. He flipped it open and held it out in offering. I shook my head. He took a cigarette for himself and snapped the case shut. "So, how about it then?" he said, his eyes glistening playfully. "Shall we go get us a monster?" "Sure," I said, waving my hand. "We'll hop on the next liner." It was what I always said when the topic came up, which was often, and always after boatloads of booze. It was our little game. "I think getting away would do Ellis good. He seems depressed." "Ellis isn't depressed," I said. "You just want to escape Violet's clutches." "I do not," he protested. "You didn't even notice when she left tonight!" Hank cocked his head and nodded, conceding the point. "I suppose I should send flowers." "First thing in the morning," I said. He nodded. "Absolutely. At the crack of noon. Scout's honor." "And I think you should marry her. You need civilizing, and I need a female friend. I have only you and Ellis." He clutched a hand to his heart, mortally wounded. "What are we, chopped liver?" "Only the finest foie gras. Seriously, though. How long are you going to make her wait?" "I'm not sure. I don't know if I'm ready to be civilized yet. But when I am, Violet can have the honors. She can pick a mean set of china."
view abbreviated excerpt only...
Discussion Questions
1. The novel takes place during World War II. Is the war setting a distraction or does it contribute to the success of the novel? Would changing the time frame change the meaning of the novel?
2. "What I learned over the past year was that monsters abound, usually hiding in plain sight." Monsters come in all different forms in At the Water's Edge. What are some of the monsters in the novel? How are they different from what you'd expect?
3. Throughout At the Water's Edge, Maddie transforms from a woman who is spoiled, naïve, and helpless to one who is brave and capable. What and who are the major influences that lead her to change? What are the biggest lessons Maddie learns throughout the course of the novel?
4. Discuss the novel's ambiguity toward the supernatural. How does Gruen blend mystical elements into the narrative's realism? Do Ellis and Hank find the Loch Ness monster after all?
5. Do you think Maddie and Ellis were ever truly in love? What did you think of Ellis? Did you sympathize with him? Did Ellis change as a character in the course of the novel or did the changes all take place within Maddie?
6. The idea for At the Water's Edge came to Sara Gruen during a visit she took to Scotland. She became fascinated with the ruins of old castles, the wild beauty of nature, and Scottish history and folkore. Discuss the role the landscape and atmosphere of Scotland plays in the novel.
7. At the Water's Edge explores humanity at its most base, as well as its most noble. Can you give some examples of both from the story? In the end, what kind of statement do you think Gruen makes about human nature?
8. Before she goes to Scotland, Maddie only has Ellis and Hank as friends. How does the female friendships she develops in Scotland shape her in new ways?
Suggested by Members
The paperback book I purchased had a good selection of questions for the bookclub
by [email protected]
(see profile)
06/26/16
Do you believe in the monster?
by Decareader
(see profile)
08/23/15
BECOME A MEMBER
it's free
Join the leading website for book clubs with over 35,000 clubs and 20,000 reading guides.
SEARCH OUR READING GUIDES
Search
JOIN OUR MAILING LIST
Get free weekly updates on top club picks, book giveaways, author events and more
Please wait...