BKMT READING GUIDES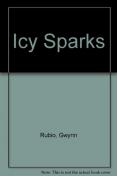 Icy Sparks (Oprah's Book Club)

by Gwyn Hyman Rubio
Published: 2001-03-09
Hardcover : 0 pages
4 members reading this now
12 clubs reading this now
4 members have read this book
Recommended to book clubs by 1 of 1 members
A
New York Times
Notable Book and the March 2001 selection of
Oprah's Book Club® !
Icy Sparks is the sad, funny and transcendent tale of a young girl growing up in the mountains of Eastern Kentucky during the 1950's. Gwyn Hyman Rubio's beautifully written first novel revolves around ...
No other editions available.

Jump to
Introduction
A
New York Times
Notable Book and the March 2001 selection of
Oprah's Book Club® !
Icy Sparks is the sad, funny and transcendent tale of a young girl growing up in the mountains of Eastern Kentucky during the 1950's. Gwyn Hyman Rubio's beautifully written first novel revolves around Icy Sparks, an unforgettable heroine in the tradition of Scout in To Kill a Mockingbird or Will Treed in Cold Sassy Tree. At the age of ten, Icy, a bright, curious child orphaned as a baby but raised by adoring grandparents, begins to have strange experiences. Try as she might, her "secrets"?verbal croaks, groans, and physical spasms?keep afflicting her. As an adult, she will find out she has Tourette's Syndrome, a rare neurological disorder, but for years her behavior is the source of mystery, confusion, and deep humiliation.
Narrated by a grown up Icy, the book chronicles a difficult, but ultimately hilarious and heartwarming journey, from her first spasms to her self-acceptance as a young woman. Curious about life beyond the hills, talented, and energetic, Icy learns to cut through all barriers?physical, mental, and spiritual?in order to find community and acceptance.
Along her journey, Icy faces the jeers of her classmates as well as the malevolence of her often-ignorant teachers?including Mrs. Stilton, one of the most evil fourth grade teachers ever created by a writer. Called willful by her teachers and "Frog Child" by her schoolmates, she is exiled from the schoolroom and sent to a children's asylum where it is hoped that the roots of her mysterious behavior can be discovered. Here Icy learns about difference?her own and those who are even more scarred than she. Yet, it isn?t until Icy returns home that she really begins to flower, especially through her friendship with the eccentric and obese Miss Emily, who knows first-hand how it feels to be an outcast in this tightly knit Appalachian community. Under Miss Emily's tutelage, Icy learns about life's struggles and rewards, survives her first comical and heartbreaking misadventure with romance, discovers the healing power of her voice when she sings, and ultimately?takes her first steps back into the world.
Gwyn Hyman Rubio's Icy Sparks is a fresh, original, and completely redeeming novel about learning to overcome others? ignorance and celebrate the differences that make each of us unique.
The eponymous heroine of Gwyn Rubio's
Icy Sparks
is only 10 years old the first time it happens. The sudden itching, the pressure squeezing her skull, and the "little invisible rubber bands" attached to her eyelids are all symptoms of Tourette's syndrome. At this point, of course, Icy doesn't yet have a name for these unsettling impulses. But whenever they become too much to resist, she runs down to her grandparents' root cellar, and there she gives in, croaking, jerking, cursing, and popping her eyes. Nicknamed the "frog child" by her classmates, Icy soon becomes "a little girl who had to keep all of her compulsions inside." Only a brief confinement at the Bluegrass State Hospital persuades her that there are actually children more "different" than she.
As a first novel about growing up poor, orphaned, and prone to fits in a small Appalachian town, Icy Sparks tells a fascinating story. By the time the epilogue rolls around, Icy has prevailed over her disorder and become a therapist: "Children silent as stone sing for me. Children who cannot speak create music for me." For readers familiar with this particular brand of coming-of-age novel--affliction fiction?--Icy's triumph should come as no great surprise. That's one problem. Another is Rubio's tendency to lapse into overheated prose: this is a novel in which the characters would sooner yell, pout, whine, moan, or sass a sentence than simply say it. But the real drawback to Icy Sparks is that some of the characters--especially the bad ones--are drawn with very broad strokes indeed, and the moral principles tend to be equally elementary: embrace your difference, none of us is alone, and so on. When Icy gets saved at a tent revival, even Jesus takes on the accents of a self-help guru: "You must love yourself!" With insights like these, this is one Southern novel that's more Wally Lamb than Harper Lee. --Mary Park


Excerpt
No Excerpt Currently Available
Discussion Questions
Suggested by Members
Are Icy and Miss Emily more alike or different?
Why does Icy seem to lie so much?
Remember this story takes place in 1950's. Are we better at accepting people who are different today?
by mrblock
(see profile)
02/21/17
Weblinks
There are no web links at this time.
BECOME A MEMBER
it's free
Join the leading website for book clubs with over 35,000 clubs and 20,000 reading guides.
SEARCH OUR READING GUIDES
Search
JOIN OUR MAILING LIST
Get free weekly updates on top club picks, book giveaways, author events and more
Please wait...