BKMT READING GUIDES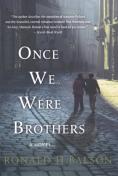 Once We Were Brothers

by Ronald H. Balson
Published: 2013-10-08
Paperback : 400 pages
15 members reading this now
35 clubs reading this now
14 members have read this book
Recommended to book clubs by 11 of 11 members
The gripping tale about two boys, once as close as brothers, who find themselves on opposite sides of the Holocaust.
"A novel of survival, justice and redemption...riveting." ?Chicago Tribune, on Once We Were Brothers
Elliot Rosenzweig, a respected civic leader and wealthy philanthropist, ...
No other editions available.

Jump to
Introduction
The gripping tale about two boys, once as close as brothers, who find themselves on opposite sides of the Holocaust.
"A novel of survival, justice and redemption...riveting." ?Chicago Tribune, on Once We Were Brothers
Elliot Rosenzweig, a respected civic leader and wealthy philanthropist, is attending a fundraiser when he is suddenly accosted and accused of being a former Nazi SS officer named Otto Piatek, the Butcher of Zamosc. Although the charges are denounced as preposterous, his accuser is convinced he is right and engages attorney Catherine Lockhart to bring Rosenzweig to justice. Solomon persuades attorney Catherine Lockhart to take his case, revealing that the true Piatek was abandoned as a child and raised by Solomon's own family only to betray them during the Nazi occupation. But has Solomon accused the right man?
Once We Were Brothers is Ronald H. Balson's compelling tale of two boys and a family who struggle to survive in war-torn Poland, and a young love that struggles to endure the unspeakable cruelty of the Holocaust. Two lives, two worlds, and sixty years converge in an explosive race to redemption that makes for a moving and powerful tale of love, survival, and ultimately the triumph of the human spirit.
Excerpt
ONE Chicago, Illinois, September 2004 BEN SOLOMON STOOD BEFORE his bathroom mirror fumbling with his bow tie. He was eighty-three years old and getting dressed for Judgment Day. Years had come and gone since he had last worn his tuxedo, but then, Judgment Day was a black tie affair. He uttered a Polish phrase to the man in the mirror and reached into his pocket to reexamine his pricey ticket. Lyric Opera of Chicago. Opening Night Gala, September 26, 2004. La Forza del Destino. Main Floor, Aisle 2, Row kk, Seat 103—a seat he did not intend to occupy. Truth be told, he didn't care much for opera. The ticket had set him back five hundred dollars, a goodly sum for a pensioner. He pulled back the cuff of his shirtsleeve to check the time on his watch, a silver-band Citizen given to him when he retired from the Chicago Park District eight years ago. Four thirty—still two hours until the doors would open. He walked into his living room. The windows of his modest one-bedroom apartment faced east, toward Lake Michigan and the row of condominium towers that stretched north in a line from the Loop to Thorndale Avenue like a stand of Midwest corn. The late-afternoon sun laid a track of shadows across Lake Shore Drive and onto the lush grass of the Waveland Golf Course, where he'd worked as a starter for almost fifty years. To his right, in the mirrored calm of Belmont Harbor, the luxury cruisers rested comfortably in their slips. He lingered. How he loved that view. He conceded that he might be looking at it for the last time. Once more he checked his appearance in the mirror. He asked Hannah if he looked all right. Was he dapper? He wished she were there to answer. Underneath his sweaters, in the bottom drawer of his bureau, lay a cardboard cigar box. Setting the box on the bureau top, he lifted the lid and removed a German P08 Luger, World War II vintage, in mint condition, purchased at an antique gun show for $1,250. Another hit to his savings account. He stuffed the pistol in his belt beneath his cummerbund. Five o'clock. Time to walk to the corner, flag a southbound taxi, and join up with the glitterati at the "undisputed jewel of the social season." TWO IN HIS DRESSING ROOM on the second story of his Winnetka mansion, a generous four-acre estate set high on a bluff overlooking the lake, Elliot Rosenzweig stood fumbling with his cuff links. "Jennifer," he called out, "would you come help me, please?" The young medical student, sparkling in her formal evening gown, breezed into the master suite and to the side of her grandfather, who was grappling with his French cuffs. "Popi, we're going to be late if we don't hurry." He watched her hands easily fasten the gold links. So supple, so young. Soon to be a surgeon's hands, he thought. "There," she said. Beaming with profound adoration, he kissed her on the forehead. "I'm so proud of you," he said. "For fastening your cuffs?" "For being my angel." "I love you, too, Popi." She twirled and headed for the closet door. "That's a beautiful dress," he called after her. "I like it." "You should," she said over her shoulder, "it cost you a fortune. Nonna bought it for me at Giselle's. It's an original. Is Nonna going tonight?" "No, I'm afraid not. She has another one of her headaches." He winked. "She hates these public events." Jennifer lifted his Armani jacket from the hanger and held it for him as he slipped his arms through the sleeves. Smiling, she gave a short tug on his lapels and took a step back. "You look very handsome tonight." She kissed him on his cheek. "Now we need to go. All our friends are waiting." Together, hand in hand, they joined the rest of their entourage under the pink stone portico where the group filed into two limousines that would carry them downtown to the Civic Opera House. The iron security gates parted and the white limousines glided forward onto Sheridan Road and toward Chicago's Loop. THREE FESTIVAL BANNERS HUNG FROM the art deco columns of the Civic Opera House's mezzanine and multicolored buntings looped from the balustrades, all gaily surrounding the opera celebrants gathered in the foyer below. Costumed servers carried champagne and hors d'oeuvres on silver platters. In the corner, a subgroup of the Lyric Orchestra played selections from Rossini overtures. Raising her voice to be heard above the din of conversations, Jennifer asked, "How many years have you been coming to opening night, Popi?" She smiled as she accepted a canapé from an Elizabethan palace guard. "Since 1958, angel. Although in those days they didn't pay so much attention to me." "You mean you weren't a Platinum Grand Benefactor?" "I always gave what I could to support the arts, but…" His answer was interrupted by the approach of Chicago's mayor and first lady, who were being shuttled about by Lyric's artistic director. "It's nice to see you again, Elliot. You're looking well." "Thank you, Mr. Mayor. I think you know my granddaughter, Jennifer," he answered in the noisy hall. "It always brightens my day to see you and Edith." Rosenzweig flashed a congenial smile as he warmly took the hand of Chicago's first lady. "Quite an event, the Lyric opening, thanks to you and the board," said Mayor Burton. "The city owes you a great deal, Elliot. You're a priceless resource." "Maybe not so priceless, John." And the two of them laughed. While they continued to exchange flatteries, Ben Solomon quietly wound his way through the crowd toward the Grand Benefactor. He was oblivious to the music. He heard no conversations. He saw only his target. Making his way across the floor, he declined a flute of champagne from a seventeenth-century Italian peasant girl and felt for the Luger in his belt. The Lyric quartet pizzicatoed through the delightful strains of La Gazza Ladra. He paused until the mayor and his wife had moved on to the next grouping and walked directly to Rosenzweig, his heart pounding like a pile driver. "What did you do with all that jewelry?" he said inches from Rosenzweig's face. "Excuse me, sir?" said the esteemed donor with a smile, unsure if this was part of a staged repertoire. Perhaps an opera joke? But there was no sign of frivolity. "Just curious," Solomon said. "I asked you what you did with the jewelry—you know, the watches, diamond bracelets, wedding bands. You had a whole chest full. Don't you remember?" Rosenzweig looked to his granddaughter and shrugged. "I'm afraid I don't know what you're talking about, sir." In a flash, Solomon drew the polished Luger and pressed the barrel hard against Rosenzweig's forehead. A woman screamed. The crowd immediately backpedaled into a large ring. "Popi!" screamed Jennifer. "Recognize this gun, Otto? Should be real familiar to a Nazi officer," Solomon said, waving the crowd away with his left arm. "Look at me, Otto. It's Ben Solomon. Here we are, together again, just like when we were kids. Never thought you'd see me again, did you, Hauptscharführer Piatek?" Rosenzweig held up his hands in conciliation. The room was silent except for the words he delivered, slowly and evenly. "You've made a mistake, sir. My name is Elliot Rosenzweig. It's not Otto. Or Piatek. I've never been a Nazi. In fact, sir, I am a camp survivor." Very slowly, he held out his left arm. "Jennifer, undo my cuff link and roll up my sleeve." As she did, his forearm displayed the blackened tattoo: A93554. The gunman considered the offering, and then sneered. "You're a lying Nazi murderer and I can see the fear in your eyes, Hauptscharführer. Scream and cry and beg, Otto, like the innocent women and children who cowered before you. Mothers and fathers and grandparents. People who never hurt a soul. And the babies. All the children." He gestured wildly to the stunned crowd. "Tell them who you really are. Look at them all. They're listening. The masquerade is finished." From out of nowhere, Solomon was blindsided and knocked to the marble floor. The gun slid along the tiles and came to rest against the staircase. Tackled by a Chicago Bears linebacker in formal attire, Solomon lay curled on the floor, weeping, his head shuttered in his forearms. As he was pulled to his feet by security guards, Solomon screamed, "He's a Nazi. He's a murderer. He's Otto Piatek. He's Otto Piatek." The screams melted into sobs as they led the old man away. "He's Otto Piatek." Copyright © 2010, 2013 by Ronald H. Balson
view abbreviated excerpt only...
Discussion Questions
1. Does it trouble you to think that remnants of the Nazi era may remain? Of the six hundred thousand SS members remaining at the end of the war, only a few thousand were actually brought to justice. Most escaped. Some to America. Only one hundred or so have been found and deported. Was Ben's quest after all these years, in spite of Rosenzweig's civic contributions, justified?
2. Responding to someone who said, "I can't believe anybody cares about those events of so long ago," Eli Rosenbaum, former head of the U.S. Office of Special Investigations, stated, "I think there's particular value in showing would-be perpetrators that if one dares to perpetrate such crimes, there is a chance that he or she will be pursued for the rest of his or her life to locations thousands of miles from the locations of their crimes." Where do you stand? Do you think we should continue seek out and prosecute now-elderly Nazi war criminals?
3. It is said that "first impressions are lasting ones." What were your first impressions of the principal characters? At what point did your opinion change? Why?
4. Ben's family had the opportunity to leave Europe at certain times in the story. When cousin Ziggy told them of the persecution in Germany and when Uncle Joseph came from Vienna, they could have all escaped through the mountains into Slovakia. Why didn't they take advantage of each of those opportunities? Why did Jewish families remain?
5. From the diaries of survivors, there are many stories of extraordinary heroism, of ordinary people who, in the darkest moments, find unbelievable strength and courage. Have you known such people? Where do you think they find such courage?
6. If you had the opportunity to speak to any of the characters at any moment in the story, to whom would you choose to talk, what advice would you give, and what would you say?
7. Ben was a religious man, as was Catherine. If religious doctrine preaches that God is all-knowing and omnipotent, how does a religious person accept the existence of the Holocaust in God's world?
8. Ethnic slaughter, the oppression of minorities, did not cease with the end of World War II. Does the world community today do enough to respond to the oppressors? What should be done?
9. Why did Elisabeth decide to turn against her husband? Did it have anything to do with her fear of facing Ben?
Suggested by Members
Discuss how this relates to atrocities being committed in today's world?
by Callie
(see profile)
10/01/14
none
by arizonamom
(see profile)
04/29/14
Talked a lot about Poland during that period in history as well as current times.
Discussed the holocaust.
by ncvlib
(see profile)
04/02/14
Book Club Recommendations
Recommended to book clubs by 11 of 11 members.
German dinner
by Callie (see
profile
) 10/01/14
Our hostess served a true German dinner with sauerkraut, bratwurst, kielbasa, pickled cucumbers, and German chocolate cupcakes for dessert.
none
by arizonamom (see
profile
) 04/29/14
BECOME A MEMBER
it's free
Join the leading website for book clubs with over 35,000 clubs and 20,000 reading guides.
SEARCH OUR READING GUIDES
Search
JOIN OUR MAILING LIST
Get free weekly updates on top club picks, book giveaways, author events and more
Please wait...