BKMT READING GUIDES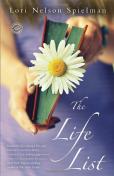 The Life List: A Novel

by Lori Nelson Spielman
Published: 2013-07-02
Paperback : 368 pages
27 members reading this now
25 clubs reading this now
5 members have read this book
Recommended to book clubs by 9 of 10 members
INTERNATIONAL BESTSELLER

In this utterly charming debut—perfect for fans of Cecelia Ahern's P.S., I Love You and Allison Winn Scotch's Time of My Life—one woman sets out to complete her old list of childhood goals, and finds that her lifelong dreams lead her down a path she never ...
No other editions available.

Jump to
Introduction
INTERNATIONAL BESTSELLER

In this utterly charming debut—perfect for fans of Cecelia Ahern's P.S., I Love You and Allison Winn Scotch's Time of My Life—one woman sets out to complete her old list of childhood goals, and finds that her lifelong dreams lead her down a path she never expects.
 
1. Go to Paris
2. Have a baby, maybe two
3. Fall in love
 
Brett Bohlinger seems to have it all: a plum job, a spacious loft, an irresistibly handsome boyfriend. All in all, a charmed life. That is, until her beloved mother passes away, leaving behind a will with one big stipulation: In order to receive her inheritance, Brett must first complete the life list of goals she'd written when she was a naïve girl of fourteen. Grief-stricken, Brett can barely make sense of her mother's decision—her childhood dreams don't resemble her ambitions at age thirty-four in the slightest. Some seem impossible. How can she possibly have a relationship with a father who died seven years ago? Other goals (Be an awesome teacher!) would require her to reinvent her entire future. As Brett reluctantly embarks on a perplexing journey in search of her adolescent dreams, one thing becomes clear. Sometimes life's sweetest gifts can be found in the most unexpected places.

Praise for The Life List

"A wonderful, touching story that reminds us to live life to its fullest."—Cecelia Ahern, New York Times bestselling author of P.S., I Love You
 
"Spielman's debut charms."—Kirkus Reviews
 
"You won't want to miss Lori Nelson Spielman's remarkable debut, an intensely emotional novel of transformation and trust. It's about how we let go, and how we never let go. The Life List has great heart, and even greater soul."?Sarah Addison Allen, New York Times bestselling author of The Peach Keeper
 
"Irresistible! Everything I love and look for in women's fiction. A clever, funny, moving page-turner."?Susan Elizabeth Phillips, New York Times bestselling author of The Great Escape

Look for special features inside. Join the Random House Reader's Circle for author chats and more.
Editorial Review
Inspiration for The Life List, by Lori Nelson Spielman
Like any author, I'm often asked how I came up with the idea for my novel. My answer comes easily. The seed for The Life List was found in an old cedar box.
It had been years since I'd last opened my miniature hope chest, a high school graduation gift. The scent of cedar greeted me, along with my first bankbook, my grandmother's rosary, a couple of silver dollars, and a single sheet of notebook paper, folded into a neat little square.
Curious, I unfolded the yellowed paper. In flowery cursive, Lori's List was penciled across the top. My abandoned life list.
I was wise enough to include the day and month, March 13th, but foolishly I'd omitted the year. Maybe I hadn't planned to keep it. Maybe I didn't realize how quickly memories fade, how years later, I'd barely remember the day that young girl sat on her blue flowered bedspread, contemplating her future. But judging from the goals, what had and hadn't been accomplished, I was somewhere between 12 and 14 years old.
The crumpled piece of paper revealed a list of 29 things my adolescent mind imagined would make for a good life. I'd also added a sidebar called Ways to Be, which included such pearls as, Don't talk about ANYONE. Laugh. Say "hi" to everyone.
I'd love to say that all my goals were altruistic and contemplative. In truth, many were embarrassingly self-indulgent and trivial. Have lots of clothes was actually on my life list. Seriously! Be a cheerleader was another lofty goal. (Did I actually think shaking pompoms would be a life changer?) Ah, but I did have Help people on my list. And Give my body to science was thoughtful, right? Never mind that I qualified it with a "maybe".
Relationships were important to me. A scrawny girl with teeth too big and breasts too small, I was pretty much ignored by the opposite sex. So naturally, Be popular and Have boyfriends were at the top of my list, followed by longer-term goals of Have a good marriage, Have babies, Have a close family.
Even as a young girl, I loved to write and tell stories, yet being an author was not on my life list. In my middleclass neighborhood, in my middleclass town, I'd never met a single author. Authors lived in New York City, or in glass-walled houses overlooking the Pacific. Instead, I hoped to be a teacher, a profession that seemed accessible. And if not glamorous, then at least comfortable.
As I stood reading the list some thirty years later, it pleased me that I did, indeed, accomplish many of my goals. I had made the cheerleading squad (phew, right?). I had my share of boyfriends, though they arrived much later than that young girl once hoped, thank God. I'd graduated from college and learned to ski and traveled to Europe. I was a teacher, a profession I loved. I had a good marriage. I even had a cat. But I didn't live on a lake. I hadn't designed my own home. I didn't have two kids, or a horse, or a dog.
As I read the list, I thought about how different my life would be if I'd fulfilled every goal my youthful heart longed for. In no time, my mind was racing. A story was taking shape. What if someone were forced to finish their life list—a list they thought they'd outgrown?
In the course of several days, my story evolved. First, I came up with riddles from a dying mother, offering her daughter cryptic clues to find her true self. But that was silly. Why the riddles? Why wouldn't her mother just tell her daughter what she wanted her to accomplish? And it was crucial that the mother didn't appear heavy-handed or controlling. The story could only work if it was clear that the mother's intentions came from a loving heart. I also knew the story risked being predictable. I imagined readers rolling their eyes, sure that in the end, Brett would be married to the love of her life and have a baby and a dog and a horse. Her dreams couldn't be accomplished easily, or in conventional ways the reader might expect. I wanted some goals to lead to others, in circuitous, serendipitous ways. Soon, pages for Another Sky were piling up, becoming the manuscript that would later be re-titled, The Life List.
So there you have it: the kernel for The Life List was my old life list—Lori's List. Though I fell short of some goals, I believe my list served me well. It's true, I won't be waving my children off to college. But I will get to watch my novel set off for parts of the world I may never visit. My book will be introduced to new people, and hopefully entertain, and possibly provoke discussion. And maybe, just maybe, my story will inspire some other little girl, in some other small town, to set her own goals, to aspire to something that's hers alone. And whether her ambitions are humble or grandiose, silly or pensive, it doesn't matter. The important thing is, she dreams.
Excerpt
Chapter One Voices from the dining room echo up the walnut staircase, indistinct, buzzing, intrusive. With trembling hands I lock the door behind me. My world goes silent. I lean my head against the door and take a deep breath. The room still smells of her—Eau d'Hadrian perfume and goat's milk soap. Her iron bed creaks as I crawl over it, a sound as reassuring as the tinkle of her garden chimes, or her silky voice when she'd tell me she loved me. I came to this bed when she shared it with my father, complaining of an ache in my belly or monsters under my bed. Each time Mom took me in, holding me close and stroking my hair, whispering, "There will be another sky, my love, just you wait." And then, as if by miracle, I'd wake the next morning to find ribbons of amber streaming through my lace curtains. I kick off my new black pumps and rub my feet in relief. Scooting backward, I settle against the yellow paisley pillows. I'm going to keep this bed, I decide. No matter who else wants it, it's mine. But I'll miss this classy old brownstone. "She's as sturdy as Grandmamma," Mom would say about her home. But to me, no house, no person, was ever as steady as Grandmamma's daughter—my mother—Elizabeth Bohlinger. Suddenly, I have a thought. Blinking back tears, I bound from the bed. She hid it up here, I know she did. But where? I throw open her closet door. My hands grope blindly behind designer suits and dresses. I yank at a rack of silk blouses and they part like theater curtains. There it is, nestled in her shoe rack like an infant in its crib. One bottle of Krug, sequestered to her closet for the past four months. Once in my clutches, guilt infests me. This champagne belongs to Mom, not me. She splurged on the outrageous bottle on our way home from her first doctor's appointment, and promptly tucked it away so it wouldn't be confused with the regular bottles downstairs. It was a symbol of promise, she rationalized. At the end of her treatments, when she was given a clean bill of health, she and I would open the rare champagne as a celebration of life and miracles. I finger the silver foil and bite my lip. I can't drink this. It was meant for a celebratory toast, not for a grieving daughter too weak to make it through a funeral luncheon. Something else catches my eye, wedged between the spot where I found the champagne and a pair of suede loafers. I reach for it. It's a slim red book—a journal I suspect—secured with a faded yellow ribbon. The leather cover is cracked and weathered. To Brett, she has written on a heart-shaped gift tag. Save this for a day when you are feeling stronger. Today, raise a glass to us, my dear. What a duo we were. Love, Mom. I trace my finger over the handwriting, never as neat as one would expect from someone so beautiful. My throat aches. Despite her assurance of a happy ending, my mom knew the day would come when I would need rescuing. She's left me her champagne for today, and a sliver of her life, her inner thoughts and musings, for tomorrow. But I can't wait until tomorrow. I stare down at the journal, desperate to read her words right now. Just one quick peek, that's all. But when I tug the yellow ribbon, an image of my mom takes shape. She's shaking her head, gently chastising my impatience. I glance at her note, telling me to wait until I'm stronger, and I'm torn between my wishes and hers. Finally, I set the journal aside. "For you," I whisper, and tap the cover with a kiss, "I'll wait." A moan rises from my chest, cracking the silence. I slap a hand over my mouth to catch it, but it's too late. I double over, clutching my ribs, and literally ache for my mother. How will I ever manage to stumble through this world without her? I have so much more daughter left in me. I grab the champagne. Holding the bottle between my knees, I pop the cork. It shoots across the room, knocking over a bottle of Kytril from my mom's bedside table. Her antinauseants! I scramble to the bedside and gather the triangular tablets in my fists, remembering the first time I offered one to Mom. She'd just had her first chemo treatment and was full of false bravado for my sake. "I feel fine, really. I've had menstrual cramps that have given me more grief." But that night, nausea hit her like a tsunami. She swallowed the white tablet, and later asked for another. I lay with her while the drug mercifully took effect and allowed sleep to come. I snuggled next to her, in this very bed, and stroked her hair and held her close, just as she'd done for me so many times. And then, raw with desperation, I closed my eyes and begged God to heal my mother. He didn't listen. The pills stream from my palm, into the plastic prescription bottle. Leaving the lid loose, I position the bottle on the table's edge, close to her bed, so she can easily reach them. But no…my mom's gone. She will never take another pill. I need the champagne. "Here's to you, Mom," I whisper, my voice cracking. "I was so proud to be your daughter. You knew that, right?" In no time the room is spinning, but my pain is mercifully eased. I lower the champagne bottle to the floor and pull back the down comforter. The cool sheets smell faintly of lavender. It feels decadent to lie here, away from the crowd of strangers one floor below. I burrow deeper under the covers, indulging myself in just one more moment of silence before returning downstairs. Just one more minute… # A loud knock startles me from my stupor. I sit up. It takes a second before I realize where I am…shit, the luncheon! I bolt from the bed, stumbling over the champagne bottle as I lurch for the door. "Ouch! Oh, damn!" "You okay, Brett?" my sister-in-law Catherine asks from the open doorway. Before I can answer, she gasps and rushes into the room. She squats before the damp rug and lifts the bottle. "My God! You spilled a bottle of Clos Du Mesnil 1995?" "I drank a good bit of it first." I plop down beside her and dab the Oriental rug with the hem of my dress. "Jesus, Brett. This bottle costs over seven hundred dollars." "Uh huh." I drag myself to my feet and squint at my watch, but the numbers are all blurry. "What time is it?" She smoothes down her black linen dress. "It's almost two. Lunch is being served." She tucks a stray curl behind my ear. Even though I tower over her by a good five inches, she still manages to make me feel like I'm her unkempt toddler. I half expect her to lick her fingers and pat down my cowlick. "You look downright gaunt, Brett," she says, repositioning my pearl necklace. "Your mother would be the first to say that despite your grief, you must take care of yourself." But that's not true. My mom would tell me I look pretty, even though my make-up has been cried off. She'd insist that the humidity has enhanced my long auburn waves, not created a frizzy rat's nest, and that my puffy, red-rimmed eyes are still the soulful brown eyes of a poet. I feel tears threaten and I turn away. Who's going to boost my confidence now that my mom's gone? I bend down to grab the empty bottle, but the floor wobbles and lurches. Oh, God! I'm on a sailboat in the middle of a cyclone. I grab hold of the bed frame like it's my lifeline, and wait for the storm to pass. Catherine cocks her head and studies me, tapping her bottom lip with her perfectly manicured nail. "Listen, Sweetie, why don't you stay put. I'll bring you up a plate." Stay put my ass! It's my mother's luncheon. I need to get downstairs. But the room is fuzzy and I can't find my shoes. I turn in circles. What was it I was looking for? I stagger to the door barefoot, and then I remember. "Okay shoes. Come out come out wherever you are." I squat down and peer under the bed. Catherine grabs me by the arm and pulls me up. "Brett, stop. You're drunk. I'll tuck you into bed and you can sleep it off." "No!" I shake off her hold on me. "I can't miss this." "But you can. Your mother wouldn't want you—" "Ahh, there they are." I grab my new black heels and work to plant my feet into them. Jesus, my feet have grown two sizes in the last hour. I barrel down the hallway as best I can, my feet half in, half out of my pumps. With both hands outstretched to steady me, I stagger from one wall to the other, like a pinball. Behind me, I hear Catherine. Her voice is stern but she's keeping it low, as if she's speaking through clenched teeth. "Brett! Stop right now!" She's nuts if she thinks I'm going to skip the funeral luncheon. I have to honor my mother. My beautiful, loving mother… I'm at the staircase now, still trying to push my swollen feet into these Barbie doll pumps. I'm halfway down the staircase when my ankle twists. "Eeow!" At once, a sea of guests, all who've come to pay tribute to my mother, turn to watch me. I catch glimpses of horrified women raising their hands to their mouths, and men gasping as they rush to catch me. I land in a heap in the foyer, my black dress hiked to mid thigh, minus one shoe. # The sound of clattering dishes wakes me. I wipe the drool from the side of my mouth and sit up. My throbbing head feels thick and murky. I blink several times and look around. I'm at my mom's house. Good. She'll have an aspirin for me. I notice the living room is cast in shadows, and workers mill about, stacking plates and glasses into brown plastic bins. What's going on? It hits me like the crack of a baseball bat. My throat seizes up and I cover my mouth. All the pain, every scrap of anguish and sadness crashes in anew. I've been told that a long battle with cancer is worse than a short one, but I'm not convinced that holds true for the survivors. My mother's diagnosis and death came so quickly that it seems almost surreal, like a nightmare I'll wake from with a cry of relief. Instead, too often I wake having forgotten the tragedy, and I'm forced to re-live the loss over and over, like Bill Murray on Groundhog's Day. Will it ever feel okay, not having that one person in my life who loves me unconditionally? Will I ever be able to think of my mother without my chest cramping? As I rub my aching temples, short snippets of fuzzy snapshots come rushing in, recreating my humiliating fiasco on the stair steps. I want to die. "Hey, sleepy girl." Shelley, my other sister-in-law, walks over to me, carrying three-month old Emma in her arms. "Oh, God!" I moan and hang my head in my hands. "I am such an idiot." "Why? You think you're the only person who's ever gotten tipsy? How's the ankle?" I lift a bag of mostly melted ice from my ankle and turn my foot in circles. "It'll be fine." I shake my head. "It'll heal much sooner than my ego. How could I have done that to my mother?" I plop the bag of ice water on the floor and pull myself from the sofa. "On a scale of one to ten, Shel, how awful was I?" She bats a hand at me. "I told everyone you were suffering from exhaustion. And they bought it. It was an easy story to pitch, since you looked like you hadn't slept in weeks." She peeks at her watch. "Listen, Jay and I are getting ready to go now, it's after seven." From the foyer I spot Jay squatting in front of their three-year-old, stuffing little Trevor's arms into a bright yellow slicker that makes him look like a miniature fireman. His crystal blue eyes find mine and he squeals. "Auntie Bwett!" My heart trips and I secretly hope my nephew never learns to pronounce his Rs. I walk over to him and tousle his hair. "How's my big boy?" Jay clips the metal fastener at Trevor's collar and pulls himself up. "There she is." Aside from the telltale crow's feet flanking his dimpled grin, my brother looks closer to twenty-six than his thirty-six years. He drapes an arm around me. "Have a nice nap?" "I'm so sorry," I say, swiping a flake of mascara from under my eye. He plants a kiss on my forehead. "No worries. We all know this is hardest on you." What he means is, of the three Bohlinger children, I'm still single, the one with no family of my own. I counted on Mom the most. My brother feels sorry for me. "We're all grieving," I say, pulling away. "But you were her daughter," my oldest brother Joad says. He rounds the corner of the foyer, his wiry frame nearly hidden by a colossal floral spray. Unlike Jay, who brushes his thinning tresses straight back, Joad shaves his head smooth as an egg, which, along with his clear-framed eyeglasses, gives him an urban-artsy vibe. He turns sideways and pecks me on the cheek. "You two had a special bond. Jay and I couldn't have managed without you, especially near the end." It's true. When our mother was diagnosed with ovarian cancer last spring, I convinced her we would fight it together. I'm the one who nursed her after surgery, the one who sat beside her at every chemo treatment, the one who insisted on a second, and then a third opinion. And when all the experts agreed her prognosis was grim, I'm the one who was with her the day she decided to stop the heinous treatments. Jay squeezes my hand, his blue eyes bright with tears. "We're here for you. You know that, right?" I nod, and pull a Kleenex from my pocket. Shelley breaks our silent grieving when she steps into the foyer, lugging Emma's car-carrier. She turns to Jay. "Hon, could you grab that jade plant my parents sent?" She glances at Joad, then me. "You guys don't want it, do you?" Joad nods at the botanical garden in his arms, in case she might have missed it. "Got mine." "Take it," I say, baffled that anyone would care about a plant when our mother just died. My siblings and their spouses shuffle from our mother's brownstone into the misty September evening while I stand holding open the rosewood door, just as Mother used to do. Catherine is the last to pass, tucking a Hermes scarf into her suede jacket. "See you tomorrow," she says, planting a Casino Pink kiss on my cheek. I groan. As if deciding who'll get which plant isn't enough fun, at ten-thirty tomorrow morning, all of Mother's assets will be doled out to her children like it's a Bohlinger awards ceremony. In a matter of hours I'll become President of Bohlinger Cosmetics and Catherine's boss—and I'm not the least bit confident I can handle either. # The night's stormy shell cracks, revealing a cloudless, blue-skied morning. A good omen, I decide. From the backseat of a Lincoln Town Car, I stare out at the frothy shoreline of Lake Michigan and mentally rehearse what I'll say. Wow, I'm humbled. What an honor. I'll never replace Mother, but I'll try my damnedest to move the company forward. My head throbs, and again I curse myself for drinking that damn champagne. What was I thinking? I feel sick—and not just physically. How could I have done that to my mother? And how can I possibly expect my siblings to take me seriously now? I grab my compact from my purse and dab powder on my checks. I must appear competent and composed today—the way a CEO should. My brothers need to know that I can handle the business, even if I'm not always able to handle my alcohol. Will they be proud of their little sister, moving from advertising executive to president of a major company at age thirty-four? Despite yesterday's debacle, I think so. They have their own careers, and aside from their stock shares, they have little to do with the family business. And Shelley's a speech pathologist and a busy mommy. She doesn't give a whit who runs her mother-in-law's company. It's Catherine I fear. A graduate of Penn's prestigious Wharton School of Business and a member of the U.S. synchronized swim team swim during the Olympic Games of 1992, my sister-in-law has the brains, the tenacity, and the competitive edge to run three companies simultaneously. For the past twelve years she's held the title of Vice President of Bohlinger Cosmetics and Mother's right hand. Had it not been for Catherine, Bohlinger Cosmetics would have remained a small-but-prosperous cottage industry. But Catherine came aboard and convinced Mother to expand her line. In early 2002 she got wind of a new episode Oprah Winfrey would be launching called, My Favorite Things. For twenty-one weeks straight, Catherine sent exquisitely wrapped packages of Bohlinger's organic soaps and lotions to Harpo Studios, along with photos and articles about the all-natural, eco-friendly company. Just as she was preparing her twenty-second shipment, Harpo Studios called. Oprah had chosen Bohlinger's Organic Black Tea and Grape Seed Facial Mask as one of her favorite things. The episode aired and business exploded. Suddenly, every spa and high-end department store demanded the Bohlinger line. Manufacturing quadrupled in the first six months. Three major companies offered outrageous sums to purchase the company outright, but Catherine convinced Mother not to sell. Instead, she opened shops in New York, L.A., Dallas, and Miami, and two years later expanded to the overseas markets. Though I'd love to think my marketing prowess had something to do with it, the company became a multi-million dollar enterprise largely because of Catherine Humphries-Bohlinger. It's undeniable. Catherine is the queen bee, and as Director of Marketing I've been one of her loyal worker bees. But in a matter of minutes, our roles will be reversed. I'll become Catherine's boss—a thought that terrifies the bejezus out of me. Last June, when my mother was in the throes of treatment and her presence at Bohlinger Cosmetics was a rarity, Catherine called me into her office. "It's important that you learn the nuts and bolts of the operation, Brett," she said, perched behind her cherry desk with her hands folded in front of her. "As much as we'd like to deny it, our lives are going to change. You need to be prepared for your role." She thought my mother would die! How could she assume the worst? But Catherine was a realist, and she was rarely wrong. A chill came over me. "Naturally, all of your mother's shares will go to you, once she passes. You are, after all, her only daughter and the sole child in the business. You've also been her business partner longer than anyone else." A lump rose in my throat. My mother used to boast that I was still in diapers when I joined the company. She'd hoist me into my baby backpack and off we'd go, pitching her soaps and lotions to local shops and farmer's markets. "And as the majority shareholder," Catherine continued, "you're entitled to her position as CEO." Something in her cool, measured tone made me wonder if she resented this. And who could blame her? The woman was brilliant. And me—I just happened to be Elizabeth's daughter. "I'm going to help you prepare—not that you aren't already." She tapped open her computer calendar. "How about we start tomorrow, eight A.M. sharp." It wasn't a question, it was an order. So each morning I'd pull up a chair next to Catherine's and listen as she explained overseas business transactions, international tax codes, and the company's day-to-day operations. She sent me to a weeklong seminar at Harvard Business School, bringing me up-to-date on the latest management techniques, and enrolled me in online workshops, on topics ranging from streamlining budgets to employee relations. Though many times I felt overwhelmed, I never once considered bowing out. I'll be honored to wear the crown that was once my mother's. I just hope my sister-in-law doesn't come to resent each time she's asked to help polish it. Mother's driver drops me off at Two Hundred Randolph Street and I gaze up at the granite and steel structure of Chicago's Aon Center. Office space in this place must be outrageous. Obviously, Mother's attorney is no slouch. I make my way to the thirty-second floor, and at precisely ten thirty, Claire, an attractive redhead, leads me into Mr. Midar's office where my brothers and their wives have already gathered at a rectangular mahogany table. "Can I get you some coffee, Ms. Bohlinger?" she asks. "Or perhaps tea? Bottled water?" "No, thank you." I find a seat beside Shelley and look around. Mr. Midar's office is an impressive concoction of old and new. The space itself reeks of modernity, all marble and glass, but he's softened it with Oriental rugs and several key pieces of antique furniture. The effect is soothing lucidity. "Nice place," I say. "Isn't it?" Catherine says from across the table. "I adore Stone architecture." "Same here. And there's enough granite in this one to open a quarry." She chuckles as if I'm a little tot who's just made a funny. "I meant Stone, as in Edward Durell Stone," she says. "He was the architect." "Oh, right." Is there nothing this woman doesn't know? But rather than impressing me, Catherine's intelligence makes me feel ignorant, her strength makes me feel weak, and her competence makes me feel as useless as a pair of Spanx on Victoria Beckham. I love Catherine dearly, but it's a love that's tempered by intimidation—whether the result of my insecurity or Catherine's arrogance, I'm not sure. Mom once told me I had all of Catherine's intellect but only a smidgen of her self-confidence. Then she whispered, "And thank God for that." It was the only time I ever heard Mother speak ill of Catherine the Great, but that single, uncensored statement gives me enormous comfort. "It was originally built for Standard Oil Company," she continues, as if I'm interested. "Back in seventy-three, if I'm not mistaken." Jay rolls his chair back, behind Catherine's line of vision, and mimes an exaggerated yawn. But Joad seems riveted by his wife's prater. "Very good, dear. Third tallest building in Chicago," Joad says, looking at Catherine, as if for confirmation. Though my big bro is one of the city's most esteemed young architects, I sense that he, too, is a bit intimidated by the horsepower of the woman he married. "It's surpassed only by the Trump Tower and Willis Tower." Catherine looks at me. "Willis Tower—you know, the former Sears Tower." "The Sears Tower?" I ask, rubbing my chin in mock befuddlement. "Why would a department store need an entire tower?" From across the table, Jay grins. But Catherine eyes me, as if she's not entirely sure I'm joking, before resuming her lesson. "This place has eighty-three floors above ground and—." The architecture trivia game ends when the door opens and a tall, disheveled man rushes into the room, a bit breathless. He looks to be about forty. He rakes a hand through his dark hair and straightens his tie. "Hey, everyone," he calls, moving to the table. "I'm Brad Midar. Sorry to have kept you waiting." He strides around the table and shakes each of our hands as we introduce ourselves. The intensity of his gaze is tempered by a slight overlap of his front teeth, lending him an authentic, boyish charm. I wonder if my siblings are thinking what I'm thinking. Why did mother hire this young guy, a complete stranger, rather than Mr. Goldblatt, who's been our family attorney for years? "I just came from a meeting across town," Midar says and finds his chair at the head of the table, kitty-corner from me. "I didn't expect it to run so late." He drops a manila file folder on the table. I glance at Catherine, poised to take notes with her legal pad and pen, and cringe. Why hadn't I thought to take notes? How the hell am I going to run an entire company when I can't even remember my legal pad? Mr. Midar clears his throat. "Let me begin by saying how sorry I am for your loss. I liked Elizabeth very much. We met just last May, right after she was diagnosed, but somehow I feel as if I'd known her for years. I wasn't able to stay long at the luncheon yesterday, but I did attend her funeral. I like to think I was there as her friend, not as her lawyer." I immediately like this busy attorney who found time to attend my mother's funeral—a woman he knew a scant sixteen weeks. I think of the lawyer in my life, my boyfriend Andrew, who knew my mother for four years, yet couldn't clear his schedule to attend yesterday's luncheon. I push back the ache in my chest. He was in the middle of a trial, after all. And he did break away for the funeral. "Having said that," Mr. Midar continues, "I'm honored to be the executor of her estate. Shall we begin?" An hour later, my mother's favorite charities are substantially more solvent, and Jay and Joad Bohlinger are worth enough money to spend the rest of their days in idle folly. How had Mother managed to accumulate such wealth? "Brett Bohlinger is to collect her inheritance at a later date." Mr. Midar removes his reading glasses and looks over at me. "There's an asterisk here. I'll explain this in detail later." "Okay," I say, literally scratching my head. Why wouldn't Mom give me my inheritance today? Maybe she'll explain in that little red journal she left me. And then it dawns on me. I'm getting the entire company, which today is worth millions. But God only knows how it'll fare under my leadership. A dull ache kicks at my temples. "Next is your mother's home." He plants his reading glasses on his nose and finds his place on the document. "One-thirteen Astor Street and all of its contents are to remain intact for twelve months. Neither the structure nor its contents are to be sold or leased during this time. My children may inhabit the home not longer than thirty consecutive days, and are welcome to utilize household items for their personal use." "Seriously?" Joad says, staring at Mr. Midar. "We've got our own homes. There's no need to keep hers." I feel my face burn and turn my attention to my cuticles. Obviously, my brother thinks I'm co-owner of the loft I share with Andrew. Even though I've lived there since Andrew bought it three years ago, and have more money invested in it than he does, I'm not on the title. Technically, it's his. And I'm okay with that, for the most part. Money's never been an issue for me, the way it's been with Andrew. "Bro, it's Mom's will," Jay says, in his usual good-natured tone. "We need to respect her wishes." Joad shakes his head. "Well it's nuts. Twelve months of outrageous taxes. Not to mention the maintenance on the old relic." I shake my head. Joad inherited our father's emotional temperament—decisive, pragmatic, and devoid of sentimentality. His impassive nature can be helpful, like last week when we were making funeral arrangements. But today it feels disrespectful. Left to his own accord, Joad would probably plant a For Sale sign in Mom's yard and a dumpster in her driveway by day's end. Instead, we'll have time to sift through her belongings and thoughtfully say goodbye to pieces of her, one at a time. It's too traditional for Andrew's taste, but it's possible one of my brothers could even decide to keep her treasured property permanently. The same year I left for Northwestern, Mom bought the tumbledown brownstone when it went into foreclosure. My father chided her, told her she was nuts to take on such an enormous project. But he was her ex-husband by then. Mother was free to make her own decisions. She saw something magical beyond the rotted ceilings and smelly carpets. It took years of hard work and self-denial, but eventually her vision and patience prevailed. Today the Nineteenth Century building, located in Chicago's coveted Gold Coast neighborhood, is a showpiece. My mother, the daughter of a steel worker, used to tease that she was like Louise Jefferson, having 'moved on up' from her hometown of Gary, Indiana. I wish my father had lived long enough to witness the spectacular transformation of the house—and the woman—I felt he'd always underestimated. "Are you sure she was of sound mind when she made this will?" Joad asks, interrupting me. I see something conspiratorial in the attorney's grin. "Oh, she was of sound mind, alright. Let me assure you, your mother knew exactly what she was doing. In fact, I've never seen such elaborate planning." "Let's continue," Catherine says, ever the manager. "We'll deal with the house on our own time." Mr. Midar clears his throat. "Okay, shall we move on to Bohlinger Cosmetics now?" My head throbs and I feel four pairs of eyes on me. Yesterday's scene resurfaces and I'm frozen with panic. What kind of CEO gets drunk at her mother's funeral luncheon? I don't deserve this honor. But it's too late now. Like an actress nominated for an Academy Award, I try to make my face a picture of neutrality. Catherine sits with her pen poised, waiting to take down every last detail of the business offering. I'd better get used to it. Subordinate or not, the woman's going to keep watch on me for the rest of my career. "All of my shares of Bohlinger Cosmetics, as well as the title of Chief Executive Officer will go to my daughter—" Act naturally. Keep your eyes off Catherine. "—in-law," I hear, as if I'm hallucinating. "Catherine Humphries-Bohlinger."
view abbreviated excerpt only...
Discussion Questions
1. Have you ever created a life list of your own? Like Lori and Brett, were you lucky enough to come upon it later in life and if so, did you find anything surprising? Have you managed to accomplish the majority of your childhood aspirations? How would your life be different if you'd completed your list in its entirety? After reading this book, are you inspired to revisit and even attempt to realize some of those early goals?
2. Frustrated and discouraged by her mother's final wishes, Brett exclaims, "Life as I know it has just been shredded! And I'm supposed to piece it back together in a way that some ? some kid wanted it to be?" Yet, Elizabeth was sure all along that Brett would emerge as a happier, more contented woman if she did a major overhaul of her life. Do you think the goals we make as children are still valid into adulthood? Would people generally be better off getting back in touch with the things that mattered most to them as adolescents as opposed to the things they think matter most as adults? Is the shedding of our childhood fancies a necessary aspect of growing up, or might we be forsaking a fundamental piece of ourselves in the process?
3. The meaning of family and heredity is a major theme throughout the novel, especially in terms of how the characters view their relatedness. At one point, Joad refers to Brett as Elizabeth's "illegitimate daughter," while he feels disconnected from Austin because she doesn't look like the rest of the family. Meanwhile, Brett grapples with her own issues of paternity concerning Johnny and Charles, which mirrors their sense of affinity, or lack thereof, for her. How would you say family ? "real family," as the characters struggle to define it ? is distinguished within the context of this novel?
4. Elizabeth implies, and Brett eventually realizes, that she abandoned much of the courage and self-assurance she possessed as a girl to strive for acceptance in the eyes of men. Lori herself has said that as a guidance counselor, she has observed this trend manifest in the lives of many girls, who start out with lofty goals only to forsake them in their relationships with the opposite sex. Do you think this is a common occurrence amongst women? Are there other female characters in the novel who have fallen victim to this unfortunate trap, or if not, how have they managed to avoid making the same mistake?
5. Brett's relationship with Jean Anderson, the director of the Joshua House, proves to be quite an eye-opener for her, with Jean adding a dose of grim reality to the naïve, wide-eyed way that Brett has of looking at the world. Discuss how Brett's worldview evolves from the beginning to the end of the novel and the other characters that play a part in this. As Brett asks herself, do you think most of her transformations have been a result of channeling her inner courage, or merely due to stupidity, immaturity, or arrogance, or perhaps a mix of all? Do you think people commonly resist making difficult changes in their lives unless forced to, as Brett was? How do you tackle the obstacles in your own life that might prevent you from arriving at a positive outcome?
6. Motherhood is a central focus in this story. Interestingly, though, Elizabeth, the foremost maternal figure, is deceased before the novel opens, and in many ways, it's the "phantom" mothers and children introduced along the way who play such a pivotal role. What are some of the lessons the characters have learned or you think will eventually learn from the absence of their mother or child? Are there any loved ones in your own life who have similarly conveyed an invaluable message after their passing?
7. In her notes to Brett, Elizabeth imparts wisdom that must necessarily last her daughter a lifetime. What was the most significant lesson you took away from her?
8. Brett abandoned her relationship with Carrie Newsome out of embarrassment and fear that she wouldn't otherwise be accepted by a new clique. Is Brett deserving of Carrie's unfaltering affection and acceptance? Have you ever experienced a similar situation with a friend and if so, were you able to repair the relationship down the road?
9. For much of the novel, Brett worries she might be incapable of being involved in a "normal" relationship, either because she feels unworthy of love or because she's grown accustomed to a certain type of man. When and why does this notion begin to deteriorate and what is it about Garrett that changes everything?
10. Looking back on her journey while in the warm familiarity of what was once her mother's and is now her own home, Brett considers, "Funny how places become people, how this house and her old iron bed still pull me in and offer comfort when I need it." Can you think of any other locales within the novel that take on the persona of a human being? Are there any places in your own life that function in the same manner?
11. What would your life list consist of now?
BECOME A MEMBER
it's free
Join the leading website for book clubs with over 35,000 clubs and 20,000 reading guides.
SEARCH OUR READING GUIDES
Search
JOIN OUR MAILING LIST
Get free weekly updates on top club picks, book giveaways, author events and more
Please wait...