BKMT READING GUIDES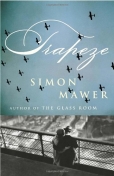 Trapeze

by Simon Mawer
Published: 2012-05-01
Paperback : 384 pages
0 members reading this now
4 clubs reading this now
0 members have read this book
A propulsive novel of World War II espionage by the author of New York Times best seller The Glass Room.

Barely out of school and doing her bit for the British war effort, Marian Sutro has one quality that makes her stand out—she is a native French speaker. It is this that attracts the ...
No other editions available.

Jump to
Introduction
A propulsive novel of World War II espionage by the author of New York Times best seller The Glass Room.

Barely out of school and doing her bit for the British war effort, Marian Sutro has one quality that makes her stand out—she is a native French speaker. It is this that attracts the attention of the SOE, the Special Operations Executive, which trains agents to operate in occupied Europe. Drawn into this strange, secret world at the age of nineteen, she finds herself undergoing commando training, attending a "school for spies," and ultimately, one autumn night, parachuting into France from an RAF bomber to join the WORDSMITH resistance network.
   But there's more to Marian's mission than meets the eye of her SOE controllers; her mission has been hijacked by another secret organization that wants her to go to Paris and persuade a friend—a research physicist—to join the Allied war effort. The outcome could affect the whole course of the war.
   A fascinating blend of fact and fiction, Trapeze is both an old-fashioned adventure story and a modern exploration of a young woman's growth into adulthood. There is violence, and there is love. There is death and betrayal, deception and revelation. But above all there is Marian Sutro, an ordinary young woman who, like her real-life counterparts in the SOE, did the most extraordinary things at a time when the ordinary was not enough.
Editorial Review
Amazon Best Books of the Month, May 2012
: When Marian Sutro is recruited by the Special Operations Executive to become a British spy in Nazi-occupied France, she views it as an adventureâ??a reason to return to her beloved Paris. It quickly becomes apparent that this wonâ??t be a vacation, however, when in training she learns different ways to kill men and is given a cyanide pill to hide in her jacket. And then her first mission becomes two missions--one of which she has to hide from her own team. As Marianâ??or is it Ann-Marie? Or Alice?â??goes deeper undercover, things begin to unravel around her, forcing her to make difficult, life-altering choices.
Trapeze
is a smart, well-paced spy thriller based on the true, extraordinary story of the SOE recruiting French-speaking British women during World War II to go undercover. Marianâ??s journey from a young naïve school-girl to a cunning spy is well-developed and realistic, making her a memorable heroine.
--Caley Anderson
---
A Letter from the Author
Inspiration for Trapeze
In the five years of its existence, the British Special Operations Executive trained and dispatched thousands of agents to work behind enemy lines in almost every theatre of war, from Europe to South East Asia. Living a clandestine life under false identities these men and women were not spies. The role of SOE was destruction, not intelligence--in the famous words of Winston Churchill, they were to â??set Europe ablazeâ??. Since the war particular SOE exploits have gained much attention â?? the attack on the Norwegian heavy water plant in Rjukan and the assassination of Heydrich in Prague being among the best known â?? but it is surely the French operations which capture the imagination, and in particular, the story of the women agents of F Section. Among the western Allies these were the only women to be trained for combat and between 1941 and 1944 fifty women agents of F Section were infiltrated into France. They ranged from the middle-aged to the barely out of school, and covered all manner of types, from Princess Noor Inayat Khan, daughter of an Indian Sufi mystic, to Violette Szabo, a working class cockney girl who was wife of a French Foreign Legionnaire and was a dead shot in fairground shooting ranges. But many were just ordinary women who by accident of birth happened to possess one distinguishing feature: they spoke fluent French. Their stories of the clandestine life are as varied as the women themselves but my personal interest goes back to one womanâ??s story, that of Anne-Marie Walters. I was about ten when my mother passed the book on to me. Battered and well-thumbed and missing its spine, it stands on my bookshelf as I write. The title is
Moondrop to Gascony
and it recounts, in vivid first person, the experiences of the author after she was recruited by SOE in 1943. The reason for my motherâ??s interest was that at the time of her recruitment Anne-Marie was a WAAF (member of the Womenâ??s Auxiliary Air Force), serving alongside my mother at Fighter Command HQ in Stanmore just north of London. Even my father had a connection to this intrepid young woman. During the war he had been a pilot on an RAF special operations squadron flying from Algeria. The role of this squadron was to supply arms and agents to resistance groups in southern Europe. As Anne-Marieâ??s network, code-named WHEELWRIGHT, operated in the southwest of France, it is almost certain that my father dropped supplies to her and her companions. My parents never met up with Anne-Marie after the war--she spent most of her life in France and Spain working as an editor and translator--so my personal connection was always at one remove: being captivated, for as long as I can remember, by the book itself, Anne-Marie Waltersâ??s own remarkable story, narrated with a young woman's élan but tempered with a mature, objective honesty. SOE agents used a field name when they were on operations. Hers was Colette; it is to Colette that I have dedicated my own celebration of the women of SOE.
Excerpt
No Excerpt Currently Available
Weblinks
There are no web links at this time.
BECOME A MEMBER
it's free
Join the leading website for book clubs with over 35,000 clubs and 20,000 reading guides.
SEARCH OUR READING GUIDES
Search
JOIN OUR MAILING LIST
Get free weekly updates on top club picks, book giveaways, author events and more
Please wait...