BKMT READING GUIDES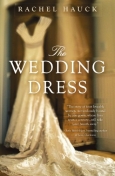 The Wedding Dress

by Rachel Hauck
Published: 2012-04-02
Kindle Edition : 351 pages
10 members reading this now
26 clubs reading this now
8 members have read this book
Recommended to book clubs by 5 of 7 members
From New York Times bestselling author comes The Wedding Dress.
Four brides. One Dress.
A tale of faith, redemption, and timeless love.
Charlotte owns a chic Birmingham bridal boutique. Dressing brides for their big day is her gift . . . and her passion. But with her own wedding day ...
No other editions available.

Jump to
Introduction
From New York Times bestselling author comes The Wedding Dress.
Four brides. One Dress.
A tale of faith, redemption, and timeless love.
Charlotte owns a chic Birmingham bridal boutique. Dressing brides for their big day is her gift . . . and her passion. But with her own wedding day approaching, why can't she find the perfect dress…or feel certain she should marry Tim?
Then Charlotte discovers a vintage dress in a battered trunk at an estate sale. It looks brand-new—shimmering with pearls and satin, hand-stitched and  timeless in its design. But where did it come from? Who wore it? Who welded the lock shut and tucked the dog tags in that little sachet? Who left it in the basement for a ten-year-old girl? And what about the mysterious man in the purple vest who insists the dress had been "redeemed."
Charlotte's search for the gown's history—and its new bride—begins as a distraction from her sputtering love life. But it takes on a life of its own as she comes to know the women who have worn the dress. Emily from 1912. Mary Grace from 1939. Hillary from 1968. Each with her own story of promise, pain, and destiny. And each with something unique to share. For woven within the threads of the beautiful hundred-year-old gown is the truth about Charlotte's heritage, the power of courage and faith, and the timeless beauty of finding true love.
"The story of four loveable women, miraculously bound by one gown, whose lives span a century . . . will take your breath away." —Beth Webb Hart, bestselling author of Love, Charleston
Excerpt
Chapter One Charlotte April 14 It was the breeze, a change in the texture of the unseen that made her look up and walk around a stand of shading beech trees. Charlotte paused on the manicured green of the Ludlow Estate for a pure, deep breath, observing the elements of the day—blue sky, spring trees, sunlight bouncing off the parked-car windshields. She'd woken up this morning with the need to think, to pray, to get closer to heaven. She'd tugged on her favorite pair of shorts and driven up to the ridge. But instead of solitude, Charlotte found her piece of Red Mountain busy and burdened with shoppers, seekers, and bargain hunters. The annual Ludlow antiques auction to raise money for the poor was in full force on the estate's luscious grounds. Charlotte raised her sunglasses to the top of her head, resenting the intrusion. This was her personal sanctuary, even if the rest of the world didn't know it. Mama used to bring her here for picnics, parking on a gravel service road and sneaking Charlotte along the Ludlows' perimeter, laughing and whispering, "Shh," as if they were getting away with something fun and juicy. She'd find a spot on the back side of a knoll, spread a blanket, open a bucket of chicken or a McDonald's bag, and exhale as she looked out over the valley toward the Magic City. "Isn't it beautiful?" "Yep," Charlotte always said, but her eyes were on Mama, not Birmingham's lights. She was the most beautiful woman Charlotte had ever seen. And almost eighteen years after her death, she still was the most beautiful woman Charlotte had ever seen. Mama had a way of just being, but she died before she imparted that gift to Charlotte. Shouts invaded Charlotte's memorial moment with Mama. Bidders and buyers moved in and out from under the auction tent spread across the side lawn. Shading her eyes from the angled sunlight, Charlotte stood in the breeze, watching, deciding what to do. Go back home or walk the grounds? She didn't need or want anything that might be under that tent. Didn't have the money to buy even if she did. What she needed was to think through—pray about—her recent tensions with Tim's family. His sister-in-law Katherine specifically. The whole mess challenged her to reconsider the leap she was about to make. As Charlotte turned toward her car, the wind bumped her again and she glanced back. Through the trees and beyond the tent, the second-floor windows of the Ludlow stone-and-glass mansion shone with the golden morning light and appeared to be watching over the proceedings on the ground. Then the wind shifted the light, a shadow passed over the window, and the house seemed to wink at her. Come and see ... "Hey there." A lofty woman's voice caused Charlotte to turn around. "You're not leaving already, are you?" She lugged up the slope of the lawn with a box in her hands. Charlotte recognized her. Not by name or face, but by aura. One of the classic Southern women that populated Birmingham. Ones with dewy skin, pressed slacks, cotton tops, and a modest string of pearls. She stopped by Charlotte, breathless. "You've not even gone up to the auction tent. I saw you pull in, sweetie. Now, come on, we've beautiful items for auction. Is this your first time here?" She dipped into the box and pulled out a catalog. "Had to run to my car to get more. We're busy, busy this year. Well, you can see that by the cars. Remember now, all the proceeds go to the Ludlow Foundation. We give millions in grants and scholarships around the city." "I've admired the foundation for quite a while." Charlotte flipped through the catalog. "I'm Cleo Favorite, president of the Ludlow Foundation." She offered Charlotte her hand. "You're Charlotte Malone." Charlotte regarded Cleo for a moment, slowly shaking the woman's hand. "Should I be impressed you know me or run screaming back to my car?" Cleo smiled. Her teeth matched her pearls. "My niece was married last year." "I see. She bought her dress from my shop?" "She did, and for a while, I believed she was more excited about working with you than marrying her fiancé. Quite a business you have there." "I've been very fortunate." More than any poor, orphaned girl dreamed. "Who is your niece?" "Elizabeth Gunter. She married Dylan Huntington." Cleo started toward the tent. Charlotte followed so as not to be rude. "Of course, I remember Elizabeth. She was a beautiful bride." "And she wanted the whole wide world to know it." Cleo laughed with a pop of her hand against the breeze. "She darn near sent my brother to the poorhouse. But you only get married once, right?" "I hear that's the idea." Charlotte touched her thumb to the shank of her engagement ring—the reason she'd driven up here today. She paused at the edge of the tent. "So, Charlotte, are you looking for any particular item? Something for your shop?" Cleo dropped the box of catalogs on a table and started down the main aisle as if she expected Charlotte would follow. "We have some beautiful wardrobes for sale. The catalog tells you the lot number, when and where to bid. The auctioneer just moves to the piece. We found that to be easier than—well, what does any of that matter? It's a great auction and it runs smoothly. Tell me, what are you looking for?" Cleo tipped her head to one side and clasped her hands together at her waist. Charlotte stepped under the tent's shade. "Actually, Cleo,"—I came up here to think—"my bridal shop is strictly contemporary." Charlotte rolled the catalog in her hand. "But I guess browsing is always fun." She could walk the aisles to think and pray, right? "Why sure it is. You're bound to find something you like as you ... browse." Cleo winked. "It works best if you go ahead and give yourself permission to spend some of your hard-earned money." "I'll keep that in mind." Cleo trotted off and Charlotte picked a side aisle to wander, examining the pieces as if the answer she longed for might be lurking among the ancients and the antiques. Maybe she'd hear, He's the one, as she passed a twentieth-century breakfront or a nineteenth-century wardrobe. But probably not. Answers didn't often just appear to her out of the ethereal realm. Or drop on her suddenly. She worked for her life answers. Just rolled up her sleeves, evaluated the situation, calculated costs, and decided. She'd have never opened Malone & Co. otherwise. Charlotte paused in front of a dark wood foyer table and traced her fingers over the surface. Gert had one like this in her foyer. Wonder what ever happened to it? Charlotte bent to see if the underside had been marked with a red magic marker. It hadn't. Charlotte moved on. That table wasn't Gert's. Oh, she'd been so mad when she discovered her niece had run amuck with that red pen. At the end of the aisle, Charlotte halted with a sigh. She should head back down to the city. Her hair appointment was in a few hours anyway. Instead, she started down the next aisle, let her thoughts wander to Tim and the struggle in her heart. Four months ago she'd been perfectly ensconced in her steady, predictable, comfortable day-to-day life. Then the contractor who remodeled her shop harangued her into accepting his Christmas dinner invitation. He seated her next to Tim Rose and changed Charlotte's life. A dull, tired rolltop desk caught her eye. Charlotte stopped in front of it and smoothed her hand along the surface. If the grain could talk, what stories would it tell? Of a husband figuring the family finances? Or of a child working through a homework problem? Of a mama writing a letter to the folks back home? How many men and women sat at this desk? One or hundreds? What were their hopes and dreams? One piece of furniture surviving time. Was that what she wanted? To survive, to be a part of something important? She wanted to feel like she belonged to the Rose family. Katherine certainly didn't make Charlotte feel like a part of the gregarious collection of siblings, aunts, uncles, cousins, and lifelong friends. On their first date when Tim told Charlotte he had four brothers, she couldn't even imagine what that felt like. It sounded thrilling. She drilled him with question after question. Charlotte only had Mama. Then old Gert when Mama died. She'd never lived with a sibling, let alone four of them. Let alone a boy. Was that why she accepted Tim Rose's proposal after two months? Fascination? At the moment, she wasn't sure her reason was love. She wasn't even sure it was to be part of a big family. Charlotte glanced down at the one-carat diamond filigree and platinum engagement ring that had belonged to Tim's grandmother. But the ring had no answers. She had no answers. "Charlotte Malone?" A round, pleasant-looking woman approached her from the other side of a dining table. "I read about you in Southern Weddings. You look like your picture." "I hope that's a good thing." Charlotte smiled. "Oh, it is. Your shop sounds magical. Made me wish I was getting married again." "We hit a lucky break with that piece." When the editor called last fall, it was the last in a wash of fortunate waves breaking Charlotte's way. "I've been married thirty-two years and I read Southern Weddings about as religiously as the Good Book. I just love weddings, don't you?" "I certainly love wedding dresses," Charlotte said. "I suppose you do." The woman's laugh lingered in the air as she said good-bye and moved on, touching Charlotte's arm gently as she passed. She did love wedding dresses. Since she was a girl, the satin and sheen of white gowns practically made her giddy. She loved the way a bride's face changed when she slipped on the perfect gown, the way her hopes and dreams swam in her eyes. In fact, she was on the verge of her own transformation—slipping on the perfect gown, hopes and dreams swimming in her eyes. So what was the problem? Why the holdout? She'd considered fifteen dresses, tried on none. June 23 would be here before she knew it. A year ago February, she was barely getting by, investing all her capital in inventory while duct-taping her shop—a 1920s Mountain Brook cottage—together. Then an anonymous bank check to the tune of a hundred thousand dollars landed in her account. After weeks of panicked elation trying to find out who would give her so much money, Charlotte redeemed her gift and finally, finally remodeled her shop. And everything changed. Tawny Boswell, Miss Alabama, became a client and put her on the map. Southern Weddings called. Then, as if to put a bow on the year, Charlotte attended the Christmas dinner and sat next to a handsome man who charmed everyone in the room. By the time she'd finished her first course of oyster soup, Tim Rose had captured her heart too. The feathery kiss of destiny sent a shiver over her soul as the breeze rushing over the mountaintop tapped her legs. Did she smell rain? Dipping her head to see beyond the lip of the tent, Charlotte saw nothing but the glorious sun possessing a crystal blue sky. Not one vanilla cloud in sight. She started down the next aisle and her phone buzzed from her jeans pocket. Dixie. "Hey, Dix, everything okay at the shop?" "Quiet. But Tawny called. She wants to meet with you tomorrow at three." Sunday? "Is everything all right? Did she sound okay? Like she was still happy with us?" Charlotte had spent months trying to find the perfect gown for Miss Alabama, lying awake at night, whispering to the God of love to help her fulfill Tawny's dreams. Then she discovered a new, small designer out of Paris and Charlotte knew she'd found her own brand of white-silk gold. "Call her back and tell her tomorrow is fine. Do we have crackers and cheese in the refreshment bar? Coffee, tea, water, and soda?" "We're all stocked. Tawny seemed enthusiastic, so I don't think she's going to tell you she's going with another shop." "How long have we been working in the bridal gown business together, Dix?" "Five years, ever since you opened this place." Dix, forever pragmatic and calm. "And how many times have we lost a customer at the last minute?" Even after countless hours of scouring designers to find the perfect gown. "We didn't know what we were doing then. We're the experts now," Dixie said. "You know very well it has nothing to do with us. Listen, I'll call Tawny and tell her we'd be happy to see her tomorrow." "Already told her. Didn't think you'd want to turn her down." Dixie's voice always carried the weight of confidence. She was a godsend. Support beams for Charlotte's dream. "So, where are you anyway, Char?" "Up on Red Mountain. At the Ludlow estate. I came up here to think but ran into the annual auction crowd. I'm wandering among the antiques as we speak." "People or things?" Charlotte grinned, scanning the gray heads among the aisles. "A little of both." She paused in front of a locked glass of jewels. Unique pieces were the perfect accent for her brides. Charlotte maintained an inventory of one-of-a-kind necklaces, earrings, bracelets, and tiaras. It was the small things that helped seal her success. "Speaking of weddings," Dixie said low and slow. "Were we?" "Aren't we always? Your wedding invitations are still on the storeroom desk, Charlotte. Do you want me to bring them home tonight?" Dix and her husband, Jared, Dr. Hotstuff as she called him, lived in the Homewood loft next door to Charlotte. "Wait ... really? They're still on the storeroom desk? I thought I took them home." "If you did, they walked back." "Ha, ha, funny girl you are, Dixie. Yeah, sure, bring them home. I can work on them tomorrow after church. I need to see if Mrs. Rose has a guest list for Tim's side—" "You're meeting with Tawny at three." "Right, okay, after I meet with her. Or I can work on them Monday night. I don't think I have anything Monday night." "Charlotte, can I ask you something?" "No—" "You're getting married in two months and—" "I've just been busy, Dixie, that's all." Charlotte knew where her friend was going with her inquiry. Charlotte had been asking herself the same questions for weeks now, and the need for answers drove her up the mountain today. "I've got time." "But it's running out." She knew. She knew. "We should've picked a fall wedding date. Fast engagement, fast wedding ... it has me spinning." "Tim is an amazing man, Charlotte." She knew. She knew. But was he amazing for her? "Listen, I'd better go. I need to get back down the mountain in a few minutes so I can get my hair done. Call you later." "Have fun tonight, Charlotte. Don't let Katherine get to you. Tell her to bug off. Just be there with Tim. Remember why you fell in love in the first place." (Continues...) Excerpted from The WEDDING DRESS by RACHEL HAUCK Copyright © 2012 by Rachel Hauck. Excerpted by permission of Thomas Nelson. All rights reserved. No part of this excerpt may be reproduced or reprinted without permission in writing from the publisher. Excerpts are provided by Dial-A-Book Inc. solely for the personal use of visitors to this web site.
view abbreviated excerpt only...
Discussion Questions
Who was the man in purple? What does he signify to you? Is
there a "man in purple" in your life? Charlotte is so close to
her own situation, she can't see what's in front of her: the
wedding dress. Are you aware of those thin-veil God
moments where the supernatural impacts the natural? How
can you be more aware of Jesus interacting with you?
2. Emily struggles with the rules of her society. She wants to
be vocal; she wants to pursue her own desires. What might
Emily have done to speak out against the convict leasing
injustice? What can you do to speak against true injustice?
3. Charlotte and Tim had a whirlwind courtship. For a moment,
it seemed like they wouldn't make it. But love triumphed. Is
there a similar time in your life when love triumphed sorrow
or injustice?
4. Hillary faced the most devastating heartbreak: losing her
husband to war. What did you think of the way she
responded? What would you have done different / the same?
Do you know anyone who is struggling with this reality?
How can you support her?
5. Mary Grace is a woman of faith. How did her quiet humility
impact her father? Is there a time to be silent and just let the
Spirit work in another person? How can you be successful at
guarding your tongue?
In the midst of Hillary reliving her pain over losing Joel,
Charlotte challenges her, "What if marrying Joel was not
about you, but him?" We tend to believe everything we do
in life pertains to us personally. Would you be willing to do
something for someone if there was nothing in it for you?
How can we live out this reality in every day life? Consider
Jesus dying on the Cross as our highest example.
7. Charlotte learns she's not an orphan, but a descendent of a
marvelous woman. What does this knowledge unlock in her
heart? How would you have responded to such news?
8. In the wedding ceremony, Thomas talks about the dress being
like the Gospel—it never fades, is always in style, never needs
to be altered, and it fits everyone who tries it on. We see a lot
of "tweaking" of the Gospel today to "fit our needs." Where
have you allowed the truth of the Gospel to be altered to fit
your own needs or desires? How can we remain faithful and
true to the simplicity of Jesus' Gospel?
9. Tim sells his motocross bikes. What does this symbolize in
his life? What change took place in his heart? Is there
something you're hanging on to, good or bad, that you need
to release to the Lord?
10. The affair Charlotte's birth father had with her mother nearly
ruined his marriage. In order to heal his
relationship with his wife, he gave up being Charlotte's father.
We see in this how sin complicates the good things God gives
us: marriage, children, love. What should Colby have done
to show honor in this situation? Is there a situation you're
facing where honor will cause healing—if not for yourself, for
others?
11. Weddings are a joy! Discuss a happy memory from your wedding,
or the wedding you hope to have one day.
Suggested by Members
Who was the man in purple?
How did you feel when you found out that mrs Ludlow had keep the truth of who Charlotte was?
Have any of your munbers ever wore their mom's dress for their wedding dress too
by Alieda
(see profile)
07/06/17
Book Club Recommendations
Recommended to book clubs by 5 of 7 members.
Romantic foods
by Alieda (see
profile
) 07/06/17
How about a wedding cake not a super coastly one just a two alyer white cake with stawberry filling. Some sprikleing grape juice.
Really good read
by kimloves2read (see
profile
) 07/06/14
Our group picked this book for a summer read and it was perfect for that. I think there is someone in each of the characters that you can identify with and apply the lessons learned to your life.
BECOME A MEMBER
it's free
Join the leading website for book clubs with over 35,000 clubs and 20,000 reading guides.
SEARCH OUR READING GUIDES
Search
JOIN OUR MAILING LIST
Get free weekly updates on top club picks, book giveaways, author events and more
Please wait...