BKMT READING GUIDES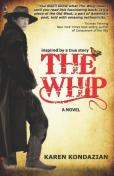 The Whip

by Karen Kondazian
Published: 2012-01-01
Paperback : 302 pages
16 members reading this now
67 clubs reading this now
8 members have read this book
Recommended to book clubs by 14 of 15 members
2014 Readers Favorite- Gold Medal Prize -Winner Best Western Fiction
2013 International Book Award- first place -Winner Best Western Fiction,
2013 National Indie Excellence Award -first place-Best Western fiction
2013 Global Ebook Awards first place-Winner Best Historical Fiction
2012 USA ...
No other editions available.

Jump to
Introduction
2014 Readers Favorite- Gold Medal Prize -Winner Best Western Fiction
2013 International Book Award- first place -Winner Best Western Fiction,
2013 National Indie Excellence Award -first place-Best Western fiction
2013 Global Ebook Awards first place-Winner Best Historical Fiction
2012 USA Best Book Award- first place- Winner Best Western Fiction
First Place Goodreads Contest: "Best Book to be made into a Film"
"Top 12 Best Western Books"--Goodreads Contest

The Whip is inspired by the true story of a woman, Charlotte "Charley" Parkhurst (1812-1879) who lived most of her extraordinary life as a man in the old west. As a young woman in Rhode Island, she fell in love with a runaway slave and had his child. The destruction of her family drove her west to California, dressed as a man, to track the killer.

Charley became a renowned stagecoach driver for Wells Fargo. She killed a famous outlaw, had a secret love affair, and lived with a housekeeper who, unaware of her true sex, fell in love with her. Charley was the first known woman to vote in America in 1868 (as a man). Her grave lies in Watsonville, California.
This book contains strong language
Excerpt
Chapter 6 Dr. Tom Jarvis, MD and DVM, seemed to be a bit of a bit of a loner for a doctor, judging by his office – an unprepossessing shack on the outskirts of town. All the better for Charley, of course. She stopped in the dirt road out front and slumped over to one side on her horse, paused there for a long time trying to catch her breath and calculate the odds of the thing. She couldn't see any way around it. She reluctantly got down from her horse, gasping with pain, and went inside. Dr. Jarvis was a round man in his fifties with the pink, spidery veins of a confirmed drinker. Charley stood next to the wooden examining table as the doctor made some notes. "Now, take off your shirt, sit down and let's have a look," he said. She was expecting this. "I told you what it is," she said. "I got drug by a six-team and busted my sides in. Give me some tape and something for the pain, and I'll be on my way." "I'm the doctor here. You need help. Would you be letting me drive that stagecoach of yours, Mister" – he looked down at his notes- "Parkhurst? You stick to your job and allow me to do mine." He held Charley's gaze unflinching, until with a deep sigh she unbuttoned her shirt, exposing the dirty bindings that covered her breasts. Dr. Jarvis stared. "What the hell is that?" She removed her shirt and almost defiantly began to loosen the strips of cloth from around her breasts. She winced in pain. The doctor offered a brown bottle, "Here. Take a couple of slugs of this." She took a grateful drink. Then she took another and handed back the bottle. The pain was making her nauseous. Dr. Jarvis lifted the bottle up for a slug of his own. She resumed unwrapping herself, prepared for the doctor's shocked expression, the crude exclamation that would ensue, the joke maybe, and then, worst of all, questions. The idea of someone wanting to know the whys and wherefores about her history frightened her, and she almost lost courage. But when she arrived at the inmost layer and revealed the contours of her breasts, the doctor made no visible reaction. "Okay," he said. He placed his hands on her rib cage and palpated, causing her to groan. "One…two…and three. You busted three. You're damn lucky though Mr. Parkhurst…your own bandages helped you from breaking more. Now, you want me to tape you up, or you still want to do it yourself?" "Go ahead," she said. Afterward, her ribs taped, strips of cloth back in place over her breasts, her shirt back on, she began, "Uh…Doc, I'd appreciate it if-" "I respect your privacy. Not a word to anyone. But you're not the only one, you know." She looked up. "Who? Here? In these parts?" "Yep…in these parts, and other parts as well. Nothing to worry about…nothing unusual. Hell, most people wouldn't see a grasshopper if it landed on their nose. Sure, I guess a few folks might surmise the truth about you fellas but I guess they figure it's live and let live...You must know what I mean yourself." Dr. Jarvis took another swig of his brown bottle and then seeing Charley's incredulous eyes, offered her some as well. "Finish it up. You've had a hard day." She took the bottle in a kind of haze and downed the liquid without even tasting it. It was stunning, this revelation. Dr. Jarvis handed her a bottle of laudanum. 'Not more than four times a day." She paid her bill. Starting towards the door, she turned and said, "Thanks Doc. For…everything." As she rode home, her thoughts were drifting….hard to focus. Damn…there were others like her. All that hiding. Fear of being discovered. And is it possible that some folks might know? How the hell could they know? Smell us out like an animal or maybe they actually looked at another human being. Unbelievable. She was not alone…there were others. For some strange reason this was comforting, soothing and also very funny. If she was not hurting so much she would be laughing out loud. Was that why Edmund kept staring at her? Maybe he knew. She was going to drive herself crazy thinking about all this…one hinge short of a nuthouse door if she wasn't careful. And what could she do about it anyway. What she needed to do was just get into her bed and mend.
view abbreviated excerpt only...
Discussion Questions
From the author:
-1) The river or theme that runs through "The Whip" is the question regarding forgiveness... What would you do if someone destroyed the person you love most? Could you forgive them..? And if not, what would you do?
2) The book is also about strength and survival and putting your arms around life, no matter what life gives you - to make something 'good' out of it. Do you believe that "in every problem there is a 'gift' in it's hand, and that we create the problem because we need the 'gift'?" Give examples of this to be true in your own life. What gifts did Charley discover in her life that came out of her suffering? How did it change her?
3) As a woman in the Old West, it was impossible to live your dreams - unless you were happy to be a wife, teacher (only if you could read) or prostitute. Knowing your own personal dreams---could you have survived as some women did, living part or all of your life as a man in exchange for the freedom that men had then? Could you have kept that secret and handled the loneliness and emotional isolation that that kind of life engendered?
4) If Charley didn't put on 'britches' and go to California to track down Lee, what do you think might have happened to her?
5) Who were your favorite characters in the book and why?
6) What did you take away from the book to perhaps inspire you to go after a secret dream you've hidden away?
Suggested by Members
One member did internet research on Charlie Parkhurst's real life or what is possibly known.
What jobs were only available to women during that time and how things have changed.
by smokey1
(see profile)
03/17/16
Do you feel Lee molested Charlotte or crossed the line with her when she was still very young while in the orphanage?
How does Charlie's life compare to those who cross-dress today?
by v2valenta
(see profile)
05/04/15
BECOME A MEMBER
it's free
Join the leading website for book clubs with over 35,000 clubs and 20,000 reading guides.
SEARCH OUR READING GUIDES
Search
JOIN OUR MAILING LIST
Get free weekly updates on top club picks, book giveaways, author events and more
Please wait...