BKMT READING GUIDES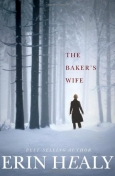 The Baker's Wife

by Erin Healy
Published: 2011-10-04
Kindle Edition : 352 pages
5 members reading this now
3 clubs reading this now
2 members have read this book
Recommended to book clubs by 1 of 2 members
Before Audrey was the baker's wife, she was the pastor's wife.
Then a scandalous lie cost her husband a pastoral career. Now the two work side-by-side running a bakery, serving coffee, and baking fresh bread. But the hurt still pulls at Audrey.
Driving early one morning to the bakery, ...
No other editions available.

Jump to
Introduction
Before Audrey was the baker's wife, she was the pastor's wife.
Then a scandalous lie cost her husband a pastoral career. Now the two work side-by-side running a bakery, serving coffee, and baking fresh bread. But the hurt still pulls at Audrey.
Driving early one morning to the bakery, Audrey's car strikes something—or someone—at a fog-shrouded intersection. She finds a motor scooter belonging to a local teacher. Blood is everywhere, but there's no trace of a body.
Both the scooter and the blood belong to detective Jack Mansfield's wife, and he's certain that Audrey is behind Julie's disappearance.
But the case dead-ends and the detective spirals into madness. When he takes her family and some patrons hostage at the bakery, Audrey is left with a soul-damaged ex-con and a cynical teen to solve the mystery. And she'll never manage that unless she taps into something she would rather leave behind—her excruciating ability to feel other's pain.
Excerpt
c h a p t e r 1 March The day audrey took a loaf of homemade rosemary-potato bread to Cora Jean hall was the day the fog broke and made way for spring. audrey threw open the curtains closest to the dying wom- an's bedside, glad for the sunshine after months of gray light. audrey moved quietly down the hall into the one-man kitchen, where she sliced the bread into toast, brewed tea, then leaned out of the cramped space to offer some to Cora Jean's husband, harlan. he refused her without thanks and without looking up from his forceful tinkering with an old two-way radio. Over the past month, his collection of CBs and receivers had overtaken the small living room. his grieving had started long ago and was presently in the angry stage. Clearly, he loved his wife. The retired pharmacist dispensed her medications with faithful preci- sion but didn't seem to know what else to do. if not for the radios, audrey believed, he might have wandered the house helplessly and transformed from smoldering to explosive. as audrey arranged the snack on a tray, one of her earrings slipped out of her lobe and clattered onto a saucer, just missing the hot tea. she rarely wore this pair because one or the other was always falling out, but Cora Jean liked the dangling hearts with a rose in the middle of each. The inexpensive jewelry had been a gift to the women of the church on Mother's Day last year. she put the earring back in her ear, then carried the tray to Cora Jean's room, settled onto an old dining room chair by the bed, and steered their conversation toward happy topics. Cora Jean was dying of pancreatic cancer, the cancer best known for being unsurvivable. audrey sat with the woman in the late stages of her illness for many reasons: because she believed that people who suffered shouldn't be left alone; because she was a pastor's wife and embraced this privilege that came with the role; because Cora Jean reminded audrey of her own beloved mother. she also went to the woman's home because she couldn't not go. in the most physical, literal sense, audrey was regularly guided there, directed by an unseen arm, weighty and warm, that encircled her shoulders and turned her body toward the halls' house every week or so. a voice audible only to her own ears would whisper, Please don't leave me alone today. it was no pitiful sound, and audrey never resented it, though from time to time it surprised her. in these moments she thought, though she had never dared to try it, that if she applied her foot to the gas pedal and took her hands off the wheel, her car would take her wherever God wanted her to be.
view abbreviated excerpt only...
Discussion Questions
From the publisher:
1. What are some of the ways in which Geoff and Audrey's bakery is like a church?
2. When God directs Audrey to comfort others, she's assured of his guidance and protection, but sometimes she resists his prompting. Why is it sometimes hard to be compassionate? What obstacles hinder Audrey from entering the suffering of people like Julie?
3. What are the risks of ignoring God's call to compassion?
4. What is in Jack's philosophy that causes him to judge everyone in his life so harshly? Is he wrong to expect God to reward righteousness and punish sin?
5. How do Audrey and Jack represent a human understanding of mercy and justice? Can the two co-exist? How might God's mercy and justice be different from our human versions?
6. Jack responds to crisis by trying to seize more control over it. Geoff responds by submitting to the crisis and trusting God. Describe the strengths and drawbacks of each approach. How is Ed's reaction a combination of these?
7. How do the characters in the bakery show support for each other? What advantage does this give them over Jack as the hostage situation progresses?
8. Julie had the capacity for empathy at some point in her life—she showed longsuffering kindness to Diane, the Halls, Coach, Leslie, and others. How was this good quality stripped away from her and replaced with such a strong desire to inflict pain on her family? Was there any way she could have averted the disaster? Why wasn't her rescue by Audrey, Diane, and Miralee enough?
9. Compare the Bofingers' marriage to the Mansfields' marriage. How are Ed and Miralee directly impacted by their parents' values?
10. What did Diane learn from Audrey about redemption and forgiveness?
11. Have you ever failed to express compassion to someone who seemed to need it? What stopped you? Would you do it differently next time? On the flip side, have you ever had a memorable experience supporting someone emotionally? What difference did your empathy make?
BECOME A MEMBER
it's free
Join the leading website for book clubs with over 35,000 clubs and 20,000 reading guides.
SEARCH OUR READING GUIDES
Search
JOIN OUR MAILING LIST
Get free weekly updates on top club picks, book giveaways, author events and more
Please wait...