BKMT READING GUIDES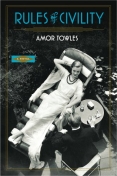 Rules of Civility: A Novel

by Amor Towles
Published: 2011-07-26
Hardcover : 352 pages
194 members reading this now
304 clubs reading this now
119 members have read this book
Recommended to book clubs by 49 of 56 members
The New York Times bestselling novel that "enchants on first reading and only improves on the second" (The Philadelphia Inquirer)
This sophisticated and entertaining first novel presents the story of a young woman whose life is on the brink of transformation. On the last night of 1937, ...
No other editions available.

Jump to
Introduction
The New York Times bestselling novel that "enchants on first reading and only improves on the second" (The Philadelphia Inquirer)
This sophisticated and entertaining first novel presents the story of a young woman whose life is on the brink of transformation. On the last night of 1937, twenty-five-year-old Katey Kontent is in a second-rate Greenwich Village jazz bar when Tinker Grey, a handsome banker, happens to sit down at the neighboring table. This chance encounter and its startling consequences propel Katey on a year-long journey into the upper echelons of New York society—where she will have little to rely upon other than a bracing wit and her own brand of cool nerve. With its sparkling depiction of New York's social strata, its intricate imagery and themes, and its immensely appealing characters, Rules of Civility won the hearts of readers and critics alike.
Editorial Review
Amazon Best Books of the Month, August 2011
Set during the hazy, enchanting, and martini-filled world of New York City circa 1938,
Rules of Civility
follows three friends--Katey, Eve, and Tinker--from their chance meeting at a jazz club on New Year's Eve through a year of enlightening and occasionally tragic adventures. Tinker orbits in the world of the wealthy; Katey and Eve stretch their few dollars out each evening on the town. While all three are complex characters, Katey is the story's shining star. She is a fully realized heroine, unique in her strong sense of self amidst her life's continual fluctuations. Towles' writing also paints an inviting picture of New York City, without forgetting its sharp edges. Reminiscent of Fitzgerald,
Rules of Civility
is full of delicious sentences you can sit back and savor (most appropriately with a martini or two).
--Caley Anderson
A sophisticated and entertaining debut novel about an irresistible young woman with an uncommon sense of purpose.
Set in New York City in 1938,
Rules of Civility
tells the story of a watershed year in the life of an uncompromising twenty-five-year- old named Katey Kontent. Armed with little more than a formidable intellect, a bracing wit, and her own brand of cool nerve, Katey embarks on a journey from a Wall Street secretarial pool through the upper echelons of New York society in search of a brighter future.
The story opens on New Year's Eve in a Greenwich Village jazz bar, where Katey and her boardinghouse roommate Eve happen to meet Tinker Grey, a handsome banker with royal blue eyes and a ready smile. This chance encounter and its startling consequences cast Katey off her current course, but end up providing her unexpected access to the rarified offices of Conde Nast and a glittering new social circle. Befriended in turn by a shy, principled multimillionaire, an Upper East Side ne'er-do-well, and a single-minded widow who is ahead of her times, Katey has the chance to experience first hand the poise secured by wealth and station, but also the aspirations, envy, disloyalty, and desires that reside just below the surface. Even as she waits for circumstances to bring Tinker back into her orbit, she will learn how individual choices become the means by which life crystallizes loss.
Elegant and captivating,
Rules of Civility
turns a Jamesian eye on how spur of the moment decisions define life for decades to come. A love letter to a great American city at the end of the Depression, readers will quickly fall under its spell of crisp writing, sparkling atmosphere and breathtaking revelations, as Towles evokes the ghosts of Fitzgerald, Capote, and McCarthy.
Amor Towles's Rules of Civility Playlist
You can listen to the playlist here.
While jazz is not central to the narrative of Rules of Civility, the music and its various formulations are an important component of the bookâ??s backdrop.
On the night of January 16, 1938, Benny Goodman assembled a bi-racial orchestra to play jazz to a sold-out Carnegie Hall--the first jazz performance in the hallowed hall and one which is now famous for bringing jazz (and black performers) to a wider audience. I am not a jazz historian, but for me the concert marks something of a turning point in jazz itself--from the big-band, swing-era sound that dominated the 1930s (and which the orchestra emphasized on stage that night) towards the more introspective, smaller group styles that would soon spawn bebop and its smoky aftereffects (ultimately reaching an apogee with Miles Davisâ??s Kind of Blue in 1957). For it is also in 1938 that Coleman Hawkins recorded the bebop antecedent "Body & Soul" and Mintonâ??s Playhouse, one of the key bebop gathering spots, opened in Harlem. By 1939, Blue Note Records was recording, and Dizzy Gillespie, Charlie Parker and Thelonious Monk were all congregating in New York City. From 1935-1939, Goodman himself was stepping out of the big-band limelight to make more intimate improvisational recordings with a quartet including Gene Krupa and Lionel Hampton.
My assertion of this as a turning point (like most such assertions) is rough, inexact and misleading, but it helps give shape to an evolution and bring into relief two ends of a jazz spectrum. On the big-band front, the power of the music naturally springs from the collective and orchestration. In numbers like "Sing, Sing, Sing," the carefully layered, precisely timed waning and waxing of rhythm and instrumentation towards moments of unified musical ecstasy simply demand that the audience collaborate through dance, cheers, and other outward expressions of joy. While in the smaller groups of bebop and beyond, the expressive power springs more from the soloist and his personal exploration of the music, his instrument, and his emotional state at that precise moment in time. This inevitably inspires in the listener a cigarette, a scotch, and a little more introspection. In a sense, the two ends of this jazz spectrum are like the public/private paradox of Walker Evansâ??s subway photographs (and of life in the metropolis itself.)
If you are interested, I have created an playlist of music from roughly 1935-1945 that spans this transition. The playlist is not meant to be comprehensive or exact. Among other items, it includes swinging live performances from Goodmanâ??s Carnegie Hall Concert as well as examples of his smaller group work; there are precursors to bebop like Coleman Hawkins and some early Charlie Parker. As a strange historical footnote, there was a strike in 1942â??1944 by the American Federation of Musicians, during which no official recordings were made. As such, this period at the onset of bebop was virtually undocumented and thus the records of 1945 reflect something of a culmination of early bebop rather than its starting point. The playlist also reflects the influence of the great American songbook giants (Cole Porter, Duke Ellington, Irving Berlin, Rodgers & Hart, the Gershwins), many of whom were at the height of their powers in the 1930s. --Amor Towles
Listen to the playlist
Excerpt
It was the last night of 1937. With no better plans or prospects, my roommate Eve had dragged me back to The Hotspot, a wishfully named nightclub in Greenwich Village that was four feet underground. From a look around the club, you couldn't tell that it was New Year's Eve. There were no hats or streamers; no paper trumpets. At the back of the club, looming over a small empty dance floor, a jazz quartet was playing loved-me-and-left-me standards without a vocalist. The saxophonist, a mournful giant with skin as black as motor oil, had apparently lost his way in the labyrinth of one of his long, lonely solos. While the bass player, a coffee-and-cream mulatto with a small deferential mustache, was being careful not to hurry him. Boom, boom, boom, he went, at half the pace of a heartbeat. The spare clientele were almost as downbeat as the band. No one was in their finery. There were a few couples here and there, but no romance. Anyone in love or money was around the corner at Café Society dancing to swing. In another twenty years all the world would be sitting in basement clubs like this one, listening to antisocial soloists explore their inner malaise; but on the last night of 1937, if you were watching a quartet it was because you couldn't afford to see the whole ensemble, or because you had no good reason to ring in the new year. We found it all very comforting. We didn't really understand what we were listening to, but we could tell that it had its advantages. It wasn't going to raise our hopes or spoil them. It had a semblance of rhythm and a surfeit of sincerity; it was just enough of an excuse to get us out of our room and we treated it accordingly, both of us wearing comfortable flats and a simple black dress. Though under her little number, I noted that Eve was wearing the best of her stolen lingerie. Eve Ross . . . Eve was one of those surprising beauties from the American Midwest. In New York it becomes so easy to assume that the city's most alluring women have flown in from Paris or Milan. But they're just a minority. A much larger covey hails from the stalwart states that begin with the letter I—like Iowa and Indiana and Illinois. Bred with just the right amount of fresh air, roughhousing, and ignorance, these primitive blondes set out from the cornfields looking like starlight with limbs. Every morning in early spring one of them skips off her porch with a sandwich wrapped in cellophane ready to flag down the first Greyhound headed to Manhattan—this city where all things beautiful are welcomed and measured and, if not immediately adopted, then at least tried on for size. One of the great advantages that the midwestern girls had was that you couldn't tell them apart. You can always tell a rich New York girl from a poor one. And you can tell a rich Boston girl from a poor one. After all, that's what accents and manners are there for. But to the native New Yorker, the midwestern girls all looked and sounded the same. Sure, the girls from the various classes were raised in different houses and went to different schools, but they shared enough midwestern humility that the gradations of their wealth and privilege were obscure to us. Or maybe their differences (readily apparent in Des Moines) were just dwarfed by the scale of our socioeconomic strata—that thousand-layered glacial formation that spans from an ashcan on the Bowery to a penthouse in paradise. Either way, to us they all looked like hayseeds: unblemished, wide-eyed, and God-fearing, if not exactly free of sin. Hailing from somewhere at the upper end of Indiana's economic scale, Eve was indisputably a natural blonde. Her shoulder-length hair, which was sandy in summer, turned golden in the fall as if in sympathy with the wheat fields back home. She had fine features and blue eyes and pinpoint dimples so perfectly defined that it seemed like there must be a small steel cable fastened to the center of each inner cheek which grew taut when she smiled. True, she was only five foot six, but she knew how to dance in two-inch heels—and she knew how to kick them off as soon as she sat in your lap. That New Year's, we started the evening with a plan of stretching three dollars as far as it would go. We weren't going to bother ourselves with boys. More than a few had had their chance with us in 1937, and we had no intention of squandering the last hours of the year on latecomers. We were going to perch in this low-rent bar where the music was taken seriously enough that two good-looking girls wouldn't be bothered and where the gin was cheap enough that we could each have one martini an hour. We intended to smoke a little more than polite society allowed. And once midnight had passed without ceremony, we were going to a Ukrainian diner on Second Avenue where the late-night special was coffee, eggs, and toast for fifteen cents. But a little after nine-thirty, we drank eleven o'clock's gin. And at ten, we drank the eggs and toast. We had four nickels between us and we hadn't had a bite to eat. It was time to start improvising. Eve was busy making eyes at the bass player. It was a hobby of hers. She liked to bat her lashes at the musicians while they performed and ask them for cigarettes in between sets. This bass player was certainly attractive in an unusual way, as most Creoles are, but he was so enraptured by his own music that he was making eyes at the tin ceiling. It was going to take an act of God for Eve to get his attention. I tried to get her to make eyes at the bartender, but she wasn't in a mood to reason. She just lit a cigarette and threw the match over her left shoulder for good luck. Pretty soon, I thought to myself, we were going to have to find ourselves a Good Samaritan or we'd be staring at the tin ceiling too. And that's when he came into the club. Eve saw him first. She was looking back from the stage to make some remark and she spied him over my shoulder. She gave me a kick in the shin and nodded in his direction. I shifted my chair. He was terrific looking. An upright five foot ten, dressed in black tie with a coat draped over his arm, he had brown hair and royal blue eyes and a small star-shaped blush at the center of each cheek. You could just picture his forebear at the helm of a schooner—his gaze trained brightly on the horizon and his hair a little curly from the salt sea air. —Dibs, said Eve.
view abbreviated excerpt only...
Discussion Questions
At the outset, Rules of Civility appears to be about the interrelationship between Katey, Tinker, and Eve; but then events quickly lead Eve and Tinker offstage. Are Dicky Vanderwhile, Wallace Wolcott, Bitsy, Peaches, Hank, and Anne Grandyn as essential to Katey's "story" as Tinker and Eve? If so, what role do you think each plays in fashioning the Katey of the future?
Katey observes at one point that Agatha Christie "doles out her little surprises at the carefully calibrated pace of a nanny dispensing sweets to the children in her care." Something similar could be said of how Katey doles out information about herself. What sort of things is Katey slow to reveal, and what drives her reticence?
After seeing Tinker at Chinoisserie, Katey indicts George Washington's "Rules of Civility" as "A do-it yourself charm school. A sort of How to Win Friends and Influence People 150 years ahead of its time." But Dicky sees some nobility in Tinker's aspiration to follow Washington's rules. Where does your judgment fall on Tinker? Is Katey wholly innocent of Tinker's crime? Where does simulation end and character begin? Which of Washington's rules do you aspire to?
A central theme in the book is that a chance encounter or cursory decision in one's twenties can shape one's course for decades to come. Do you think this is true to life? Were there casual encounters or decisions that you made, which in retrospect were watershed events?
When I told my seven-year-old son that I had written a book that was going to be published, he said: That's great! But who is going to do the pictures? While the Walker Evans portraits in the book may not meet my son's standards of illustration, they are somewhat central to the narrative. In addition, there are the family photographs that line Wallace Wolcott's wall (including the school picture in which Tinker appears twice); there are the photographs of celebrities that Mason Tate reviews with Katey at Condé Nast; there are the pictures that end up on Katey and Valentine's wall. Why is the medium of photography a fitting motif for the book? How do the various photographs serve its themes?
One of the pleasures of writing fiction is discovering upon completion of a project that some thread of imagery has run through the work without your being aware—forming, in essence, an unintentional motif. While I was very conscious of photography as a motif in the book, and the imagery of fairy tales, here are two motifs that I only recognized after the fact: navigation (expressed through references to the Odyssey; to the shipwrecks of the Titanic, Endurance, and Robinson Crusoe; and through Thoreau's reckoning and pole star metaphors); and the blessed and the damned (expressed through scattered references to churches, paradise, the inferno, doomsday, redemption day, the pietà and the language of the Gospels). What role do these motifs play in the thematic composition of the book? And if you see me in an airport, can you please explain them to me?
Upon completion of this book, one of my guilty pleasures has been imagining how Eve was doing in Hollywood. When Eve says, "I like it just fine on this side of the windshield," what does she mean? And why is the life Tinker offers her so contrary to the new life she intends to pursue? If you register at my Web site, on the first of the year I will send you a short story on Eve's progress.
When Tinker sets out on his new life, why does he intend to start his days saying Katey's name? What does he mean when he describes Katey as someone of "such poise and purpose"? Is the book improved by the four sections from Tinker's point of view, or hindered by them?
T. S. Eliot's "The Love Song of J. Alfred Prufrock" is referenced in the book's preface and its epilogue. Why is that poem somehow central to Katey's 1969 reflections on her 1938 experiences?
Please don't answer this last question until the wine bottles are empty and the servers are waiting impatiently to clear your table: In the epilogue, Katey observes that "Right choices are the means by which life crystallizes loss." What is a right choice that you have made and what did you leave behind as a result?
Suggested by Members
x
by [email protected]
(see profile)
01/31/15
NA
NA
NA
by angie1
(see profile)
10/31/14
BECOME A MEMBER
it's free
Join the leading website for book clubs with over 35,000 clubs and 20,000 reading guides.
SEARCH OUR READING GUIDES
Search
JOIN OUR MAILING LIST
Get free weekly updates on top club picks, book giveaways, author events and more
Please wait...