BKMT READING GUIDES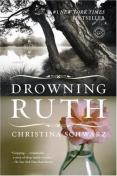 Drowning Ruth (Oprah's Book Club)

by Christina Schwarz
Published: 2008-11-19
Kindle Edition : 370 pages
23 members reading this now
50 clubs reading this now
30 members have read this book
Recommended to book clubs by 8 of 12 members
Deftly written and emotionally powerful, Drowning Ruth is a stunning portrait of the ties that bind sisters together and the forces that tear them apart, of the dangers of keeping secrets and the explosive repercussions when they are exposed. A mesmerizing and achingly beautiful debut.
No other editions available.

Jump to
Introduction
Deftly written and emotionally powerful, Drowning Ruth is a stunning portrait of the ties that bind sisters together and the forces that tear them apart, of the dangers of keeping secrets and the explosive repercussions when they are exposed. A mesmerizing and achingly beautiful debut.
Winter, 1919. Amanda Starkey spends her days nursing soldiers wounded in the Great War. Finding herself suddenly overwhelmed, she flees Milwaukee and retreats to her family's farm on Nagawaukee Lake, seeking comfort with her younger sister, Mathilda, and three-year-old niece, Ruth. But very soon, Amanda comes to see that her old home is no refuge--she has carried her troubles with her. On one terrible night almost a year later, Amanda loses nearly everything that is dearest to her when her sister mysteriously disappears and is later found drowned beneath the ice that covers the lake. When Mathilda's husband comes home from the war, wounded and troubled himself, he finds that Amanda has taken charge of Ruth and the farm, assuming her responsibility with a frightening intensity. Wry and guarded, Amanda tells the story of her family in careful doses, as anxious to hide from herself as from us the secrets of her own past and of that night.
Ruth, haunted by her own memory of that fateful night, grows up under the watchful eye of her prickly and possessive aunt and gradually becomes aware of the odd events of her childhood. As she tells her own story with increasing clarity, she reveals the mounting toll that her aunt's secrets exact from her family and everyone around her, until the heartrending truth is uncovered.
Guiding us through the lives of the Starkey women, Christina Schwarz's first novel shows her compassion and a unique understanding of the American landscape and the people who live on it.


From the Hardcover edition.
Editorial Review
Oprah Book Club® Selection, September 2000:
For 19th-century novelists--from Jane Austen to George Eliot, Flaubert to Henry James--social constraint gave a delicious tension to their plots. Yet now our relaxed morals and social mobility have rendered many of the classics untenable. Why shouldn't Maisie know what she knows? It will all come out in family therapy anyway. The vogue for historical novels depends in part on our pleasure in reentering a world of subtle cues and repressed emotion, a time in which a young woman could destroy her life by saying yes to the wrong man. After all, there was no reliable birth control, no divorce, no chance of an independent life or a scandal-free separation.
Christina Schwarz's suspenseful debut pivots on two of the lost "virtues" of the past: silence and stoicism. Drowning Ruth opens in 1919, on the heels of the influenza epidemic that followed the First World War. Although there were telephones and motor cars and dance halls in the small towns of Wisconsin in those years, the townspeople remained rigid and forbidding. As a young woman, Amanda Starkey, a Lutheran farmer's daughter, had been firmly discouraged from an inappropriate marriage with a neighboring Catholic boy. A few years later, as a nurse in Milwaukee, she is seduced by a dishonorable man. Her shame sends her into a nervous breakdown, and she returns to the family farm. Within a year, though, her beloved sister Mathilde drowns under mysterious circumstances. And when Mathilde's husband, Carl, returns from the war, he finds his small daughter, Ruth, in Amanda's tenacious grip, and she will tell him nothing about the night his wife drowned. Amanda's parents, too, are long gone. "I killed my parents. Had I mentioned that?" muses Amanda.
I killed them because I felt a little fatigued and suffered from a slight, persistent cough. Thinking I was overworked and hadn't been getting enough sleep, I went home for a short visit, just a few days to relax in the country while the sweet corn and the raspberries were ripe. From the city I brought fancy ribbon, two boxes of Ambrosia chocolate, and a deadly gift... I gave the influenza to my mother, who gave it to my father, or maybe it was the other way around.
Schwarz is a skillful writer, weaving her grim tale across several decades, always returning to the fateful night of Mathilde's death.
Drowning Ruth
displays her gift for pacing and her harsh insistence on the right ending, rather than the cheery one.
--Regina Marler
Excerpt
Chapter One - Ruth remembered drowning.
"That's impossible," Aunt Amanda said. "It must have been a dream."
But Ruth maintained that she had drowned, insisted on it for years, even after she should have known better. Amanda Of course I lied to Ruth. She was only a child. What should I have said? That her mother had been reckless? That I'd had to rescue her, give her new life, bring her up as my own? There are things children are not meant to know. ...
view entire excerpt...
Discussion Questions
From the Publisher:
1. Throughout the story, Amanda seems to be alternately portrayed as either sinister and mentally unbalanced or as a sad woman who is a victim of circumstance. What are your feelings about her? Were you mostly sympathetic to her or turned off by her controlling spirit?
2. Did you find most of the main players in Drowning Ruth to be complicated and not easily categorized? Who intrigued you the most?
3. Do you think the author skillfully built up the suspense of the fateful night on the lake? Did you guess what would happen?
4. Ruth and Amanda's relationship is one of the most compelling elements of the novel. At times they are presented in a mother/daughter dynamic, but at other moments they seem poised as siblings almost, or even as foils to each other– especially when Amanda speaks to us about her own childhood. How do you think Amanda regarded Ruth? What, in your mind, was the real significance of their relationship? Did Amanda truly love Ruth?
5. The lake is a striking backdrop throughout the novel, and most of the traumatic or profound moments occur there: Mathilde and Clement die there, Amanda forces Ruth to swim in it, Imogene and Ruth both fall in love upon it. Do you think the author intended for it to be symbolic of something? If so, what?
6. The complicated and varied relationships between women– friends, sisters, mothers and daughters, aunts and nieces–lie at the heart of this novel. Did any of these relationships, in particular, strike a chord with you?
7. Do you feel that Amanda's jealousy of her sister was abnormal or just common sibling rivalry? Why do you think the author juxtaposed their relationship with Ruth and Imogene's?
8. Men hover at the edges of the novel. The three main male characters–Carl, Clement, Arthur–though different, are all ultimately ineffectual in some sense. Carl leaves, Clement womanizes, Arthur cannot determine whom he truly loves. Even Amanda's father is barely realized. Why do you think the author created these male characters this way?
9. The island seems to be a very important metaphor. Both Mathilde and Amanda become pregnant there, and it is where they retreat to during Amanda's term. She, especially, is preoccupied throughout the novel with this locale. What does the island represent?
10. Did you like the continuously shifting narration? What was the overall effect of this plot device?
11. Ruth and Imogene's intense friendship commences with the voluntary loss of Ruth's dead, black tooth. Why do you think the author chose such an unusual, visually graphic scene to mark the unfolding of their intertwined lives?
12. In the end, does Ruth follow her heart, or is she still under Amanda's control? Does Ruth return home truly of her own volition?
13. Were the book to continue, do you think the author would have chosen for Ruth and Arthur to unite? Why or why not? What type of man do you envision Ruth with?
14. Drowning Ruth was an Oprah Book Club selection. Have you read any other Oprah picks? If so, how did this compare?
Suggested by Members
What is the significance of Ruth's loss of her baby tooth, What is it replaced with and what is the significance of the new item?
by ccroft78248
(see profile)
12/16/14
https://www.bookbrowse.com/reading_guides/detail/index.cfm/book_number/634/drowning-ruth
by hmgrogan
(see profile)
10/23/14
Book Club Recommendations
Recommended to book clubs by 8 of 12 members.
Good background info and discussion questions on the Oprah.com website
by hmgrogan (see
profile
) 10/23/14
http://www.oprah.com/oprahsbookclub/Drowning-Ruth-by-Christina-Schwarz
BECOME A MEMBER
it's free
Now serving over 80,000 book clubs & ready to welcome yours. Join us and get the Top Book Club Picks of 2022 (so far).
SEARCH OUR READING GUIDES
Search
JOIN OUR MAILING LIST
Get free weekly updates on top club picks, book giveaways, author events and more
Please wait...