BKMT READING GUIDES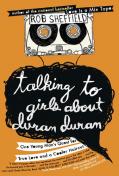 Talking to Girls About Duran Duran: One Young Man's Quest for True Love and a Cooler Haircut

by Rob Sheffield
Published: 2010-07-15
Hardcover : 0 pages
3 members reading this now
1 club reading this now
0 members have read this book
Recommended to book clubs by 2 of 2 members
Growing up in the eighties, you were surrounded by mysteries. These were the years of MTV and John Hughes movies, the era of big dreams and bigger shoulder pads. Like any teenage geek, Rob Sheffield spent the decade searching for true love and maybe a cooler haircut. Talking to Girls ...
No other editions available.

Jump to
Introduction
Growing up in the eighties, you were surrounded by mysteries. These were the years of MTV and John Hughes movies, the era of big dreams and bigger shoulder pads. Like any teenage geek, Rob Sheffield spent the decade searching for true love and maybe a cooler haircut. Talking to Girls About Duran Duran is his tale of stumbling into adulthood with a killer soundtrack. Inept flirtations. Dumb crushes. Deplorable fashion choices. Girls, every last one of whom was madly in love with the bassist of Duran Duran.

In his first book, the national bestseller Love Is a Mix Tape, Sheffield shared a heartbreaking true story of love and grief. With Talking to Girls About Duran Duran, he returns with a smart, funny, and emotionally pitch-perfect trip through the music and memories of the eighties. As a confused teenager stranded in the suburbs, mowing lawns, and playing video games, Rob had a lot to learn about women, love, music, and himself. But he was sure his radio had all the answers, whether he was driving an ice cream truck through Boston to "Purple Rain," slam dancing to The Replacements, or pondering the implications of Madonna lyrics.

From Bowie to Bobby Brown, from hair metal to hip-hop, he loved them all. Talking to Girls About Duran Duran is a journey through pop culture of an American adolescence that will remind you of your first crush, first car, and first kiss. But it's not just a book about music. This is a book about moments in time, and the way we obsess over them through the years. Every song is a snapshot of a moment that helps form the rest of your life. Whenever you grew up, and whatever your teenage obsessions, Talking to Girls About Duran Duran brings those moments to life.

Amazon Best Books of the Month, July 2010: Don't be fooled by the title: Talking to Girls About Duran Duran may sound like a dream come true to all the women who she-bopped through the 80s, but at heart it's the Feminine Mystique that every boy-next-door has been waiting for (and will actually read). It's something like a prequel to Rob Sheffield's first, fantastic memoir, Love Is a Mix Tape, taking its cue this time from a musical decade so addictive and eclectic that, as he notes, "every night in your town, you can find a bar somewhere hosting an Awesome 80s Prom Night." This hilarious and heartfelt collection of coming-of-age vignettes is arguably a much more satisfying way to spend an evening, though, particularly if you have even an ounce of the New Wave obsession that courses through it. Sheffield riffs on the songs that saw him through the rapture and misery and bewilderment of being a guy who wanted to understand girls, gleefully skewering Duran Duran along the way (even as he professes his love for them) and paying tribute to tunes that captured some of his best moments. If you're going to revisit your youth, let Rob Sheffield be your guide. Nothing compares to him. --Anne Bartholomew


---
Rob Sheffield's Top '80s Summer Cruising Songs
Reading
Talking to Girls About Duran Duran
is a nostalgia trip you'll love taking: add Rob Sheffield's exclusive playlist to the mix--featured below, with liner notes--and you'll be ready for some kind of wonderful summer night. You can also sample and download these songs in
our custom MP3 playlist.



"Little Red Corvette" (1982) by Prince
This was my get-in-the-zone song the morning of my driver's test. Prince seemed to be promising me that as soon as I had wheels, all sorts of glamorously messed-up ladies would be trying to hop a ride uptown in my love machine. It didn't exactly work out that way, but at least I passed the test and got my license. Thanks, Prince!
"Missing You" (1984) by John Waite
I spent the summer of '84 rolling around Boston in an ice cream truck, selling Bomb Pops and Fudgsicles and Nutty Buddys. And with all due respect to
Scarface
, I got high on my own supply, which means I spent the summer with one hand on the wheel and another one stuffing my face. I was also listening to the radio 18 hours a day, so I got obsessed with this song. I still get choked up at the "heartbreak overload" part.
"Never Let Me Down Again" (1987) by Depeche Mode
It's weird how bizarre sexual tension fits so well with operating a motor vehicle--you really shouldn't try to drive and feel tragic at the same time, right? But they go hand in hand. No song captures that feeling like this one: just you and your best friend, riding high, leaving the rest of the world eating your dust.
"Is There Something I Should Know?" (1983) by Duran Duran
One summer I worked on a garbage truck on the southeast expressway into Boston, picking up trash on the side of the road: burger wrappers, soda cups, porn mags, the occasional pair of pants. Duran Duran helped get me through it, although I never did figure out what they meant by "You're about as easy as a nuclear war."
"It Takes Two" (1988) by Rob Base and DJ E-Z Rock
This brings back fond memories of 1988, when "It Takes Two" was pumping out of every car down my street, with the same "Whoop!" "Yeah!" "Whoop!" "Yeah!" James Brown sample rolling on all summer long. Roxanne Shante's "Go On Girl" had the same sample, so by the end of the summer it was hard-wired into my neurons.
"Our Lips Are Sealed" (1980) by The Go-Go's
This song puts anybody in serious danger of a speeding ticket--Gina Schock had to be one of the greatest punk rock drummers who ever banged a gong. I'm sad the Go-Go's had to cancel their farewell tour--but hopefully that just means they'll stick together a little longer.
"Hysteria" (1987) by Def Leppard
This song always reminds me of a cool girl I hung around with in the summer of 1988. She liked setting things on fire, getting both of us thrown out of bars, and Def Leppard. It's funny because this is a classic hair-metal ballad, but with all these glossy keyboards, it sounds like impeccable '80s synth-pop--it could pass for prime New Order or OMD. (Editor's note: Song is available on album only.)
"Left of the Dial" (1985) by The Replacements
It was the summer of '86 when I road-tripped to my first Replacements show, in Providence. Paul Westerberg was standing at the bar before the show, so I stole the Kool butt out of his ashtray and mailed it to a girl I liked in Nova Scotia. She wrote back, "It stinks to high heaven." But I guess that was the kind of stupid romantic gesture only a Replacements fan would make.
"My Prerogative" (1989) by Bobby Brown
Everybody's talking all this stuff about him! Why don't they just let him live! This is a perfectly badass song for prowling the streets, feeling totally invincible. And if the night ends up in the back of a cop car, it makes an excellent soundtrack to kicking out the windows, because that's what Bobby would do.
"Wild in the Streets" (1986) by Bon Jovi
One of the funny things about Jon Le Bon is that his career album, *Slippery When Wet*, is packed with cruising songs as good as "Livin? on a Prayer." I always think "Wild in the Streets" could have been Bon Jovi's biggest, bonniest and joviest hit, but for some reason they never played it on the radio; it's the one that got away. I also love how Jon yells that nutty "rock me!" during the guitar solo. Someday I pray that Morrissey will cover this--and change it to "Wilde in the Streets." A guy can dream.
---
Excerpt
No Excerpt Currently Available
Weblinks
There are no web links at this time.
Book Club Recommendations
Recommended to book clubs by 2 of 2 members.
Great book for anyone who grew up in the eighties
by hugalli (see
profile
) 08/23/11
In this memoir, Rob Sheffield, a writer for Rolling Stone, uses songs from the decade to tell about how they helped him grow into the man he is.
BECOME A MEMBER
it's free
Join the leading website for book clubs with over 35,000 clubs and 20,000 reading guides.
SEARCH OUR READING GUIDES
Search
JOIN OUR MAILING LIST
Get free weekly updates on top club picks, book giveaways, author events and more
Please wait...