BKMT READING GUIDES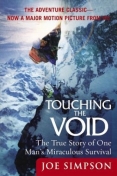 Touching the Void: The True Story of One Man's Miraculous Survival

by Joe Simpson
Published: 2004-02-03
Paperback : 218 pages
2 members reading this now
8 clubs reading this now
4 members have read this book
Recommended to book clubs by 1 of 2 members
Joe Simpson and his climbing partner, Simon Yates, had just reached the top of a 21,000-foot peak in the Andes when disaster struck. Simpson plunged off the vertical face of an ice ledge, breaking his leg. In the hours that followed, darkness fell and a blizzard raged as Yates tried to ...
No other editions available.

Jump to
Introduction
Joe Simpson and his climbing partner, Simon Yates, had just reached the top of a 21,000-foot peak in the Andes when disaster struck. Simpson plunged off the vertical face of an ice ledge, breaking his leg. In the hours that followed, darkness fell and a blizzard raged as Yates tried to lower his friend to safety. Finally, Yates was forced to cut the rope, moments before he would have been pulled to his own death.
The next three days were an impossibly grueling ordeal for both men. Yates, certain that Simpson was dead, returned to base camp consumed with grief and guilt over abandoning him. Miraculously, Simpson had survived the fall, but crippled, starving, and severely frostbitten was trapped in a deep crevasse. Summoning vast reserves of physical and spiritual strength, Simpson crawled over the cliffs and canyons of the Andes, reaching base camp hours before Yates had planned to leave.
How both men overcame the torments of those harrowing days is an epic tale of fear, suffering, and survival, and a poignant testament to unshakable courage and friendship.
Excerpt
Beneath the Mountain Lakes I was lying in my sleeping bag, staring at the light filtering through the red and green fabric of the dome tent. Simon was snoring loudly, occasionally twitching in his dream world. We could have been anywhere. There is a peculiar anonymity about being in tents. Once the zip is closed and the outside world barred from sight, all sense of location disappears. Scotland, the French Alps, the Karakoram, it was always the same. The sounds of rustling, of fabric flapping in the wind, or of rainfall, the feel of hard lumps under the ground sheet, the smell of rancid socks and sweat - these are universals, as comforting as the warmth of the down sleeping bag. Outside, in a lightening sky, the peaks would be catching the first of the morning sun, with perhaps even a condor cresting the thermals above the tent. That wasn't too fanciful either since I had seen one circling the camp the previous afternoon. We were in the middle of the Cordillera Huayhuash, in the Peruvian Andes, separated from the nearest village by twenty-eight miles of rough walking, and surrounded by the most spectacular ring of ice mountains I had ever seen, and the only indication of this from within our tent was the regular roaring of avalanches falling off Cerro Sarapo. I felt a homely affection for the warm security of the tent, and reluctantly wormed out of my bag to face the prospect of lighting the stove. It had snowed a little during the night, and the grass crunched frostily under my feet as I padded over to the cooking rock. There was no sign of Richard stirring as I passed his tiny one-man tent, half collapsed and whitened with hoar frost. Squatting under the lee of the huge overhanging boulder that had become our kitchen, I relished this moment when I could be entirely alone. I fiddled with the petrol stove which was mulishly objecting to both the temperature and the rusty petrol with which I had filled it. I resorted to brutal coercion when coaxing failed and sat it atop a propane gas stove going full blast. It burst into vigorous life, spluttering out two-foot-high flames in petulant revolt against the dirty petrol. As the pan of water slowly heated, I looked around at the wide, dry and rock-strewn river bed, the erratic boulder under which I crouched marking the site at a distance in all but the very worst weather. A huge, almost vertical wall of ice and snow soared upwards to the summit of Cerro Sarapo directly in front of the camp, no more than a mile and a half away. Rising from the sea of moraine to my left, two spectacular and extravagant castles of sugar icing, Yerupaja and Rasac, dominated the camp site. The majestic 21,000-foot Siula Grande lay behind Sarapo and was not visible. It had been climbed for the first time in 1936 by two bold Germans via the North Ridge. There had been few ascents since then, and the true prize, the daunting 4,500-foot West Face had so far defeated all attempts. I turned off the stove and gingerly slopped the water into three large mugs. The sun hadn't cleared the ridge of mountains opposite and it was still chilly in the shadows. 'There's a brew ready, if you're still alive in there,' I announced cheerfully. I gave Richard's tent a good kicking to knock off the frost and he crawled out looking cramped and cold. Without a word he headed straight for the river bed, clutching a roll of toilet paper. 'Are you still bad?' I asked when he returned. 'Well, I'm not the full ticket but I reckon I'm over the worst. It was bloody freezing last night.' I wondered if it was the altitude rather than the kidney-bean stew that was getting to him. Our tents were pitched at 15,000 feet, and he was no mountaineer. Simon and I had found Richard resting in a sleazy hotel in Lima, halfway through his six-month exploration of South America. His wire-rimmed glasses, neat practical clothing and bird-like mannerisms hid a dry humour and a wild repertoire of beachcombing reminiscences. He had lived off grubs and berries with pygmies while dug-out canoeing through the rain forests of Zaire, and had watched a shoplifter being kicked to death in a Nairobi market. His travelling companion was shot dead by trigger-happy soldiers in Uganda for no more than a dubious exchange of cassette tapes. He traveled the world between bouts of hard work to raise funds.Usually he journeyed alone to see where chance encounters in aliens countries would take him. There were distinct advantages, we thought, to having an entertaining watchman in camp to keep an eye on the gear while Simon and I were out climbing. It was probably a gross injustice to the poor hill farmers in this remote spot, but in the backstreets of Lima we had become suspicious of everyone. Anyway, we had invited Richard to come up and join us for a few days if he wanted to see the Andes at close quarters. It had been two days' walk from where the bone-shaking bus deposited us after 80 heart-stopping miles up the mountain valleys. Forty-six people were crammed into a ramshackle vehicle designed to carry twenty-two, and we were not fortified by the sight of so many wayside shrines to dead bus drivers and their passengers. The engine was held together with nylon string and a flat tire was changed with a pick-axe. By the end of the second day, Richard was feeling the effects of attitude. Dusk was gathering as we approached the head of the valley, and he urged Simon and me to go ahead with the donkeys and prepare camp before dark; he would take his time to follow. The way was straightforward now - he couldn't go wrong, he had said. Slowly he staggered up the treacherous moraines to the lake where he thought we were camped and then remembered a second lake on the map. It had begun to rain and grew increasingly cold. A thin shirt and light cotton trousers were poor protection from… The foregoing is excerpted from Touching the Void by Joe Simpson. All rights reserved. No part of this book may be used or reproduced without written permission from HarperCollins Publishers, 10 East 53rd Street, New York, NY 10022
view abbreviated excerpt only...
BECOME A MEMBER
it's free
Now serving over 80,000 book clubs & ready to welcome yours. Join us and get the Top Book Club Picks of 2022 (so far).
SEARCH OUR READING GUIDES
Search
JOIN OUR MAILING LIST
Get free weekly updates on top club picks, book giveaways, author events and more
Please wait...