BKMT READING GUIDES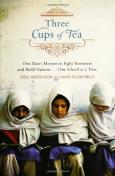 Three Cups of Tea: One Man's Mission to Fight Terrorism and Build Nations . . . One School at a Time

by Greg Mortenson, David Oliver Relin
Published: 2006-03-02
Hardcover : 338 pages
124 members reading this now
246 clubs reading this now
109 members have read this book
Recommended to book clubs by 35 of 49 members
The inspiring account of one man's campaign to build schools in the most dangerous, remote, and anti- American reaches of Asia

In 1993 Greg Mortenson was the exhausted survivor of a failed attempt to ascend K2, an American climbing bum wandering emaciated and lost through Pakistan's ...
No other editions available.

Jump to
Introduction
(The inspiring account of one man's campaign to build schools in the most dangerous, remote, and anti- American reaches of Asia

In 1993 Greg Mortenson was the exhausted survivor of a failed attempt to ascend K2, an American climbing bum wandering emaciated and lost through Pakistan's Karakoram Himalaya. After he was taken in and nursed back to health by the people of an impoverished Pakistani village, Mortenson promised to return one day and build them a school. From that rash, earnest promise grew one of the most incredible humanitarian campaigns of our time—Greg Mortenson's one-man mission to counteract extremism by building schools, especially for girls, throughout the breeding ground of the Taliban.
Award-winning journalist David Oliver Relin has collaborated on this spellbinding account of Mortenson's incredible accomplishments in a region where Americans are often feared and hated. In pursuit of his goal, Mortenson has survived kidnapping, fatwas issued by enraged mullahs, repeated death threats, and wrenching separations from his wife and children. But his success speaks for itself. At last count, his Central Asia Institute had built fifty-five schools. Three Cups of Tea is at once an unforgettable adventure and the inspiring true story of how one man really is changing the world—one school at a time.
Excerpt
Introduction After a failed 1993 attempt to climb K2, Mortenson arrived in Korphe, emaciated and exhausted. In this impoverished community of mud and stone huts, both Mortenson's life and the lives of northern Pakistan's children changed course. One evening, he went to bed by a yak dung fire a mountaineer who'd lost his way, and one morning, by the time he'd shared a pot of butter tea with his hosts and laced up his boots, he'd become a humanitarian who'd found a meaningful path to follow for the rest of his life. Arriving in Korphe with Dr. Greg, Bhangoo and I were welcomed with open arms, the head of a freshly killed ibex, and endless cups of tea. And as we listened to the Shia children of Korphe, one of the world's most impoverished communities, talk about how their hopes and dreams for the future had grown exponentially since a big American arrived a decade ago to build them the first school their village had ever known, the general and I were done for. "You know," Bhangoo said, as we were enveloped in a scrum of 120 students tugging us by the hands on a tour of their school, "flying with President Musharraf, I've become acquainted with many world leaders, many outstanding gentlemen and ladies. But I think Greg Mortenson is the most remarkable person I've ever met." Everyone who has had the privilege of watching Greg Mortenson operate in Pakistan is amazed by how encyclopedically well he has come to know one of the world's most remote regions. And many of them find themselves, almost against their will, pulled into his orbit. During the last decade, since a series of failures and accidents transformed him from a mountaineer to a humanitarian, Mortenson has attracted what has to be one of the most underqualified and overachieving staffs of any charitable organization on earth. Illiterate high-altitude porters in Pakistan's Karakoram have put down their packs to make paltry wages with him so their children can have the education they were forced to do without. A taxi driver who chanced to pick Mortenson up at the Islamabad airport sold his cab and became his fiercely dedicated "fixer." Former Taliban fighters renounced violence and the oppression of women after meeting Mortenson and went to work with him peacefully building schools for girls. He has drawn volunteers and admirers from every stratum of Pakistan's society and from all the warring sects of Islam. Supposedly objective journalists are at risk of being drawn into his orbit, too. On three occasions I accompanied Mortenson to northern Pakistan, flying to the most remote valleys of the Karakoram Himalaya and the Hindu Kush on helicopters that should have been hanging from the rafters of museums. The more time I spent watching Mortenson work, the more convinced I became that I was in the presence of someone extraordinary. The accounts I'd heard about Mortenson's adventures building schools for girls in the remote mountain regions of Pakistan sounded too dramatic to believe before I left home. The story I found, with ibex hunters in the high valleys of the Karakoram, in nomad settlements at the wild edge of Afghanistan, around conference tables with Pakistan's military elite, and over endless cups of paiyu cha in tearooms so smoky I had to squint to see my notebook, was even more remarkable than I'd imagined. As a journalist who has practiced this odd profession of probing into people's lives for two decades, I've met more than my share of public figures who didn't measure up to their own press. But at Korphe and every other Pakistani village where I was welcomed like long-lost family, because another American had taken the time to forge ties there, I saw the story of the last ten years of Greg Mortenson's existence branch and fork with a richness and complexity far beyond what most of us achieve over the course of a full-length life. This is a fancy way of saying that this is a story I couldn't simply observe. Anyone who travels to the CAI's fifty-three schools with Mortenson is put to work, and in the process, becomes an advocate. And after staying up at all-night jirgas with village elders and weighing in on proposals for new projects, or showing a classroom full of excited eight-year-old girls how to use the first pencil-sharpener anyone has ever cared to give them, or teaching an impromptu class on English slang to a roomful of gravely respectful students, it is impossible to remain simply a reporter. ***** For a man who has achieved so much, Mortenson has a remarkable lack of ego. After I agreed to write this book, he handed me a page of notepaper with dozens of names and numbers printed densely down the margin in tiny script. It was a list of his enemies. "Talk to them all," he said. "Let them have their say. We've got the results. That's all I care about." I listened to hundreds of Mortenson's allies and enemies. And in the interest of security and/or privacy I've changed a very few names and locations. Working on this book was a true collaboration. I wrote the story. But Greg Mortenson lived it. And together, as we sorted through thousands of slides, reviewed a decade's worth of documents and videos, recorded hundreds of hours of interviews, and traveled to visit with the people who are central to this unlikeliest of narratives, we brought this book to life. And as I found in Pakistan, Mortenson's Central Asia Institute does, irrefutably, have the results. In a part of the world where Americans are, at best, misunderstood, and more often feared and loathed, this soft-spoken, six-foot-four former mountaineer from Montana has put together a string of improbable successes. Though he would never say so himself, he has single-handedly changed the lives of tens of thousands of children, and independently won more hearts and minds than all the official American propaganda flooding the region. So this is a confession: Rather than simply reporting on his progress, I want to see Greg Mortenson succeed. I wish him success because he is fighting the war on terror the way I think it should be conducted. Slamming over the so-called Karakoram "Highway" in his old Land Cruiser, taking great personal risks to seed the region that gave birth to the Taliban with schools, Mortenson goes to war with the root causes of terror every time he offers a student a chance to receive a balanced education, rather than attend an extremist madrassa. Excerpted from "Three Cups of Tea" by Greg Mortenson and David Oliver Relin. Copyright © 2006 by Greg Mortenson and David Oliver Relin.
view abbreviated excerpt only...
Discussion Questions
1.There is a telling passage about Mortenson's change of direction at the start of the book: "One evening, he went to bed by a yak dung fire a mountaineer who'd lost his way, and one morning, by the time he'd shared a pot of butter tea with his hosts and laced up his boots, he'd become a humanitarian who'd found a meaningful path to follow for the rest of his life." What made Mortenson particularly ripe for such a transformation? Has anything similar happened in your own life?
2.Relin gives a "warts and all" portrait of Mortenson, showing him as a hero but also as a flawed human being with some exasperating traits. Talk about how Relin chose to write about Mortenson's character—his choice of details, his perspective, the way he constructs scenes. Is Mortenson someone you'd like to get to know, work with, or have as a neighbor or friend?
3.At the heart of the book is a powerful but simple political message: we each as individuals have the power to change the world, one cup of tea at a time. Yet the book powerfully dramatizes the obstacles in the way of this philosophy: bloody wars waged by huge armies, prejudice, religious extremism, cultural barriers. What do you think of the "one cup of tea at a time" philosophy? Do you think Mortenson's vision can work for lasting and meaningful change?
4.Have you ever known anyone like Mortenson? Have you ever had the experience of making a difference yourself through acts of generosity, aid, or leadership?
5.The Balti people are fierce yet extremely hospitable, kind yet rigid, determined to better themselves yet stuck in the past. Discuss your reactions to them and the other groups that Mortenson tries to help.
6.After Haji Ali's family saves Greg's life, he reflects that he could never "imagine discharging the debt he felt to his hosts in Korphe." Discuss this sense of indebtedness as key to Mortenson's character. Why was Mortenson compelled to return to the region again and again? In your opinion, does he repay his debt by the end of the book?
7.References to paradise run throughout the book—Mortenson's childhood home in Tanzania, the mountain scenery, even Berkeley, California, are all referred to as "paradise." Discuss the concept of paradise, lost and regained, and how it influences Mortenson's mission.
8.Mortenson's transition from climbing bum to humanitarian hero seems very abrupt. However, looking back, it's clear that his sense of mission is rooted in his childhood, the values of his parents, and his relationship with his sister Christa. Discuss the various facets of Mortenson's character—the freewheeling mountain climber, the ER nurse, the devoted son and brother, and the leader of a humanitarian cause. Do you view him as continuing the work his father began?
9."I expected something like this from an ignorant village mullah, but to get those kinds of letters from my fellow Americans made me wonder whether I should just give up," Mortenson remarked after he started getting hate mail in the wake of September 11. What was your reaction to the letters Mortenson received?
10.Mortenson hits many bumps in the road—he's broke, his girlfriend dumps him, he is forced to build a bridge before he can build the school, his health suffers, and he drives his family crazy. Discuss his repeated brushes with failure and how they influenced your opinion of Mortenson and his efforts.
11.The authors write that "the Balti held the key to a kind of uncomplicated happiness that was disappearing in the developing world." This peaceful simplicity of life seems to be part of what attracts Mortenson to the villagers. Discuss the pros and cons of bringing "civilization" to the mountain community.
12.Much of the book is a meditation on what it means to be a foreigner assimilating with another culture. Discuss your own experiences with foreign cultures—things that you have learned, mistakes you have made, misunderstandings you have endured.
13.Did the book change your views toward Islam or Muslims? Consider the cleric Syed Abbas, and also the cleric who called a fatwa on Mortenson. Syed Abbas implores Americans to "look into our hearts and see that the great majority of us are not terrorists, but good and simple people." Discuss this statement. Has the book inspired you to learn more about the region?
Suggested by Members
Try to follow up on some of the specific schools he provided & the first 2 girls to ever attain an education in Baltistan.
by Livres4moi
(see profile)
04/27/15
How does the title of the book relate to the theme of the book?
by Read4Strength
(see profile)
05/14/10
What are your thoughts on his "fighting terrorists one school at a time?" Do you think it will be effective?
How do you think his escapades are making a difference?
Do you find yourself changing your perspective on kept promises? Does it make you want to keep them or avoid the statement? Why?
by Schmales237
(see profile)
04/09/10
Why are we not putting more money in our poor areas to educate and feed them?
What can we do to make our government see that education is the root of the problem and killing does not work.
It was convicting to see villages working together where technology has made us distant.
by lovebooks
(see profile)
03/26/10
Why did Greg M. work so hard to bring schools to Pakistan?
by gerriwbw
(see profile)
01/18/10
We used the reading guides found on the Internet.
by jmbs52
(see profile)
11/24/09
How can we can get involved?
by kristinp
(see profile)
08/21/09
One of our members actually attended one of his talks and had her book signed - it was very interesting to hear her personal encounter.
Another of our members lived in Pakistan and was able to add another dimension to our meeting.
by cahendrix
(see profile)
08/20/09
Book Club Recommendations
Recommended to book clubs by 35 of 49 members.
Involve a native Muslim from the Middle East
by Livres4moi (see
profile
) 04/27/15
Invite a native Muslim woman (or man) who has escaped from Afghanistan, Pakistan or Baltistan & invite them to share about their culture, difficulties. Also invite a mountain climber who can explain first-hand about the challenges of staying alive in the Himalyan region of the middle-East.
Further information
by brightpoweruk (see
profile
) 04/11/13
David Oliver Relin wrote recently about curing cataract-related blindness in developing counties, but sadly he committed suicide aged 49 before his book was due to be published in June 2013.
BECOME A MEMBER
it's free
Join the leading website for book clubs with over 35,000 clubs and 20,000 reading guides.
SEARCH OUR READING GUIDES
Search
JOIN OUR MAILING LIST
Get free weekly updates on top club picks, book giveaways, author events and more
Please wait...