BKMT READING GUIDES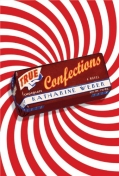 True Confections: A Novel

by Katharine Weber
Published: 2009-12-29
Hardcover : 288 pages
11 members reading this now
6 clubs reading this now
1 member has read this book
Recommended to book clubs by 1 of 2 members
Take chocolate candy, add a family business at war with itself, and stir with an outsider's perspective. This is the recipe for True Confections, the irresistible new novel by Katharine Weber, a writer whose work has won accolades from Iris Murdoch, Madeleine L'Engle, Wally Lamb, and Kate ...
No other editions available.

Jump to
Introduction
Take chocolate candy, add a family business at war with itself, and stir with an outsider's perspective. This is the recipe for True Confections, the irresistible new novel by Katharine Weber, a writer whose work has won accolades from Iris Murdoch, Madeleine L'Engle, Wally Lamb, and Kate Atkinson, to name a few.
 
Alice Tatnall Ziplinsky's marriage into the Ziplinsky family has not been unanimously celebrated. Her greatest ambition is to belong, to feel truly entitled to the heritage she has tried so hard to earn. Which is why Zip's Candies is much more to her than just a candy factory, where she has worked for most of her life. In True Confections, Alice has her reasons for telling the multigenerational saga of the family-owned-and-operated candy company, now in crisis.
 
Nobody is more devoted than Alice to delving into the truth of Zip's history, starting with the rags-to-riches story of how Hungarian immigrant Eli Czaplinsky developed his famous candy lines, and how each of his candies, from Little Sammies to Mumbo Jumbos, was inspired by an element in a stolen library copy of Little Black Sambo, from which he taught himself English. Within Alice's vivid and persuasive account (is her unreliability a tactic or a condition?) are the stories of a runaway slave from the cacao plantations of Côte d'Ivoire and the Third Reich's failed plan to establish a colony on Madagascar for European Jews.
 
Richly informed, deeply moving, and spiked with Weber's trademark wit, True Confections is, at its heart, a timeless and universal story of love, betrayal, and chocolate.
Excerpt
On my first day of work at Zip's Candies, it took five minutes for me to learn the two-handed method for separating and straightening the Tigermelts as they were extruded eight at a time onto the belt carrying them towards the finishing chocolate striping applicator tunnel. The necessary reach-shuffle-reach-shuffle Tigermelt-straightening gesture was demonstrated for me with condescending efficiency, with the belt running at half speed, by the irritable Frieda Ziplinsky, whose husband Sam had just hired me that morning, an impulsive act on his part that she would regret audibly every few weeks for the next thirty-three years. In the sixth minute, I had my first glimpse of my future ex-husband. Across the whirring, clanking, chugging, sugar-caked Zip's Candies factory floor, there appeared Howard Ziplinsky, emerging feet first from the large, rotating drum used to tumble the Little Sammies in the thin hard shell chocolate coating, just a little more brittle than a Raisinet, which gave them their signature sheen. ******* That first time I saw Howard, thin and dark, handsome like a foreign doctor in his white lab coat (despite the stray, uncoated Little Sammies clinging to a sleeve), his face and eyebrows were freckled with a fine spray of chocolate droplets. This was the thin, glossy chocolate used to apply the final coat to Little Sammies in the panning drum from which he had just emerged, having reamed a clogged nozzle with a pipe cleaner. He had been working on the Mumbo Jumbos blending unit just before that (it was one of those days when the summer humidity soaked into everything, despite the chugging air conditioning system, which was overdue for upgrading, but Frieda didn't want to spend the money, which was foolish, as the humidity affected every piece of antiquated equipment on the floor), and he was already dusted with the powdered sugar that had caked and clogged the feed tubes on the big licorice blending pot. I thought he looked confectionary, like a sugared angel, and I could feel Frieda glaring at me, wanting to keep her beautiful son all to herself. And so we met. Howdy, he said, coming toward me, not in greeting but introducing himself, because that's what he was called, Howdy Ziplinsky, and this confused me for a moment, as I sensed that nobody in the Ziplinsky family was likely to be from someplace where people said "Howdy" to one another, so I thought perhaps this was a Yiddish word I couldn't quite hear over the factory din, but at the same moment, through my confusion, I felt something completely new and profound stir in me, and I had to resist my unexpected impulse, as we shook hands for the first time, to lick him.
view abbreviated excerpt only...
Discussion Questions
1. How reliable a narrator is Alice? Do you trust her? She observes the hidden meanings and subtle inflections all around her, but is she equally aware of her own subtexts?
2. Can you identify moments in each chapter of True Confections in which Alice adds meaning to what she experiences or describes? Can you identify moments in each chapter in which Alice seems to overlook or gloss meanings in what she experiences or describes?
3. Are Little Sammies racist? What does it really mean to be racist? If you are aware that
others may define something you have said or done as racist even if it was not your intention, is it still racist?
4. True Confections is a novel in which there are many instances of lies and deceptions. Alice stakes a claim for her own veracity starting with the title of the book. What is the truth about the history and meaning of Willie Wonka's lovable Oompa Loompas? What is the truth about the runaway boy from the cacao plantation on Ivory Coast? What is Howard's relationship with his relatives in Madagascar? What is the truth about Frieda Ziplinsky's chicken soup recipe? Is Alice entirely innocent of the arson charges that seem to be a pattern in her life?
5. Why do you think Alice cheats on her psychoanalyst by seeing another therapist on the side?
6. Why is Alice so eager to become part of the Ziplinsky family?
7. Why is Alice's relationship with Sam Ziplinsky so much more successful than her relationship with Frieda Ziplinsky?
8. The Madagascar Plan is a historically true though unrealized goal of the Third Reich during the Second World War. Were it not for Julius Czaplinsky's ambitions when he learned of it, which in turn led to the establishing of a Madagascar branch of the Ziplinsky family, what do you imagine Alice's marriage to Howdy Ziplinsky would have been like?
9. Did reading True Confections change the way you think of chocolate? Did reading the book make you crave candy? Which kind? Did you succumb? Did you gain weight while reading True Confections?
10. What would it be like to have Alice Tatnall Ziplinsky as a member of your book group?
BECOME A MEMBER
it's free
Join the leading website for book clubs with over 35,000 clubs and 20,000 reading guides.
SEARCH OUR READING GUIDES
Search
JOIN OUR MAILING LIST
Get free weekly updates on top club picks, book giveaways, author events and more
Please wait...