BKMT READING GUIDES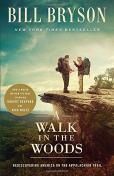 A Walk in the Woods (Movie Tie-In): Rediscovering America on the Appalachian Trail

by Bill Bryson
Published: 2015-07-28
Paperback : 304 pages
16 members reading this now
67 clubs reading this now
32 members have read this book
Recommended to book clubs by 4 of 4 members
SOON TO BE A MAJOR MOTION PICTURE

Back in America after twenty years in Britain, Bill Bryson decided to reacquaint himself with his native country by walking the 2,100-mile Appalachian Trail, which stretches from Georgia to Maine. The AT offers an astonishing landscape of silent forests ...
Jump to
Introduction
SOON TO BE A MAJOR MOTION PICTURE

Back in America after twenty years in Britain, Bill Bryson decided to reacquaint himself with his native country by walking the 2,100-mile Appalachian Trail, which stretches from Georgia to Maine. The AT offers an astonishing landscape of silent forests and sparkling lakes--and to a writer with the comic genius of Bill Bryson, it also provides endless opportunities to witness the majestic silliness of his fellow human beings.

For a start there's the gloriously out-of-shape Stephen Katz, a buddy from Iowa along for the walk. Despite Katz's overwhelming desire to find cozy restaurants, he and Bryson eventually settle into their stride, and while on the trail they meet a bizarre assortment of hilarious characters. But A Walk in the Woods is more than just a laugh-out-loud hike. Bryson's acute eye is a wise witness to this beautiful but fragile trail, and as he tells its fascinating history, he makes a moving plea for the conservation of America's last great wilderness. An adventure, a comedy, and a celebration, A Walk in the Woods has become a modern classic of travel literature.
Editorial Review
Bill Bryson has made a living out of traveling and then writing about it. In
The Lost Continent
he re-created the road trips of his childhood; in
Neither Here nor There
he retraced the route he followed as a young backpacker traversing Europe. When this American transplant to Britain decided to return home, he made a farewell walking tour of the British countryside and produced
Notes from a Small Island
. Once back on American soil and safely settled in New Hampshire, Bryson once again hears the siren call of the open road--only this time it's a trail. The Appalachian Trail, to be exact. In
A Walk in the Woods
Bill Bryson tackles what is, for him, an entirely new subject: the American wilderness. Accompanied only by his old college buddy Stephen Katz, Bryson starts out one March morning in north Georgia, intending to walk the entire 2,100 miles to trail's end atop Maine's Mount Katahdin.
If nothing else, A Walk in the Woods is proof positive that the journey is the destination. As Bryson and Katz haul their out-of-shape, middle-aged butts over hill and dale, the reader is treated to both a very funny personal memoir and a delightful chronicle of the trail, the people who created it, and the places it passes through. Whether you plan to make a trip like this one yourself one day or only care to read about it, A Walk in the Woods is a great way to spend an afternoon. --Alix Wilber
Excerpt
No Excerpt Currently Available
Discussion Questions
1. One of the most interesting aspects of this book is the unlikely friendship between Bryson and Katz. What is the relationship based on? Consider, especially, the episode in Maine when Katz gets lost: somehow the friendship is altered. How does Bryson's attitude toward Katz change over the course of the book? How does Katz himself change? Or does he? What was Katz's motivation, anyway, to walk the AT?
2. The book offers an excellent microscope through which to examine the meaning of friendship—our own friendships. Do the two men remind you of friends who tested your patience, but who exhibited intense loyalty?
3. In fiction a journey usually symbolizes a journey of self-discovery—at the end the protagonist comes to learn something about him/herself. Although A Walk isn't a novel, do either of the men come to greater self-awareness by the end of their journey?
4. The tone of the book veers back and forth between humor and seriousness, even anger. In fact, the book is a sort of jeremiad against environmental threats to the great wilderness areas of the country. Is Bryson's anger justified? He criticizes, but does he offer solutions? Are there solutions?
5. Katz pokes fun at rural Southerners, which some readers find funny, others find offensive. You?
6. Bryson ponders the attraction of hiking: ''You have no engagements, commitments, obligations, or duties; no special ambitions and only the smallest, least complicated of wants; you exist in a tranquil tedium, serenely beyond the reach of exasperation." If you're a hiker, backpacker, camper, are your experiences similar to or different from Bryson's? For those who aren't hikers, are there other avenues to "exist in a tranquil tedium"?
7. You might also talk about the numerous characters Bryson and Katz meet on the trail. Mary Ellen is one, for instance: how do you feel about their treatment of her? (from Litlovers)
Suggested by Members
Environmental issues
Automobile vs walking in America
by egraham
(see profile)
12/01/15
Discussion was very limited.
by Ruth
(see profile)
06/17/11
Weblinks
There are no web links at this time.
Book Club Recommendations
Recommended to book clubs by 4 of 4 members.
Target to outdoorsmen, campers, interest in preserving our parklands
by vaberle (see
profile
) 12/11/15
Although the group as a whole liked many aspects of the book such as Bryson's writing skills, his description of the AT history as well as how the trail fascinates and "feels". Also he was recognized as a good writer and several members liked the development of his relationship with his walking partner Katz; however, parts of no interest to some members and did not complete the book.
Trail mix, smores
by egraham (see
profile
) 12/01/15
Beef stew, other camping type food
BECOME A MEMBER
it's free
Join the leading website for book clubs with over 35,000 clubs and 20,000 reading guides.
SEARCH OUR READING GUIDES
Search
JOIN OUR MAILING LIST
Get free weekly updates on top club picks, book giveaways, author events and more
Please wait...