BKMT READING GUIDES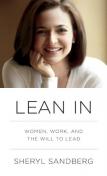 Lean In: Women, Work, and the Will to Lead

by Sheryl Sandberg
Published: 2013-03-12
Hardcover : 240 pages
22 members reading this now
52 clubs reading this now
12 members have read this book
Recommended to book clubs by 7 of 9 members
Thirty years after women became 50 percent of the college graduates in the United States, men still hold the vast majority of leadership positions in government and industry. This means that women's voices are still not heard equally in the decisions that most affect our lives. In Lean ...
Jump to
Introduction
Thirty years after women became 50 percent of the college graduates in the United States, men still hold the vast majority of leadership positions in government and industry. This means that women's voices are still not heard equally in the decisions that most affect our lives. In Lean In, Sheryl Sandberg examines why women's progress in achieving leadership roles has stalled, explains the root causes, and offers compelling, commonsense solutions that can empower women to achieve their full potential.

Sandberg is the chief operating officer of Facebook and is ranked on Fortune's list of the 50 Most Powerful Women in Business and as one of Time's 100 Most Influential People in the World. In 2010, she gave an electrifying TEDTalk in which she described how women unintentionally hold themselves back in their careers. Her talk, which became a phenomenon and has been viewed more than two million times, encouraged women to "sit at the table," seek challenges, take risks, and pursue their goals with gusto.

In Lean In, Sandberg digs deeper into these issues, combining personal anecdotes, hard data, and compelling research to cut through the layers of ambiguity and bias surrounding the lives and choices of working women. She recounts her own decisions, mistakes, and daily struggles to make the right choices for herself, her career, and her family. She provides practical advice on negotiation techniques, mentorship, and building a satisfying career, urging women to set boundaries and to abandon the myth of "having it all."  She describes specific steps women can take to combine professional achievement with personal fulfillment and demonstrates how men can benefit by supporting women in the workplace and at home. 

Written with both humor and wisdom, Sandberg's book is an inspiring call to action and a blueprint for individual growth. Lean In is destined to change the conversation from what women can't do to what they can.
Editorial Review
An Amazon Best Book of the Month, March 2013
: Anyone who's watched Sheryl Sandberg's popular TED Talk, "Why We Have Too Few Women Leaders," is familiar with--and possibly haunted by--the idea of "having it all." "Perhaps the greatest trap ever set for women was the coining of this phrase," writes Sandberg in
Lean In
, which expands on her talk's big idea: that increasing the number of women at the top of their fields will benefit everyone. Sandberg, the COO of Facebook, encourages women to challenge the common workplace assumption that "men still run the world." She asks men to be real partners, sharing in the family work that typically leads to a woman's decision to stay home; she asks women who expect to start a family soon not to check out of work mentally. Sandberg's critics note that her advice may not resonate with the masses: The Harvard-educated exec can afford a veritable army to help raise her children. But Sandberg's point--which affects all of us--is that women who have what it takes to succeed at the highest professional level face many obstacles, both internal and external.
Lean In
is likely to spur the conversations that must happen for institutional changes to take place at work. --
Alexandra Foster
Excerpt
No Excerpt Currently Available
Discussion Questions
1. What does "lean in" mean? Why do you think women need to be urged to lean in?
2. The first three words in the book are "I got pregnant." What does this signal about the kind of business book Lean In will be?
3. When Sandberg says, "The promise of equality is not the same as true equality" (p. 7), what does she mean? Have you found this statement to be accurate?
4. Why is "ambitious" often considered a derogatory word when used to describe a woman but complimentary when used to describe a man?
5. In chapter 2, Sandberg discusses the impostor syndrome: feeling like a fraud, fearing discovery with each success. Why do women feel this way more often than men do? What causes the gender gap?
6. Sandberg believes that there are times when you can reach for opportunities even if you are not sure you are quite ready to take them on—and then learn by doing. Have you ever tried this? What have you tried? What was the result?
7. What did you learn from the anecdote on page 36, about keeping your hand up?
8. Why did Sandberg respond so negatively to being named the fifth most powerful woman in the world?
9. When negotiating, Sandberg tells women to use the word "we" rather than "I." Why does the choice of pronoun make such a difference?
10. On page 48, Sandberg says, "I understand the paradox of advising women to change the world by adhering to biased rules and expectations." How do you feel about her advice?
11. What's your take on Sandberg's suggestion that we think of the path to a satisfying career as a jungle gym rather than a ladder?
12. Sandberg argues that taking risks can be important in building a career. How have you approached risk-taking in your life?
13. Sandberg argues that mentorship relationships rarely happen from asking strangers to mentor you, but rather from an opportunity to engage with someone in a more substantive way. How has mentorship worked in your own experience?
14. People who believe that they speak "the truth" and not "their truth" can be very silencing of others, Sandberg says on page 79. What does she mean by this?
15. When considering employment after motherhood, Sandberg suggests that women shift the calculations and measure the current cost of child care against their salary ten years from now. Why is this a more effective perspective than just considering current costs? If you're a parent, would this change your attitude toward employment and money?
16. In chapter 9, Sandberg blasts the myth of "having it all," or even "doing it all," and points to a poster on the wall at Facebook as a good motto: "Done is better than perfect." (p. 125) What perfectionist attitudes have you dropped in order to find contentment?
17. Sandberg and her husband have different viewpoints about parenting: She worries about taking too much time away from their kids, while he's proud of the time he does spend with them. Would it help women to adopt an attitude more like his?
18. In chapter 10, Sandberg discusses how the term "feminist" has taken on negative connotations. Do you consider yourself a feminist? Why?
19. Discuss this assertion: "Staying quiet and fitting in may have been all the first generations of women who entered corporate America could do; in some cases, it might still be the safest path. But this strategy is not paying off for women as a group. Instead, we need to speak out, identify the barriers that are holding women back, and find solutions" (pp. 146–47).
20. In the book's final chapter, Sandberg talks about the need to work together to create equality—to allow women to thrive in the workplace, and to allow men to participate proudly in the home and child rearing. What steps can you take right now to begin to make this happen?
From the publisher
Book Club Recommendations
Recommended to book clubs by 7 of 9 members.
Relax and plan to stay a while
by billieparrott (see
profile
) 03/04/15
Our group does not do food and drinks on a regular basis, but I think if your club reads this book you should definitely plan to spend time enough to allow everyone to share their personal experiences in the work place. Relaxing with some good food and wine and not being in a hurry is highly recommended.
BECOME A MEMBER
it's free
Join the leading website for book clubs with over 35,000 clubs and 20,000 reading guides.
SEARCH OUR READING GUIDES
Search
JOIN OUR MAILING LIST
Get free weekly updates on top club picks, book giveaways, author events and more
Please wait...